With summer coming up, there's no better time to prep the garden ready for the kids to play – and one genius Instagrammer has created a dream mud kitchen for her little one to get messy in.
Claire Air of @our_home_on_sandridge enlisted her husband Paul to assemble a space for their daughter Wren to play last summer, and the creation has proved invaluable over the months since. Fancy taking on the project yourself? Here's how they did it.
The before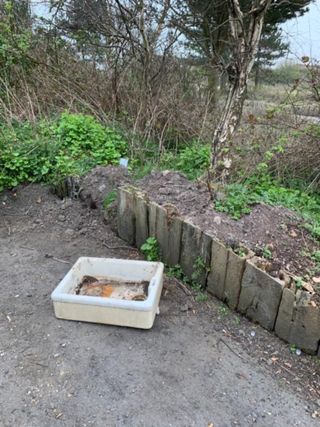 When lockdown hit the UK, Claire was keen to give Wren a space to play in the garden – and a mud kitchen was the perfect solution. 'We spotted a sink that had been dumped, and while it didn't spark the idea – we already knew we wanted to do it – it was one of those things that came around at the right time!' says Claire.
The process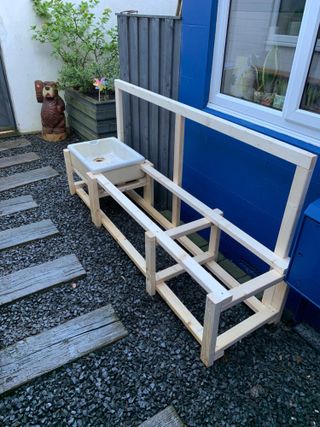 First, Paul built the frame for the kitchen using 3x2 CLS timber, reinforcing the area where the sink was to go. With the sink in place, he then built a frame for the splashback, before boarding the back, sides and bench top with fence panels. In total, the materials for the build cost just £40.
The couple also added an 'oven', cutting the door to the right size using OSB board and fixing using standard hinges and a gate latch from Screwfix. They then sanded the structure down and painted it. 'We used Cuprinol fence paint in "Silver Copse" and a clear varnish for the rest of the wood,' says Claire.
The after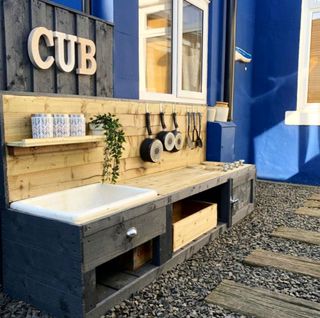 Of course, no mud kitchen is complete without accessories and finishing touches. The couple added a hob above the oven using circles of fence panel, and used spare door handles for the oven knobs. 'To accessorise it, we used old pans we already had, and bought new plastic utensils from Asda,' says Claire. 'We nailed some letters up that we got from Matalan ages ago to spell out "Cub" – Wren's nickname is "Bear Cub".'
To finish off, Claire and Paul added a shelf above the work surface to display plants and patterned canisters. The result? A perfect little kitchen for kids to play in. Check out Claire's Instagram for the full tutorial as well as more brilliant ideas, including a DIY bed and office desk.