Many of us love the idea of a well designed home, but find it difficult to know where to get started, or which items will actually look good together. And there really is nothing more disappointing than waiting six weeks (or more) for your dream sofa to be delivered, only to discover that it's not your dream sofa at all, and quite frankly, you'd go so far as to say that you actively hate it. Intense emotions.
But, the good news is that Amazon have stepped in, bringing us a handy tool that makes it super easy to visualise exactly how your furniture might look in your home. How? Well, Amazon Showroom allows users to access a simple interactive platform where it's possible to adjust the colours of the walls, along with the floor type in order to replicate you own home.
From there, you can experiment with different styles and finishes of sofa in order to figure out what might look best in your home, and what might not look how you imagined it. This not only makes it more likely that you'll like the sofa that arrives, but may tempt you to make bolder decisions, too.
We've put together five different looks, to give you an idea of just what's possible.
1. Keep things neutral with a classic grey sofa
Like to keep things classy? Us too. And it doesn't get much more classic that a grey sofa in a white space. This look promises to never look dated, no matter how interiors trends come and go. And whether you're looking for a bed, or a sofa bed, there are plenty of options available on Amazon. This one is the 3 Seater Padded Fabric Sofa Bed, £189.98, Amazon.
2. Create contrast in a space with inky interiors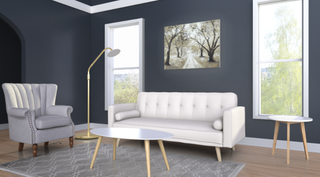 Ooh we love these dark, inky walls and how cosy they make a space look. But why not create a little contrast with a white sofa? This one is the Sofa 3 Seater Padded Fabric Sofabed, £189.98, Amazon.
3. Embrace the 70s trend with a light leather sofa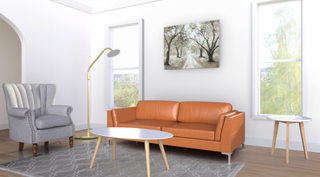 70s inspired interiors are having a moment, and we're totally here for it. So, when we spotted this light leather Kemanduo Modern Sofa, £1,877.41, we were more than a little bit elated. Style as part of a neutral space for a laid back feel. This would look perfect with boho-style rugs, throws and rattan accessories.
4. Opt for a more traditional look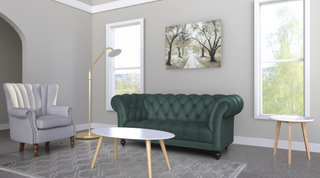 Nothing says traditional quite like a Chesterfield Sofa. And this deep green, velvet Birlea Chester Sofa, £689.99, is one of the nicest we've seen of late. Style as part of a simple grey, or cream scheme for an old school look.
5. Go all out with an on-trend mustard yellow sofa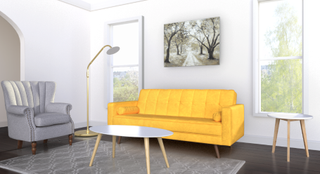 Most of our picks have been pretty muted, so we thought we'd treat you to something bright and beautiful with this final look. If you're a fan of the mustard sofa trend, why not pick up this stunning Nora 3-Seater Fabric Sofa Bed Sleeper Sofa, £167.99.