The companion Christmas tree trend is gaining speed faster than Santa's sleigh this festive season, according to a designer. Rather than making one magical tree their festive focal point, people are decorating multiple trees.
Making a cluster of trees of different sizes is one of the more unconventional Christmas tree decorating ideas we've spotted this Yuletide. Here's what you need to know about companion Christmas trees.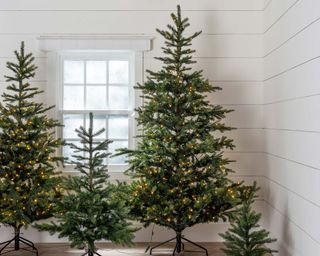 Sarah Fishburne is Director of Trend and Design at The Home Depot. Having worked at the home improvement company for 16 years, the design expert has seen it all when it comes to festive trends.
'Until last year, "Companion Trees" were a décor idea we thought deserved more love,' comments Sarah. She says they have since become more popular, and she expects this to continue.
The companion Christmas tree trend
'This trend involves grouping multiple trees together in one room, all of which are different heights and are decorated in a similar theme,' explains Sarah. The best artificial Christmas trees in a variety of sizes will be your best friend if you want to try the trend at home this year.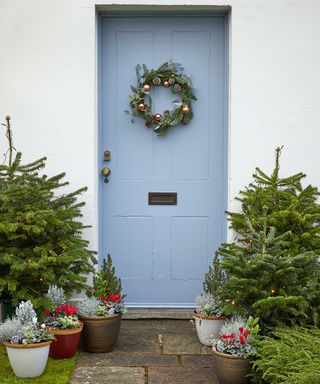 A lovely cluster of trees — outside or in — definitely makes for a jolly backdrop to family photos. Whether it's on-trend or not, if you love the idea of making a mini forest of glittering trees, then you absolutely should.
Buying one large tree and one small tree would also mean kids can decorate their own. The companion Christmas tree trend gives you the scope to have one elegant and 'grown up' tree, and one full of old Christmas ornaments that tell stories of Christmas past.
Although the idea is to display them together, having more than one tree is tempting as it means you can bring festive cheer to multiple rooms, the driveway or the backyard.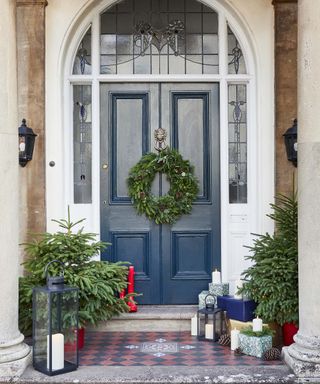 Dobbies' Style Expert, Rebecca Stanton says the key to companion Christmas trees is variation. 'When choosing trees and plants for your display, make sure you select different heights, textures and styles for a more interesting effect,' she says.
'Choose plant pots in complementing colors to bring your display together, and don't forget about the twinkling lights on the trees for the finishing touch,' says Rebecca.
This more-the-merrier Christmas decorating idea speaks to a maximalist trend, and the idea that things don't have to be perfect. Companion trees create a wonderful display, but we must admit we think there's something significant about having just one, and not distracting from it.
Will you be embracing this trend?