A TikToker has revealed a fab space-saving hack for the refrigerator, using $4 ice buckets from Target. So if you're hosting over the holidays, this could make unpacking your grocery shop a little less stressful — and prevent an avalanche of leftovers as you open the door.
As hard as we might try to channel our inner Clea and Joanna, a neatly organized kitchen isn't always easy to maintain. But, it makes cooking infinitely easier, so kitchen storage ideas like this ice bucket space-saving fridge hack are handy to have up your sleeve.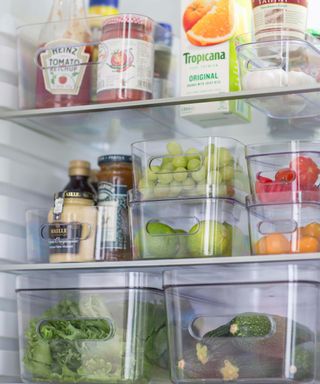 A TikTok user called@livecomposed often shares cleaning and organization tips and tricks online. A recent video shows the fruit and vegetable drawers of a fridge divided up into two, with ice cube buckets from Target.
Splitting these sections into two by neatly slotting in these boxes definitely makes better use of the space. @livecomposed also uses oven racks to divide two glass bowls, making an extra makeshift shelf.
This oven rack shelf will double your space when it comes to storing leftovers after family get-togethers.
ice bucket space-saving fridge hack
@livecomposed's followers rushed to the comments to say that they were heading straight to Target to pick some up. 'Buy like 10, I use them everywhere!!' the TikToker tells them.
One commenter said they work at Target and use these ice buckets for organizing all kinds of things around the home, including beauty products and bathroom items.
If you're looking for more expert food storage tips, Simon Glanville, Managing Director of A Place for Everything recommends using stacking storage solutions to make the most of your space like this stackable container with squared-off edges. 'These are perfect if you're a meal prepper too, as you will have all your ingredients in one place, freeing up fridge space and saving time by making your fridge easy to navigate,' he says.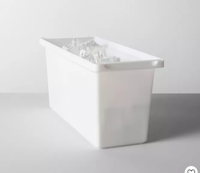 White Ice Cube Bin | $4 at Target
Organize food into two separate sections in each vegetable drawer with two plastic ice cube bins. The plastic material holds up in cold temperatures and handles make it easy to move them in and out of the fridge.
Cleaning expert Kelly from @mrs.ds.cleaning.reviews says using budget organizing trays makes cleaning up spills much easier, while preventing cross-contamination.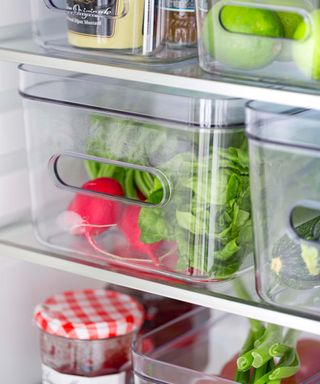 Now is also a great time to read up on how to clean a fridge and make sure yours is in top shape for the holidays. After all, there's nothing worse than discovering congealed, half-frozen food that's been left at the back of the refrigerator.
Will you be trying this hack?