The brown trend is taking the interiors world by storm right now – there are darker neutrals aplenty scattered across our TikTok FYP pages and Instagram feeds. Think plush brown sofas, chestnut throws, and beige furniture; the warm and cozy interior equivalent of a hot cup of coffee.
Multiple interior designers agree that brown is having somewhat of a comeback this year as a fashion and home decor trend. While it might not be a color scheme you've considered for your home before, it could well be the perfect choice for your bedroom and sleep health, according to experts. That is, as well as having the best mattress, of course.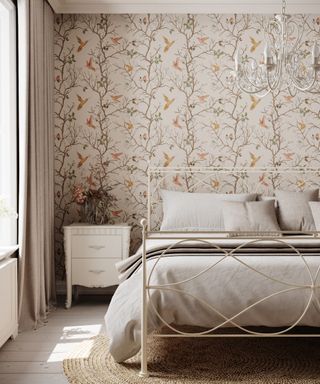 Why a brown bedroom could help you sleep
The secret, it turns out, lies in the innate emotional connection we as humans have to warm welcoming colors, like brown.
Interior designer Kimberley Horton of KH Home Design, who has extensively studied the color psychology of our homes, explained, 'Brown is often associated with the ground of the earth, which gives us feelings of safety, stability, and security.
Of course, that sense of safety is likely undeniably conducive to getting a good night's sleep – especially after the turmoil of the last few years.
'The color brown carries a lot of depth, and has been linked to creating feelings of relaxation within our nervous system,' Horton continued. 'From a design perspective, lighter versions of brown such as beiges, give a great foundation, as it pairs well with nearly every color. With these things in mind, it's a no-brainer if you're looking for bedroom ideas.'
Grace Baena, Interiors Curator at Kaiyo, couldn't agree more, telling us, 'Because humans feel a sense of safety and security when surrounded by brown, it's no surprise that it's become one of the most popular shades for interiors this year.'
'After two years of pandemic uncertainty, it makes perfect sense that people are flocking to the shade.'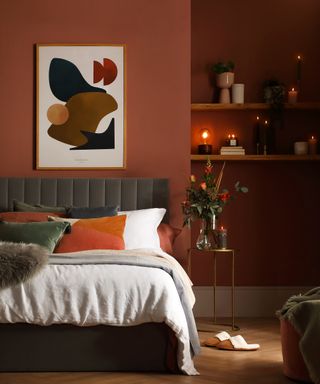 This cozy, neutral color, is a great way to embrace the popular minimalist trend, without making your home feel too sparse and sterile.
Dan Weiner, lead interior designer at HomeDude, explained, 'It's easy on the eye and is a versatile color that can be used in a variety of home interior styles, including modern, minimalist, and traditional designs.
'It's a great color for creating an earthy and natural feel, while still being sophisticated and stylish.'
If you're keen to give the brown trend a try in your bedroom but aren't sure where to start, try adding some smaller pieces to test how it works in your space. Perhaps add a chocolate brown throw to your bed, or replace your current cushion covers with a brown option instead. When you're feeling ready, why not swap out some of your furniture for richer, darker brown alternatives, such as wooden furniture?
We might just give it a go, if it'll give us a better chance at improving our sleep.
Are you tempted to indulge the brown color trend in your bedroom?