We can all agree that the feeling of sinking into your comfortable mattress is just unmatched. If you can't currently relate, then your problem might not be as expensive as you think. Some fancy new bed sheets might solve an unideal sleep situation and have you reveling in that fresh sheets on a Sunday night feeling once again. You know the one. And luckily for you, I spotted that our fave Brooklyn Bedding has a sale on today for Presidents' Day. Its bestselling set, as loved by 1,000+ reviewers, currently has a price that's as dreamy as the sheets feel.
Right now, these microfiber sheets are just $22.40 down from $32. So that's a whole 30% off today. Yay! First things first — they're beautifully soft. Hello, 200-thread count. They're super breathable, thanks to the lightweight, moisture-wicking materials. That means no stickiness or sweatiness because waking up feeling all grubby is not the aesthetic we're going for in 2023.

I could go on and on, but for anyone who is already convinced and ready to catch some gorgeous Zzzs tucked up in these, then you get these sheets flung into your cart ASAP before the sale ends. Yes, Brooklyn Bedding is one of the best bedding brands around.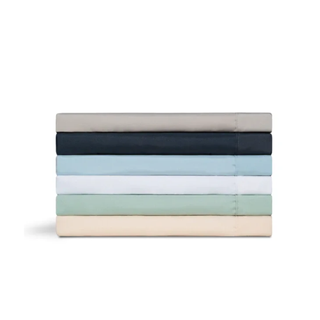 Brushed Microfiber Sheets
You know by now that Brooklyn Bedding is one of the best places to buy bedding, rated by us and others. And these sheets are such a great Presidents' Day buy with 30% off. With finely woven fibers and supreme breathability, they'll make sleep easy and breezy. Just use the code PRESDAY30.
Prices start from:
Twin XL: Was $26, Now $18.20
Full XL: Was $32, Now $22.40
Queen: Was $32, Now $22.40
King: Was $39, Now $27.30
California king: Was $39, Now $27.30
Split king (half): Was $39, Now $27.30
More reasons to buy these bed sheets
If you're like me and hate ironing (fun fact: I don't even own an iron), you'll be pleased to hear that these sheets are very low-maintenance. They're made of 100% polyester, making them wrinkle-resistant, unlike pesky cotton ones.
Speaking of being low-maintenance, did I mention the fact they're durable AF? The tightly woven, high-quality microfiber means that it will last through plenty of washes and won't fall apart easily. That means if you bag the set now, it'll serve you a long time.
They come in a range of different colors, too. Whether you want that white hotel look or something more colorful, Brooklyn Bedding has plenty of options. I personally love the pretty sage shade, but I'm also one of those people who, if I love something, I have to have it in every color poss.
What do reviewers say?
"Very soft. Lighter than I expected. Very excited [about] quality and value. I want more." -Melissa M.
"These sheets are very comfortable and breathable. They are also perfectly sized for a thicker mattress and they work well with an adjustable base." -Mark S.
"HEAVEN!!!! I sleep soooo much better!" -Mariko R.
"These sheets are amazing!! After spending a lot on several types of sheets — hubby is a sweater at night and I'm always chilly — these are an amazing product. I bought three sets." -Lisa U.
Up next: The best sleep aids to help you relax, as rated by our expert