When it comes to decorating kitchens, the obvious, most practical choices are to paint or tile. Walls need to be impervious to the culinary chaos that can get thrown at them – the splashed sauces, the spit of oil, the steam from kettles or boiling water, and the tidal wave of smoothie/soup from that time when you forgot to put the lid on the blender.
But Lucinda Holt wanted colour on her newly plastered back wall. She wanted pattern. She wanted wallpaper! 'I had my heart set on wallpapering the back wall from day one as I wanted to inject some character,' she says. 'Our family thought we were crazy as it wouldn't be practical. My dad still says, "When are you going to get tiles all the way round?"
But Lucinda got her way, and the results are a unique-looking space with a fabulous backdrop that looks big on designer style, but was surprisingly low on budget thanks to some clever buys. Here's how she did it.

Find out how to design an open-plan kitchen in our expert guide.
The before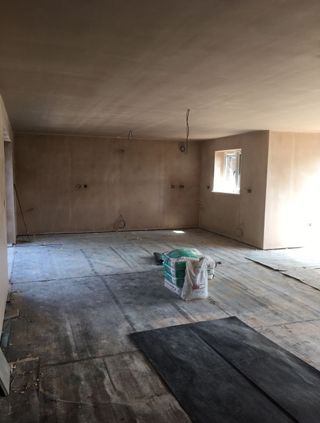 After having twins and becoming a family of five, Lucinda and her husband, Sam, sold their 1930s house in Crouch End and left London for a bit more greenery and a slower pace of life in Lancashire.
They bought a five-bedroom detached home in a small development near Preston, which was handily close to the M61 and ideal for for Sam's job managing musicians and DJs, which involves lots of travel.
Lucinda wanted to create a country-inspired kitchen-diner at the heart of their new home, inspired by Devol kitchens, and with a fabulous wallpaper as a showpiece.
'As it's the first thing you see when you walk in the room, I wanted a kitchen with impact and wow factor,' she says. ''When I used to work in Clerkenwell, I popped into the Devol showroom and fell in love with their Shaker-style kitchens – that was my inspiration.'
The process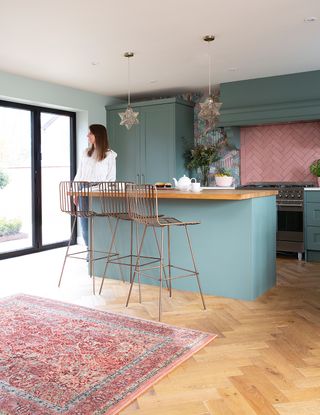 'We're surrounded by woodland with four peacocks next door, so we felt we could really go rustic with natural oak parquet flooring, dark green units with antique bronze handles and a Belfast sink.
'The developer put us in touch with a local fitter, Simply Insignia in Preston. They showed us four kitchens in about five different colours, many of them grey. When I said I wanted dark green and brass, they told us it wasn't in fashion! In the end they really worked with us and let us go more bespoke. We paid a bit more to get the units painted in Farrow & Ball's Green Smoke, and chose our own tiles and flooring.
'I bumped into an old friend who has a small interiors shop called JF Interiors, and she had loads of wallpaper to choose from. I fell in love with the Miami design by Cole & Son as it worked perfectly with the colour of the tiles and units. At one point we considered putting shelves on either side of the oven, but it would've been a shame to cover the lovely paper.'
The details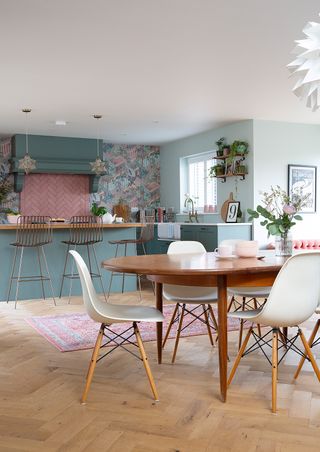 'We're still a bit overwhelmed by it. Our utility room is bigger than our previous kitchen so we have more space than we've ever had. The only thing we might add is a built-in bench and window seat to create a snug dining area, but we couldn't be happier with the way it's turned out. It's like the Devol kitchen I wanted but for a fraction of the price.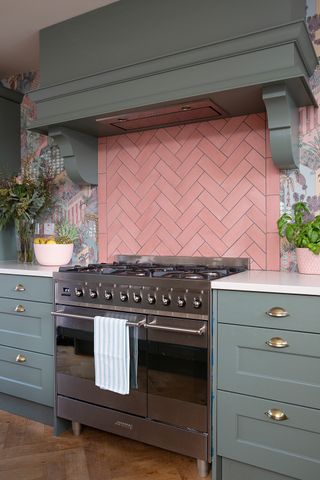 'Friends and family love the new kitchen – it's so sociable. In summer we can open the doors to the courtyard garden, and the whole family can come round at Christmas. I spend time on the sofa gazing at the sky. It sounds trippy, but it's something I couldn't do in London.
'And my dad needn't have worried about the lack of tiles – I squirted chocolate cake mixture on the paper the other day and it just wiped off.'