If you're struggling to add that extra 'something' to your bathroom makeover, the answer could lie in a cheap and sustainable solution – using old furniture to add character and warmth, as one interior designer has done.
When Dani Ellis of Rosehaven Studio took on her house renovation, she wanted to keep her bathroom timeless, but with a bit of an edge – which is where her burgeoning Ebay habit came in.
Using a £100 Art Deco unit she sourced on the second hand site, she created a vanity unit that's a stunning centrepiece for her new space.
The before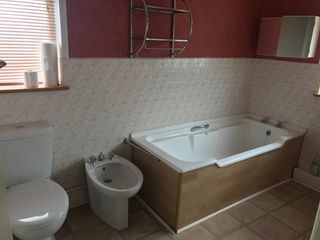 'The house had been empty for about six months before we bought it, and it showed – there were plants growing inside, mould, and the whole thing needed replumbing,' says Dani. 'But I knew I wanted a project and I completely fell in love with it.'
The bathroom was just one of the rooms that needed updating, with its old-fashioned tiles and red wallpaper. 'To be honest, this was the one room I really struggled with,' Dani adds. 'If I had unlimited funds, I might have gone for patterned tiles and a Crittall-style shower screen, but it needed to be timeless – I wanted to go against being too on trend.'
The process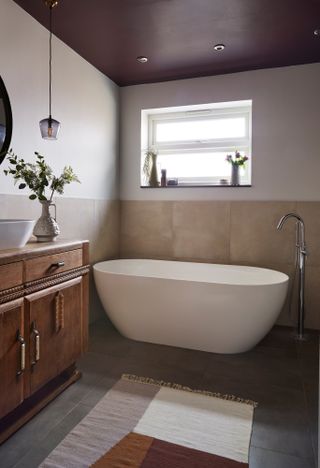 'To create a more classic, spa-like space, I went for big square concrete-style tiles on the walls and floor,' says Dani. 'It's neutral but not boring, thanks to the burgundy ceiling. When I got the paint out, the tradespeople thought I was insane – it was a bit of a running joke for the whole build whenever I came up with an idea.
'I knew I needed something to give the space a bit of an edge, which is where the unit came in. It's an Art Deco oak unit with the original handles, which I bought off Ebay for £100 – I felt it went perfectly with the house, as it's a 1930s build. I got my plumber to mount the sink on top of it and plumb underneath.'
The after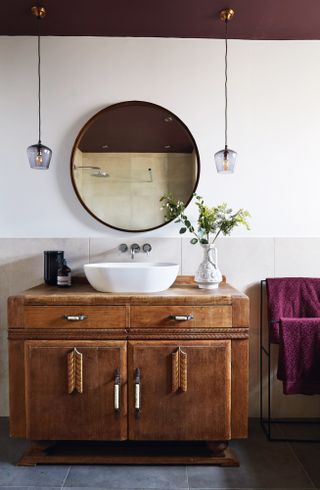 The finished vanity unit is the real focal point of the room. 'I love having something completely unique, so the unit was a real find – it's a stunning piece of furniture,' says Dani. To make even more of a feature of the space, she hung a statement round mirror above and framed it with two pendant lights, perfect for task and mood lighting depending on the time of day.
Painting the ceiling in Farrow & Ball's Brinjal was also a good call. 'When you're lying in the bath in the dark, it's lovely to look up at an enveloping rich colour rather than white,' says Dani. 'I wanted all-out dark in here to start with, but picking the colour out on ceiling and in bits throughout the room really works.'