Whether you call it a water closet, a downstairs toilet, or a cloakroom, one characteristic of most WC's are their small size! Mine was no exception, especially given that it is situated neatly under our staircase. So my number one task in designing this small bathroom was to maximise the roughly 1.6m x 0.8m space using specific types of furniture, as well as create a striking design.
But first, let's look at the before.
Before: A cramped, outdated space
The old space had walls of outdated tile, an oddly placed light fixture, and no obvious space to hang a mirror.
The floor tile and wall tile also clashed, and there wasn't much room for storage.
See also: Bathroom ideas - 51 stylish looks, trends and tips to inspire a makeover
After: A modern, smartly designed room
To solve for these challenges (both aesthetic and functional) in the downstairs toilet, there were three key decisions we made during the design process.
A wall-hung toilet
Wall hung toilets are designed to create the illusion of more space. The visibility of the ground beneath the toilet, creates the illusion of additional floor space, in turn making the room appear a bit bigger. Coupled with a hidden cistern (which ironically actually makes the floor space smaller as it is stood behind the false wall the toilet is hung from) it definitely fulfils this purpose in this space. Not to mention, wall hung toilets are ultra modern and sleek!
Bold style
With small spaces, one can always afford to be more ambitious or even outlandish with the artistic design of the space - think the Four Seasons Hotel Park Lane, with its wall to wall busy wallpaper. It may not be something you might want in a large room but it's impactful enough to distract from the modest size of a small space. Knowing this, I went for a Herringbone style white tile with contrasting black grout and the upper third of the wall finished with a hand printed paint design in forest green and white.
Floating countertop basin
The most creative element of space saving in this room is the countertop basin shelf. Generally speaking, countertop basin shelves are sold in standardised sizes. 600mm, 800mm and 1200mm. While basins can come in all shapes and sizes, you'll be hard pressed to find a suitable floating or specific wall hung basin shelf in sizes in between the above mentioned. This created quite a dilemma for me as we by no means needed a shelf that would take up over a third of the space. I did initially purchase one, in the hopes that we could cut it from 600mm to about 450mm but it was fitted with internal metal frames so it could not be cut down.
I then scoured the internet for approximately 450mm x 450mm square shelves in solid wood but to my surprise, this exact size was somewhat impossible to come by. My next thought was to have a bespoke shelf made by a carpenter. But the quotes I received for the size required (with reclaimed wood it often involved joining two pieces together) were in excess of £125 and I just knew I could find better.
Then I had a lightbulb moment - a chopping board or butchers block could serve the exact same purpose! They are made from solid wood, and with suitable brackets and wood protection, would certainly hold the weight of a basin! Most importantly, they come in various shapes and sizes. In no time I found the perfect one from John Lewis and ordered for next day delivery.
Coupled with heavy duty brackets from screw fix and coated with 4 layers of wood protection sealant, we flipped the chopping board upside down so it would look less chopping board like and installed it like any other floating shelf!
The result, a cost effective, space saving, solid wood floating countertop basin shelf.
To finish off the space, I of course had to add some additional DIY touches. The silver flush panel and gold tile trim were both spray painted black, in keeping with the monochromatic finish I went for in using black grout with the white tiles.
The frame of the window was finished to a rather haphazard standard with rushed plaster stained silicone framing it. So I used my now trust electrical tape to frame the window which mirrored the tile trim and hid the bad finish I so loathed.
Finally, I accessorised the space with sleek and modern accents from some of my favourite home décor retailers and the end result - a small but mighty cloakroom that has so much going on, no one would really notice the small size!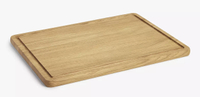 John Lewis Beechwood Chopping Board | £15 at John Lewis
This 37cm x 26cm chopping board is made of sturdy, FSC-certified beech wood, and has a handy juice groove around the edge (perfect if you plan to use it as intended, irrelevant if you're using it to mount a sink!)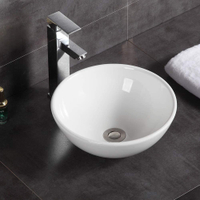 Modern Round Countertop Basin Sink Ceramic Vessel Bowl Washbasin for Lavatory | £49.99 at Amazon
Like a wall-hung toilet, vessel sinks are great space-savers. This one can be mounted on a cabinet, vanity, or shelf, depending on the amount of space you have.
About the author
Alimah-Shadia Sitta is part of Real Homes' Real Experts panel. She's a UK-based investment banker, designer and DIYer and shares her favourite tips, projects, and ideas with us twice a month.