We all do it. The mindless scroll while watching something very easy on TV and before you know it your phone is out of juice. Or, it is bedtime and why waste waking hours charging your phone while it could happen as you sleep? That's multitasking (right?).
Even if your couch or bed is near an outlet, I can't be the only one repeatedly knocking my mid-charge phone from the chair arm or nightstand it is precariously balanced on. Enter – to the list of things you didn't know you needed, but really do – the charging table.
I have been scoping these out for a while. After a living room refresh, I wanted a compact end table for a couple of books, a drink, and of course my phone. But I also wanted that little upgrade to one that could safely charge my phone at the same time.
If you have been looking too, you will know some are really expensive – $200 seems to be the average price. And then half of those only have one or two outlets so the second your other half wants in on that sweet charging action, a battle ensues.
We were therefore feeling pretty smug when we spied a charging end table under $70 on Amazon with four ports to potentially charge your phone from. The Vasagle Side Table with Charging Station is usually just $52.99, but thanks to a sweet discount of 15% you can bag it for just over $45. Just use code VASAGLERH15 at checkout.
See it and a bargain busting pair for under $80 below.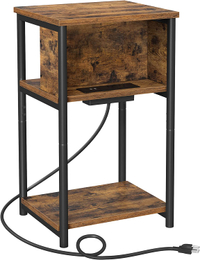 Vasagle Side Table with Charging Station | $45.05 on Amazon with code VASAGLERH15
Complete with 2 AC outlets and 2 USB charging ports, you can charge multiple devices AND have a lamp plugged in at the same time. It also has two shelves for added storage.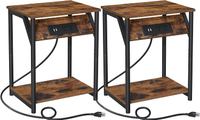 Vasagle Side Tables Set of 2 with Charging | $68 on Amazon with code VASAGLERH15
For use as nightstands or so more people can have a charging point by them in the living room, grab this pair. They also have 2 AC, 2 USB and a 6.5ft cord.
We love a bright idea for a bright price! ✨