Aldi's mud kitchen is the perfect antidote to the lockdown lull that might be affecting home-schooled kids. With this bargain buy dropping at Aldi, we're excited about the prospect of our green-fingered little ones having the chance to get mucky with their very own outdoor mud kitchens. Yes, we are embracing the mess – the extra laundry will be worth it for their enjoyment (and the chance to keep them preoccupied).
For children over the age of three, this is the perfect playtime addition to an outdoor space in need of some child-friendly kit. Fully decked out with a tray, plant pots, chalkboards (to write out that delicious muddy menu), sinks, two hobs, pots, pans and utensils... what more could you want? Mud pies are about to get real.
In stores now, this bad boy will be an asset to your garden and a source of inspiration for your little ones. Stimulating for a child's creativity and imagination, an outdoor mud kitchen at the low price of £54.99 is great news!
We also love these mud kitchens from Argos and Smyths: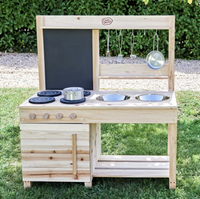 Argos mud kitchen, £100
This Argos mud kitchen is twice the price of the Aldi buy, but it's got more features that your kids might love including a a hob, two sinks, an oven and play utensils. Love it.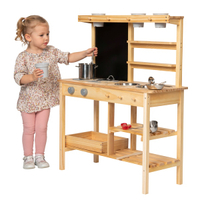 Smyths Toy Superstore mud kitchen, £49.99
LOVING this little bargain from Smyths! This outdoor play kitchen features a reusable chalkboard for writing up today's special: sand sandwiches, obvs. With switches to turn, decorative flowerpots to fill and lots of hooks and shelves for kitchen accessories, this mud kitchen is built to inspire creative play.
Read more: