Shopping for cat and dog gear when you're trying to keep a cohesive theme to your apartment or house is not always a walk in the park. Most of the time you'll be met with either visually unappealing products that stick out like a sore thumb or sky-high price tags that you'd expect to pay for your own bed—not one for the cats!
That being said, it is possible to find cute and functional pet home items if you know what to look for. Case in point: the Valentine's Day cat scratcher playhouse from Aldi.
Whether you're looking for a cozy new bed for your cats to curl up in or you're just hoping to score a cute Valentine's Day gift for the true love of your life while maintaining your status as best cat parent, this Valentine's Day-themed cat playhouse is just the ticket. And the best part is that it'll actually suit your decor—even if you don't go all-out on the Valentine's Day decorations.
The adorable cardboard playhouse is available in three festive colorways and styles: a classic pink-and-red Valentine's Day design complete with candy hearts and lollipops, an elegant Parisian-inspired cafe and bakery, and a more muted modern farmhouse style that has subtly decked out for the holiday with brown and blush-colored decorations.
Looking for more Valentine's Day gifting inspiration and ideas? Be sure to check out our guide to shopping for the very best Valentine's Day gifts for your significant other.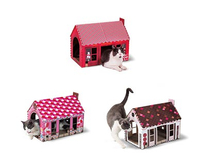 Heart to Tail Valentine's Cat Scratching Playhouse | Currently $7.99
Currently on sale at Aldi for just $7.99, any cat will love the cat scratching playhouse by Heart to Tail. Whether they prefer snuggling up in a safe and cozy nook or they live to scratch and play with every cardboard box that comes in the house, this budget-friendly house will be a hit. Note, this item can't be purchased online, so you'll have to head to your nearest Aldi store to purchase.
Still not sure if the Valentine's Day cat house is worth the purchase? We've already added it to our Aldi grocery list—but here are some standout features that make it a great option:
Includes a bag of catnip to help get your cat acquainted with the new playhouse
Comes with two scratching pads to help extend the life of the product
Provides a small enough space for your cat to feel safe and secure
Helps to encourage positive scratching habits (while saving your furniture!)