We admit it: Valentine's Day gifting is a confusing minefield. Whether you are buying for him, for her, a foodie, someone who loves football, or, perhaps it's a new for 2021 Valentine? Oooh. Either way, the Real Homes Valentine's Day gift guide can help.
Wave goodbye to supermarket red roses, ridiculously large teddy bears, impractically uncomfortable underwear and everything in between – those gimmicky gifts no one ever uses, we are talking to you! – and take a look at our 30 lovely gift ideas below. None of which scream cringe, all of which they'll actually use. We love to hear it.
Oh, and we should mention that whatever your relationship status – single, married, engaged, living together, or maybe it's complicated – there's something for everyone. Keep scrolling for the ultimate guide for the 14th of February – a day we forever love to hate.
In search of more gifts? We've got you covered with our gift hub.
1. A flipping lovely personalised spatula for a foodie – from Not on the High Street
This sweet personalised gift can be used by your partner on a Sunday morning while making pancakes, on a summer's afternoon to flip burgers or to flip those Monday morning eggs to be served on avocado toast.
2. A LEGO bouquet with a difference
If you want to get your other half some flowers this year but don't want to fall into that cliche, then gift them some LEGO flowers – they'll last for years and years, and they'll have fun building them, too.
3. A whisky decanter for their favourite drink – from Amazon
Every whisky lover needs a decanter to store their favourite drink in style. And, a good decanter will keep your whisky looking the part in your kitchen (or on your drinks trolley) and tasting fresh.
4. Date night tokens for inspiration post-lockdown – a Not on the High Street find
If you are a couple who is constantly umming and ahhing about what to do come date night – cinema, home cooked dinner, restaurant? – then this jar can help inspire you. 
5. Treat them to the comfiest double cotton pyjamas from The White Company
Because pyjamas are a great gift for anyone, especially while in lockdown. These are comfortable enough to spend an entire Saturday in, and they come in blue or pink.
6. Check out these NOTHS personalised Champagne glasses
We think these lovely Champagne glasses would look great on your bar cart –alternatively, they're a lovely keepsake if you just want to display them.
7. A Scooms silk eye mask so that they sleep like a dream
Okay, so an eye mask has the ability to transform your sleep – we would know as we use one every day. If you are like us, then it's important to buy one that's of good quality, and this one is made from Mulberry Silk to keep your lashes fluttering and your skin looking (and feeling) lovely.
8. Bring the spa home with this gift set from Not on the High Street
Whether you'd usually celebrate Valentine's Day at a spa, or, perhaps you think your other half deserves a rest, this spa kit can help them unwind.
9. Buy them a trendy print of their favourite football team – from NOTHS
If you are buying for a football fan but are fed up of having distasteful memorabilia scattered around your home, then get them this surprisingly lovely looking print and personalise it to their favourite team. 
10. Gift them a bottle of this rosé Champagne that's sold at John Lewis
Not only does this Champagne taste lovely, but it's pink to go with the whole Valentine's theme, and we can confirm that it looks lovely on display – ours is currently sitting proudly on our bar cart. 
11. For partner who struggles to sleep – the Simba Sleep Spray
If your partner struggles to fall asleep or stay asleep, then gift them a bottle of sleep spray this Valentine's Day – they will forever thank you. 
12. A classic box of chocolates from the one and only Hotel Chocolat
Because if you are going to go down the clichéd route of chocolates, you are going to want to make them the best. Introducing, Hotel Chocolat's Valentine's box... 
13. For capturing those precious memories – the Instax Mini Link
If you really want to treat your other half and get them something that they will actually use, then the Instax Mini Link Smartphone Printer is an awesome gift. They can use it to print their favourite memories...
14. A VonShef fry up pan for an easy clean up every Sunday morning
Yes, you can now buy one pan to cook an entire full English – it's the present your Valentine has always wanted.
15. A Valentine's Day gift idea that gives back – this eco-friendly Dopper water bottle
A practical Valentine's Day gift? Yes, they do actually exist. This water bottle is the perfect gift for your eco-warrior significant other.
16. Say it with metal wall mounted lettering from Umbra
Couldn't have put it better ourselves! Stick this to your wall with ease and sing the song every time you see it. We used to have this in our kitchen and we loved it!
17. A cute alternative to chocolates – love you a latte biscuits from Biscuiteers
The perfect little token if you don't go all out on Valentine's Day gift ideas but still want to show some appreciation, we think. And, if your Valentine isn't too keen on chocolate. Oh, and they can be posted through a letterbox...
18. A feel-good make up bag from Not on the High Street
What could be a nicer Valentine's Day gift idea than a daily reminder of how lovely you look? They can use this bag to store their makeup, skincare or brushes.
19. Treat him to some sheepskin slippers – from ASOS
If you have ASOS Premier, then you'll probably want to buy the majority of your presents from there – we get it. Slippers are a failsafe present for anyone, especially while we are all confined to our homes and our laminate flooring is colder than ever in the morning.
20. Buy some expertly-crafted cocktails for you both to enjoy at home – from NIO
Bring the bar home this Valentine's Day with help from NIO cocktails. Yes, you can get pre-made lovely tasting cocktails delivered straight to your door. Just choose a fitting glass and add the garnish.
21. Write their favourite song lyrics on this lovely personalised vase from Not on the High Street
A keepsake they will treasure forever, this vase can be personalised to read their favourite song lyrics, a poem or even part of a story. 
22. A personalised map 
Mark a special place or a special occasion with this sweet personalised map print. Your wedding day? The place you first met? Your favourite pub? The choice is yours. 
23. The ultimate Valentine's Day present for a meat lover – from Not on the High Street
Buying for a meat lover? This tasty gift can be posted through their letterbox to enjoy for weeks and weeks.
24. Plan your post-lockdown trip with this Lonely Planet travel book
We might not be able to actually go on holiday right now, but nothing will stop us from planning. Gift this book to your travel-loving other half and start making notes.
25. A zen-inducing facial roller from The White Company
Facial rollers are a hype we have recently gotten on board with – not to mention they make your dressing table look lovely. Great for using to apply serum, it can help keep your skin looking fresh, hydrated and it reduces puffiness.
26. Make it personal with this illustrated portrait of the two of you – from NOTHS
Looking for a thoughtful gift that might make those tears appear? This personalised portrait ought to do the trick. The talented Darcie Olley can draw a print of you both from a photo, with your names on, to display in your home.
27. For a gin lover – this gin tasting set from Selfridges
A small (yet tasty) gift so that your Valentine can try a few more gins on their list, this set is a lovely pressie.
28. A giant photobooth print of you both from Not on the High Street
Collect your favourite couple photos or the pictures that hold the most memories and put them together in this personalised photo booth print. It's large so would great hung up or leaning against a wall as you can see above.
29. Surprise them with the best hair dryer around right now – the Dyson Supersonic
If you really want to treat your Valentine, then the Dyson Supersonic hair dryer would be the dream present!
30. A subscription to their favourite homes magazine – Real Homes, duh!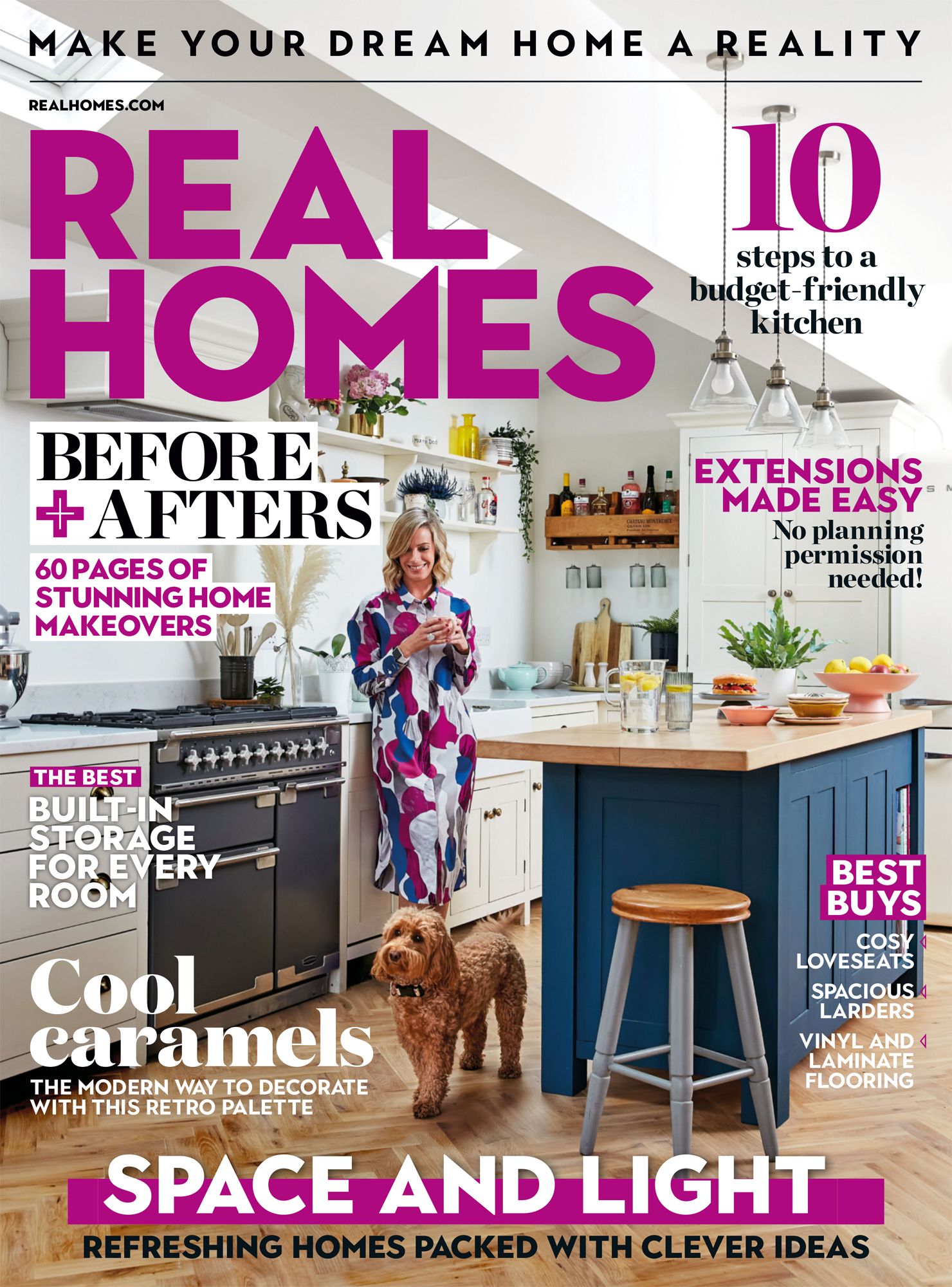 The gift that keeps on giving for 12 months, buy your valentine a subscription to Real Homes so they can get some inspiration.