Okay, Aldi we get it now, you aren't just great for stocking up on knock-off Kettle Chips and delicious Prosecco, you are also smashing the bargain interiors and snazzy appliances, too. This week's Aldi Specialbuys are all about the kitchen essentials – there's everything in there from cute storage canisters to very fancy coffee machines.
And it is of course that fancy coffee machine that caught our eye first. It's a bit of a bargain for such a state of the art machine AND you can order it online so no more fighting in the aisles to get your hands on one.
Keep scrolling to find out more about Aldi's coffee machine and head to our round-up of the best coffee machines for more great picks.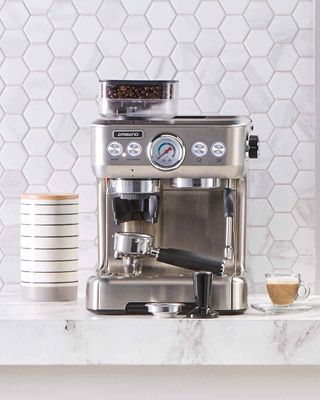 Ta daaaaa. Pretty isn't it? And it's only £299.99. We had a quick look around the internet to see if we could find a similar model at a cheaper price, and nope, for an espresso machine, with a milk frother and its own grinder, this is one of the best prices you will find.
So what are the specs? Well, there are plenty worth mentioning. On a basic level, this coffee machine allows to you make single and double shot espresso at the push of a button, plus there is a really easy to use milk frother so you can recreate your coffee shop faves. But there is more, this coffee machine also has a built-in coffee bean grinder so your coffee is fresh every time (believe us, you can taste the difference), it also has a hot water button to heat your cups before use (you pro) or to quickly turn your espresso into an Americano.
The coffee machine also comes with a three-year guarantee and Aldi offer free returns when you order online. You can order the coffee machine from today (12th March) online and they will not be available in stores.
Read more: