Let's be honest, fire pits and patio heaters are going to be on everyone's summer shopping list this year – pubs aren't quite the same (or you can't get in), restaurants are limiting bookings... and garden gatherings are looking enduringly attractive, except when it gets chilly.
So, for those al fresco evenings when you want to make the most of your new garden furniture and fairy lights, you're going to need a boost in the warmth department. A fire pit is the key to a cosy atmosphere, a helping hand with mood lighting and a simple way to keep warm!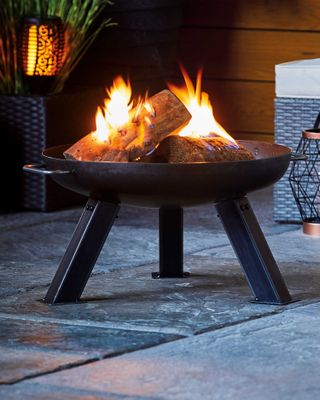 So, check out this fab fire pit from Aldi (above) which will be in store from 19th July for just £29.99. Aldi's fire pit model is industrial in style, on three metal legs and designed to develop a rustic, oxidised surface over time. We love the statement its style makes... nobody would ever guess the price!
No surprises here that Aldi's bargain fire pit will sell out FAST but it's not the cheapest we've found. Keep scrolling to check out the best fire pit deals from our other favourite retailers, below.
For more bargain outdoor accessories, check out our garden furniture sales feature.
Where to shop for fire pits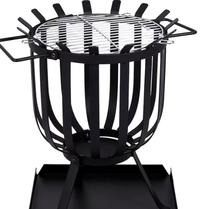 Steel Fire Pit | Was £24.99 | Now £21.99 at Wayfair
We love how this steel fire pit doubles up as a serious bbq, decked out with a cooking grill made of steel. Portable and modern in design, this burner basket is a great multi use fire pit for warmth and cooking up a storm!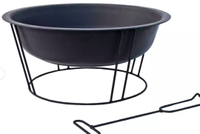 La Hacienda Steel Firepit | £30 at Argos
We're loving this super compact firepit for its lowkey style, simplicity and crazy good price. This firepit will suit any type of garden and won't take up too much room in a small space. You can order it you to local Sainsbury's too so you can get your hands on it as early as the day after you order it.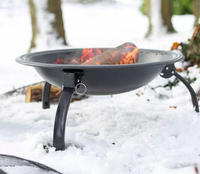 Strissel Steel Charcoal Fire Pit | £46.99 at Wayfair
This charcoal fueled fire pit comes with foldable legs making it compact and fully portable, adding to its modern and chic design. Made from durable steel, this fire pit is fab value for money as well as being easy to clean and maintain!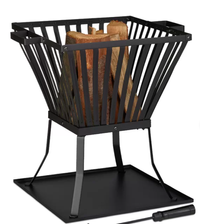 Gandara Fire basket | £61.99 from Wayfair
This square fire pit is funky and we love the cool design. The perfect addition to your garden or patio, this wood burning fire pit will be a beautiful centrepiece in your garden. The falling embers and ashes are caught by the easy-to-clean floor pan and tiles and lawn are protected from burns. Comes with a fire poker.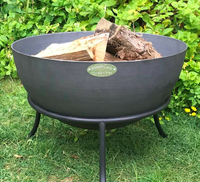 Steel Fire Pit |£67 from Notonthehighstreet
You can bag this fire pit in three different sizes and we just love the way it makes a statement in your garden. Made from heavy gauge raw steel which over time ages to a natural rusty finish, this fire pit is generous in size and stylish in design. Two carry handles each side make for easy carrying and the four legs keep it simple yet sturdy.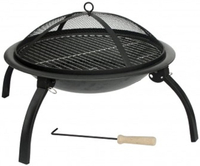 HH Home Hut Large Fire Pit | £76.95 from Amazon
Amazon offers this great steel fire pit that folds for easy portability. The modern design made from durable steel means that it's easy to maintain and implement into any type of garden! Standing 40cm tall and with a diameter of 52cm.
Read more:
Bonfires: what are the rules and when are they a nuisance?