Aldi understands our home obsession and our desire to make spring cleaning as easy as it can be... and Mrs Hinch is a bit of an idol when it comes to that! An organised cleaning cupboard, decked out with dividers and practical storage solutions are one way to make cleaning satisfying and (almost) fun. That's why we're so pleased to see Aldi launch a Mrs Hinch cleaning caddy dupe, answering our spring/summer/autumn cleaning prayers.
From kitchen worktops to washing machine woes, there's a never-ending list of cleaning tasks to get done at home... so, why not invest in a cute little caddy that saves the balancing act, carrying around a bundle of kit from room to room? Keep scrolling to check out the bargain Mrs Hinch kitchen caddy dupe, and others from our favourite retailers.
Head to our cleaning page for more great buys and hacks
This kitchen caddy above from Aldi is the perfect size for all of your essential cleaning products and DIY kit, presenting an easy solution to cluttered under-sink cupboards and work surfaces. The handle is built in for easy portability and the finish is of course easy to wipe clean! Not only is a cleaning caddy a fab way to store and transport your cleaning products, it's also super handy for knowing when you need to stock up on new stuff. Save money and time with this practical bargain.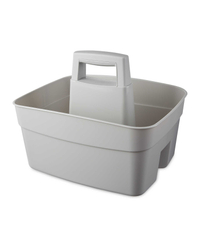 Aldi's kitchen cleaning caddy is available at Aldi and the price is so good for the value of the product. Say goodbye to lugging around an armful of cleaning kit from room to room... and declutter your cleaning cupboards now!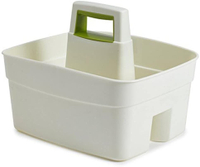 Whitefurze Kitchen Caddy, £8.10
There are tons of cleaning caddies on Amazon, but this is the simplest – ideal for storing and transporting cleaning and DIY products around the home, it can hold six two-litre drinks bottles.
But don't stop there! Browse all Amazon's cleaning caddies now.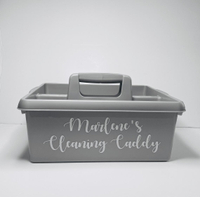 Etsy Personalised Mrs Hinch Carry Cleaning Caddy | £9.99
Personalise your cleaning caddy with this fab Etsy design that allows you to choose whatever colour you like for the text, and between grey a white caddy. The perfect uni send off present for a friend or family member that needs some encouragement to keep tidy!
Read more: