While we're not going to sit here and knock Valentine's Day in traditional anti-Valentine's style, what we are going to do is remind you in a way that's (hopefully) not too patronising, that Valentine's Day provides the perfect opportunity to celebrate the most important person in your life: you!
And don't worry, we get it, whether you're self-partnered, newly single, staying well away from matters of the heart, or are in what the kids are calling a 'situationship,' Valentine's Day can be tough if you don't have a romantic partner to share it with. But that doesn't mean you have to write February 14th off entirely. In fact, even if you are living in wedded bliss, you still need to treat yourself every so often, too. So here are five ways to treat yourself this Valentine's Day – whatever your relationship status.
1. Remember that everyone deserves fresh flowers
Everyone loves receiving flowers, especially when the best flower delivery services are offering such beautiful bouquets.
And you know what, we're going to take it one step further and say that we don't think flowers should only be enjoyed on Valentine's Day. With subscription services available from florists such as Bloom & Wild (opens in new tab), you can treat yourself to the gift of gorgeous, fresh flowers every month.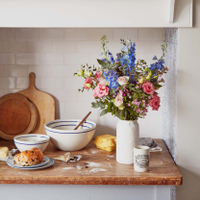 (opens in new tab)
2. Try something new
Solo travel is something everyone should try at some point in their lives. The beauty of travelling alone is that you get to focus entirely on yourself, without any need to think about the concerns of a partner. This is a great opportunity to try new things, meet new people and discover what it is that you love doing.
We love using Airbnb experiences (opens in new tab) to explore our local community and find new, exciting things to do. Whether you've always fancied giving salsa lessons a go, want to try your hand at life drawing, cooking classes, street art tours, tarot card reading, wine tasting and more, there's someone in your local area – or somewhere not too far away – who's excited to introduce you to a new experience.
3. Treat yourself to the gift of good hair
Now, obviously beauty is only skin deep, and we'd encourage you to look inwards if you're struggling with being single this Valentine's Day. But, there is something to be said for sprucing yourself up and putting your best foot forward when it feels like the world is trying to tell you that you're a failure for being single (reminder: you're not). A small act of defiance against societal pressures? We're claiming it.
So, when we spotted some of the best hair straighteners on offer at Amazon, we thought of all our friends out there who want to celebrate themselves this Valentine's Day, rather than moping on the sofa with a tub of Ben & Jerry's. These Remington Shine Therapy Advanced Ceramic Hair Straighteners are currently on offer for just £24.99 (opens in new tab), that's £55 off their usual asking price, and a small price to pay for the spring that gorgeous hair will put in your step.
4. Release those endorphins
If you're feeling a little bit meh this Valentine's Day, we can't recommend getting active and releasing those good endorphins, enough. That could be anything from getting outside for a walk in the park. Or, it could be trying a new workout class to get your heart pumping and those happy hormones flowing.
If you're bored of the gym, why not give Class Pass (opens in new tab) a go – there's currently a free trial, so you won't even have to part with any money. Providing access to a whole host of work out classes, from yoga and pilates to boxfit, HIIT, spin, swimming, for as little as £35 a month at a wide range of fitness studios, it's a great way to try something new and find a form of exercise that works for you.
5. Plan a get-away with your mates
Whether you are consciously couple or uncoupled, we all need to get plenty of time with our friends. Planning a get-away with your gal-pals, or best guy mates, is a great way to reconnect and remind yourself that Platonic love is pretty special, too.
We'd recommend checking out Booking.com (opens in new tab) for a great place to compare the price of flights, accommodation, and more.
Read more: