Investing time in container gardening ideas is a top strategy for creating loads of colour and interest in any outdoor space from a balcony, courtyard or small garden to a big plot. Containers can make an impact, they're easy to look after, and you don't have to leave them behind when you move home.
It is easy to fall into a bit of rut with container gardening, though, planting the same old blooms year after year, so we were delighted to see that Real Homes favourite Monty Don had been sharing some container gardening ideas that are far from run of the mill on his Insta feed.
Want to be inspired, too? Just scroll down for Monty's fabulous container choices. Don't forget that we've got tons more garden ideas on our hub, and you can get more container gardening advice and ideas in our dedicated feature, as well.
1. Monty Don's canna lilies in pots
Canna lilies look spectacular in a pot because they have beautiful bold leaves and look-at-me flowers in fabulous tones of red, orange, yellow, and pink. They do just as well in containers, as Monty Don's garden shows, as they do in borders, and they'll make an unmissable display.
How to plant canna lilies in containers
You'll need a decent size container for cannas – at least 30cm wide is recommended. They like a sunny spot, and you'll need to get with the watering can if it's dry. They can flower from June to October, and deadheading will encourage them to keep doing so.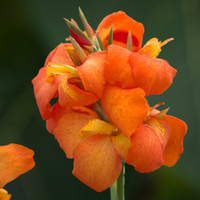 Browse canna plants, £14.99 at Primrose
Choose from blooms in yellow, red, or orange in this canna selection. Each plant comes direct from a specialist nursery that's based in England.
2. Monty Don's Canary Island foxgloves
The Digitalis canariensis, or Canary Island foxglove, will look fabulous in a container, plus it will attract wild bees and other pollinators to your garden. The blooms of this beauty are similar to the foxgloves you might be more familiar with but more flattened, while the foliage is dark green. With flower spikes up to 30cm in length, this will be real eye-catcher in your garden.
How to plant Canary Island foxgloves in containers
If you're following Monty's lead and growing these in containers, you'll need to position them in full sun or partial shade in a sheltered location.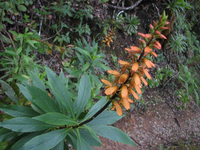 Browse Seedsown Canary Island foxglove seeds, £7 at Amazon
Grow these plants from seed – it's easy to do.
3. Monty Don's Lilium regale
If you're looking for a container plant with good height, how about following Monty's lead by opting for Lilium regale? These plants can reach 2m in height, and the trumpet-shaped flowers can be 14cm in length, so your pots will make an impact even seen from a distance. They make great cut flowers, too.
How to grow Lilium regale in containers
Grow them in full sun in a spot that's sheltered; they're not fussy about aspect and can be north, south, west or east facing. They're toxic to cats, so if there's a feline in your household, give them a miss.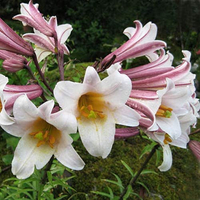 Plant World Seeds Lilium regale seeds, £11.99 at Amazon
You'll get around 15 or more seeds of this fragrant and shapely lily in this pack.
4. Monty Don's cacti and succulents
Sometimes you want a container that will make a splash from afar with tall plants, big flowers, and bold leaf shapes, and sometimes you want intricate detail you can admire from close up. Monty's containers with succulents and cacti tick the detail box, and we love them.
How to grow cacti and succulents in pots
For your own container, opt for terracotta pots as Monty has done, and make sure they have good drainage holes in the base. Add grit to your compost as well. Be sparing with your watering doing so no more than once a week. You'll need to move your containers to somewhere frost free when summer's over.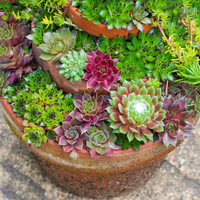 GardenersDream Sempervivum Mix, £12.99 at Amazon
This collection of sempervivum will create a beautiful feature. There's a maximum of five varieties in the mix.
5. Monty Don's Tulbaghia
These pretty flowers make a mid-height display. Monty has arranged his Tulbaghia containers symmetrically around a water feature, and we think these members of the lily family would look equally good in a selection of pots grouped together in a more casual arrangement.
How to grow Tulbaghia in containers
Put your pots of fragrant Tulbaghia in full sun in a sheltered area. Any aspect aside from north facing is fine. You can deadhead them once during the summer to encourage more flowers.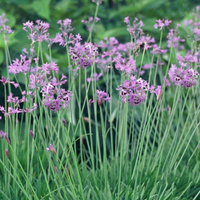 Browse Tulbaghia violacea, £6.99 at Amazon
Get a 9cm pot with pretty Tulbaghia that will have clusters of flowers all summer long.