These sustainable swaps show that living an eco-friendly lifestyle doesn't need to be difficult. Simple lifestyle changes like creating DIY cleaners, using plastic-free alternatives and planning meals can help to relieve any burden on the environment.
To mark World Environment Day, James Dutton, founder of PATCH, the world's first 100% compostable plaster, shares his top tips on the simple swaps you can make around the home to reduce your eco footprint. Make a pledge to change your habits by doing as many of these sustainable swaps as you can.
1. Ditch single use cling film for beeswax wraps
Cling film is a kitchen accessory that's heavily relied on for storing food or for packed lunches, but sadly what many people don't realise is that cling film is one of the worst single use consumer plastics being used in the world today. Cling film takes hundreds of years to degrade, so when it ends up in landfill, it sits there and risks leaching harmful chemicals into groundwater for years.
As an eco-friendly alternative, switch instead to beeswax wraps, which can be cleaned with dishwashing liquid and cool water, are suitable for re-use and are biodegradable. You might not be taking lunches to work right now, but beeswax is a great alternative for wrapping food for family picnics and can easily be rewrapped to cover any leftovers. Vegans can get versions made with soy wax instead.
2. Go plastic-free with your first aid
The first aid kit is a household staple however, unfortunately many healthcare products typically found in the traditional first aid kit are hidden contributors to the global plastic pollution problem – even traditional fabric plasters contain plastic.
Try to buy plastic-free alternatives, where possible. For instance, PATCH strips are an eco-friendly alternative to traditional plasters. They are vegan, plastic-free and made from 100% compostable bamboo fibre – a rapidly renewable resource that doesn't need pesticides or herbicides, which means that it is kind to the environment and won't end up in landfill after it's been used.
Swap other items in your first-aid kit and bathroom cupboards like cotton wool pads and cotton buds. These are perfect for make-up removal but only use clean, disinfected ones for cleaning cuts and grazes.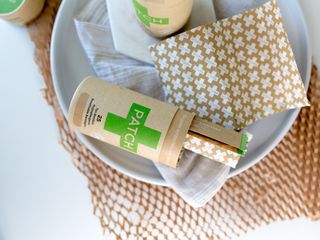 3. Optimise your home energy use
One of the easiest changes you can make around the home is to optimise your energy use, which will help to reduce power plant emissions. For instance, most electricity is made from burning coal, crude oil, and other fossil fuels, which in turn produces carbon dioxide, sulphur dioxide and nitrogen oxides – harmful gases that pollute the environment and the world's ecosystems.
That's why everyday changes, such as switching off lights and unplugging devices when you're not using them can make an enormous difference in reducing the amount of fossil fuels that are burned each day.
Other simple home swaps include turning down the heating, replacing halogen lightbulbs with more efficient LED lights, and running your clothes through a cold wash.
4. Make your own household cleaning products
Cleaning products contain many chemicals which are great for kicking grime but can have a detrimental effect on the environment.
Instead, try creating your own cleaners using some of the everyday essentials in your kitchen cupboards – like baking soda and vinegar. For a pleasant scent, add lemon rind or natural essential oils. Or why not go one step further and re-use a glass jar or bottles to store your solution once finished.
5. Cut down on food waste and compost leftovers
The Food and Agriculture Organization (FAO) of the United Nations reports that food waste is the third highest emitter of greenhouse gases after the US and China, Therefore reducing the amount of food you throw away will not only save money, but also help to reduce your impact on the environment.
A great way to cut down on food waste at home is to save or freeze leftovers and repurpose scraps for use in other meals. By planning meals ahead of time, you can factor in what might produce leftovers and consider how these could be re-used in another dish.
For the food scraps you can't avoid, such as banana skins or eggshells, composting at home will help to decrease the fossil fuels and greenhouse gases that would be emitted from this waste if it was to be transported to and left on a landfill.
More eco-friendly choices: