Far from being an unnecessary expense, or a set-up only really required by the rich and famous, home security cameras are something we should all be thinking about as we edge closer to winter and the long, dark nights begin drawing in.
With the instance of crime (unfortunately) increasing during the darker months, it's really worth assessing your home security set up to protect yourself, your family and your possessions.
With the dawn of smart home security systems – and in particular smart security cameras – it's never been easier or more affordable to keep a closer eye on your home in a way that's non-intrusive.
Our top reasons for investing in a smart security camera? We've listed them below, as well as details of one of our top rated smart security cameras: the Ring Stick Up Cam (which currently has a pretty impressive £60 off).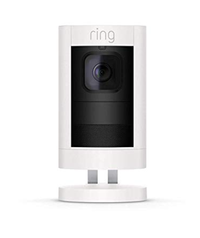 Ring Stick Up Cam | was £179, now £119 | save £60
We spotted one of our favourite smart security cameras on offer at AO and just had to share it with you. Perfect for use indoors and outdoors, it's battery operated which means no need for hard wiring and the flexibility to move your camera as and when you need it.
Find the latest smart home news, advice and information over on The Hub
1. Keep an eye on your home from any location
Okay, so this one is kind of obvious, but the ability to keep a closer eye on your home is the main reason why most of us invest in home security systems, and more specifically smart security cameras.
Whether you're heading off on holiday, visiting relatives over Christmas or want to keep an eye on your home around the clock, smart security cameras allow you to view exactly what's going on at home, from any location. How (we hear you ask)? Well, it's simple: by connecting to your smart phone.
Once synced, you'll be able to live stream footage straight to your phone, as well as receiving notifications when motion is detected and watching back old footage, if necessary.
2. Deter criminals from targeting your home
Celebrating National Smart Home Month
It's National Smart Home Month here on Real Homes and we're doing everything we can to cut through the jargon and leave our readers feeling excited and informed when it comes to all things smart home tech.
What's even better than capturing footage of criminals burgling your home (that you can then pass onto the police)? Preventing them from doing so in the first place.
We recently reported that Ring video doorbells are being handed out by police forces in a bid to deter criminal activity. Scheme not currently available in your are? Why not take action into your own hands by investing in your own device. Since the Ring Stick Up Cam is on offer, there's never been a better opportunity.
3. Be that extra pair of eyes for an elderly relative
Got an elderly – or vulnerable – relative who you wouldn't mind keeping a closer eye on? With their permission, popping up a smart camera might be the easiest way for them to retain their much needed independence without risking their safety.
4. Spy on your pet from the office
This one may sound a bit silly, but it's actually more useful than you might initially imagine. If you're forced to leave your pet alone while at work or running errands, it may give you peace of mind to check in on them from time to time. And a smart security camera provides the perfect vessel by which to do this.
While for many this is just an added benefit of investing in a smart security camera, if you're tempted to pick up a camera for this specific reason you may benefit from reading our guide to the best pet cameras.
5. Avoid ever coming face-to-face with an intruder
While we sincerely hope you're never faced with this situation, a smart security camera is just what you need to ensure you never come face-to-face with an intruder.
Should you ever be in a position where you hear – or think you hear – an intruder in your home, a quick check of your smart security camera will either provide reassurance that it's a false alarm; or the certainty you need to call the police for assistance.