There can't be many better ways to start the week than looking round the inspirational gardens at the Chelsea Flower Show. From the magnificent Show Gardens and the smaller but no less beautiful Artisan Gardens to the Great Pavilion packed with every type of flower and plant you can imagine, we were spoiled for choice when it came to looking for inspiration for our own outdoor spaces.
Here are some of our top picks for the trends that could be making their way to an outside space near you very soon…
1. Make an impact with copper
No longer simply the domain of kitchen accessories and bath taps, it seems that the rose-coloured tones of copper are going to be a popular fixture in our gardens, too.
From the simple but elegant copper stools in the Warner Edwards Garden to the citrus peel-inspired copper sculpture and laser-cut wall panels in the Silent Pool Gin Garden, it's clear that this stunning material can make just as much impact outdoors as it can in.
2. Choose patterned paving
We love a statement floor tile at Real Homes, and the great news is they will look just as effective outdoors as they will in your kitchen or bathroom.
The monochrome simplicity of the paving in the New West End Garden caught our eye, and we think this look would be perfect for adding impact to a small urban garden.
Or if you're after ideas on how to create a feature pathway, The Embroidered Minds Epilepsy Garden illustrates how mixing and matching patterned tiles can create a striking patchwork effect.
3. Get creative with graffiti
If you're looking for a contemporary way to brighten up a blank garden wall, take a look at the way The Supershoes, Laced with Hope Garden blends colour and personality with this eye-catching graffiti design.
As a vibrant backdrop to an outdoor terrace, this would be a talking point at any outdoor party so put your creative skills to the test and get decorating.
4. Create a space to escape from it all
We all need that happy place where we can get away from the stresses of the day, and your outdoor space can often provide the perfect spot to unwind.
Whether it's a seating area surrounded by calming and colourful planting or a bespoke garden room where you can while away the hours whatever the weather, there were so many inspiring spaces on show.
Our favourites? The cedar pavilion in Chris Beardshaw's Morgan Stanley garden for the NSPCC and the contemporary curved white pod in the Cherub HIV garden.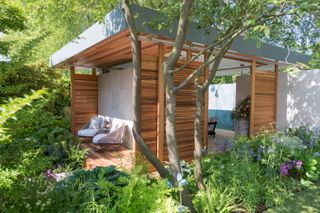 5. Make your outdoor seating take centre stage
Outdoor seating areas are certainly nothing new, but the sunken sofa area in the stylish LG Eco-City Garden has made it onto our lust list for how it cleverly puts you in amongst the planting at the heart of the garden.
Creating a central garden terrace surrounded by a series of raised beds would be an effective way to make this idea work in a smaller setting.
6. Plant of the moment
If there's one plant that's hogging the limelight at this year's show, it's the lupin. Spotted in many of the Show Gardens as well as in the Great Pavilion, you won't need to look too hard to find one if you're visiting the show.
Perfect for adding height and colour to borders, as well as for attracting bumblebees, it should definitely be on your garden wishlist this year.