As far as interior design ideas go, the Spanifornian style is as close to perfect as it gets. There are plenty of calm neutrals, a combination of modern and rustic influences, and that covetable summery feel that you can recreate wherever you live, even if it's nowhere near sunny California.
The secret of this style is the fine balance between the modern Californian home's love affair with off-whites (thank you, wonderful Shea McGee) and a tendency towards stronger, more robust materials and textures such as terracotta and rustic, rough-finished wood. If you want easy ways for incorporating the Spanifornian style elements into your home this season, follow the cues from these gorgeous interiors from Instagram.
1. Embrace soft whites and mellow woods
If you want an instant Spanifornia effect, then there's a lot you can achieve by keeping your color palette natural and neutral. Kim of House of Haires Design has transformed this bedroom with soft off-white textiles, rustic furniture, and exposed light wood flooring. The result is light an airy but not clinical – Spanifornia style is all about a bright and airy look that is down to earth.
2. Make the most of architectural arches
If you're blessed with a home that has architectural arches – flaunt them! Instagrammer Janea Brown has made the most of the decorative potential of the arch in her lounge by accessorizing it with contrasting ceramics. Rustic pottery is another big aspect of the Spanifornia style, so a handmade vase is never out of place. You can also paint your arch a contrasting color, although a plain white wash is more common.
3. Want that indoor-outdoor look? Use terracotta tiles
Abundant use of terracotta tile is another element that really sets the Spanifornian style apart from just modern Californian interior design. The richness and warmth of terracotta gives outdoor spaces a more relaxed feel, and terracotta is a very nice material for outdoor living spaces, too. You can even take it all the way into a kitchen for a continuous indoor-outdoor look.
4. White kitchens are forever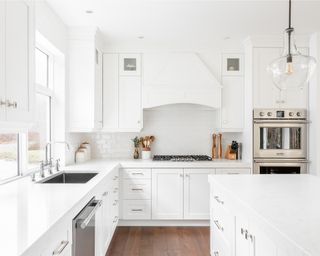 Perhaps the easiest way to introduce a touch of Spanifornian style to your home is to try it out in the kitchen. All you really need to do is to resist the temptation to do too much and to keep the design simple. Let the materials, cabinetry, and paint finishes speak for themselves, as in this gorgeous kitchen designed by McLellan & Co. The Mersey Acres kitchen combines modern and rustic influences in a dazzling white finish.
Find more beautiful white kitchen ideas in our gallery.