So everyone has gone gardening mad. Our outdoor spaces have never looked better, good job really since it looks like we are going to be spending our whole summer in the Costa del Back Garden. But what if you don't have the acres of land that everyone on social media seems to have to get cultivating? Fear not, we are here to help with these easy Ikea gardening hacks.
The perfect weekend project, these small garden ideas are easy, affordable and accessible to all. In some cases, you may not even need to buy anything, rather make use of something you already have kicking around the house. For more easy gardening ideas, head over to our garden ideas hub.
1. Display houseplants in a group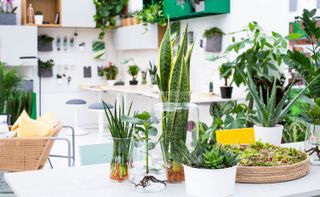 No garden? No problem. Grouping houseplants indoors is the perfect way to make it feel like you have a garden when you don't. Our favourite way to do it is to choose plants of various heights and to group them on a table, a trolley or a ledge. Odd numbers of plants work better, so work in threes, fives, sevens... for a visually pleasing group. And they don't have to be massive – even a grouping in the middle of a kitchen table can make all the difference.
Find more ways to display houseplants in our guide.
2. Embrace vertical gardening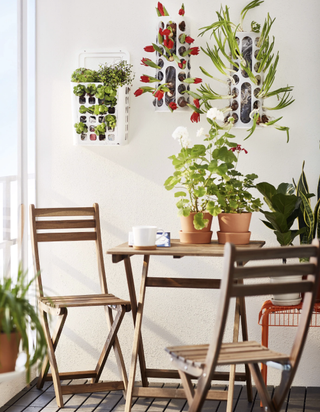 If you're short on space, give vertical gardening a go. It's easier than you might think and can result in some pretty impressive garden features. Above, the Variera Waste Bin, £3, and Variera Plastic Bag Dispenser, £1.50, have been mounted to the wall to create a planter for sweet succulents and some pretty flowers to grow. It may not be how they were intended to be used, but we love it.
3. Be creative with your climbers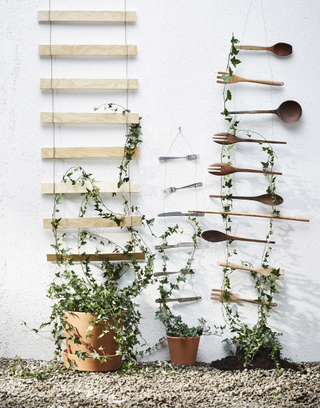 Here's another vertical gardening idea for you – can you tell we're a bit obsessed with them at the moment? Why not encourage Ivy, Honeysuckle, Wisteria, Clematis or Jasmine to crawl up the walls and cover any slightly unattractive areas of your garden? It may take a little time, but it'll be worth it in the end.
This hack uses the Luroy Slatted Bed Base, £20, strung together with a little wire. Or, if you're looking to go super alternative, why not give the Rort Forks, £1.25 each, a go?
Aside from being a cool idea, we're also pretty convinced that with a little careful handling, these climbers could be moved from one property to another, which is great news for renters.
4. Remember you can grow veg almost anywhere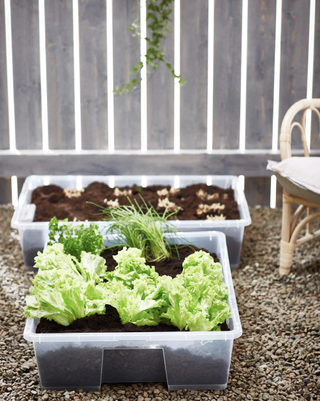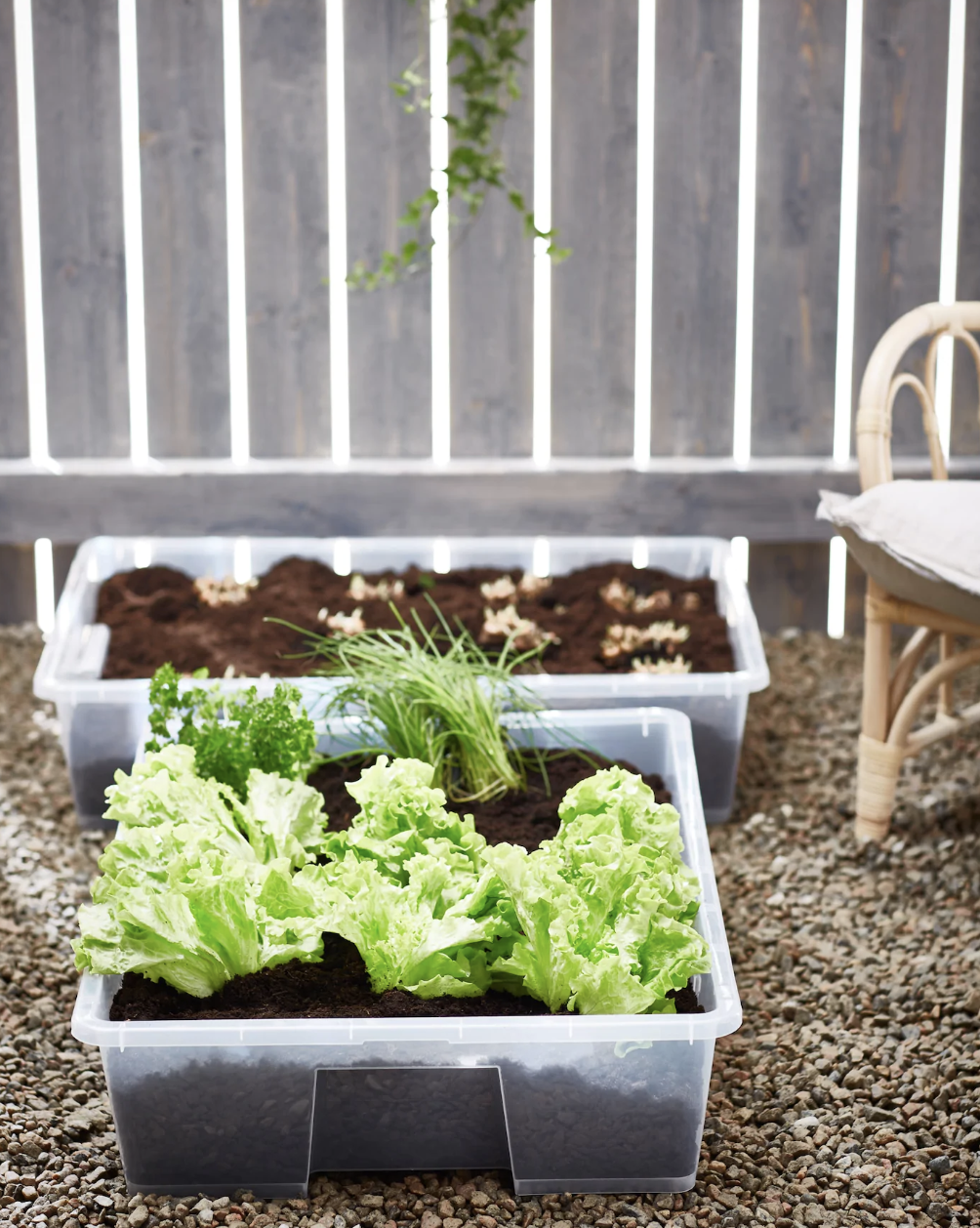 Growing veg isn't limited to greenhouses, allotments and extensive gardens – almost everyone can have a go. Whether you have space on your window sill to grow a few herbs, or a spot on your balcony for a tomato plant or two, there are always options for growing (a bit) of your own.
And you don't have to invest in expensive planters either. Here the Samla Box, £6.50, has been used. But, you could just as easily upcycle something you already have at home.
5. Create your own colour scheme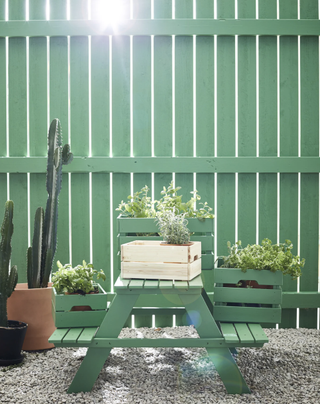 Add a little personality to your garden with help from a lick of paint, or two. Painting furniture is easy and can help transform a space that looks slightly unloved. Just choose a colour scheme that works for you.
Here, the Knagglig Box, £5, has been painted in a bright green – the same shade as the fence and garden furniture – in order to house some herbs. And we absolutely love it.
6. Use wire boards for a contemporary look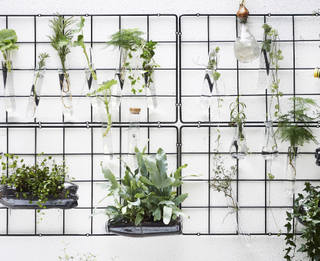 Another vertical gardening idea? We're bordering on obsessional now – and we're absolutely okay with it. Here, the Rimfora Containers, £8 for four, have been attached to wire trellis for super minimal and super stylish look. This is a great starting point for bulbs and stem cuttings.
7. Upcycle an old kitchen trolley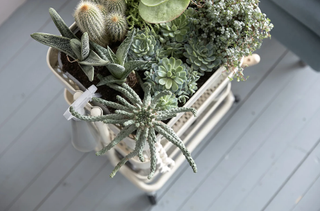 And if you have no garden at all – relatable – bring your garden indoors with a little help from the Raskog Trolley, £39. A garden on wheels, this is the perfect spot to house sweet succulents and doubles up as a pretty handy storage solution.
8. Display and grow herbs in a tiered hanging basket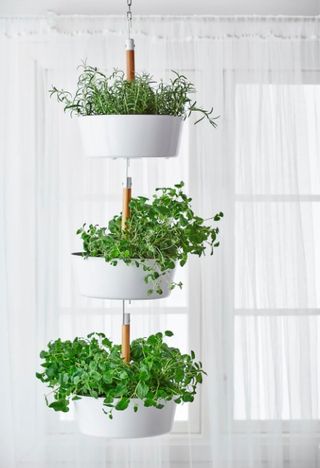 Make your herbs more of a feature in your kitchen by growing them in a Bittergurka – a great idea if your have a smaller kitchen and need to save valuable worktop space. You can hook together as many as you need, and then when you need to use them in your cooking or want to have them on hand to garnish your dinner, just can just unhook your herb of choice and pop it on the table. And yes, we know this isn't strictly a storage buy, but we've seen it for bathroom storage and it's brilliant...
9. Turn your balcony into an outdoor cinema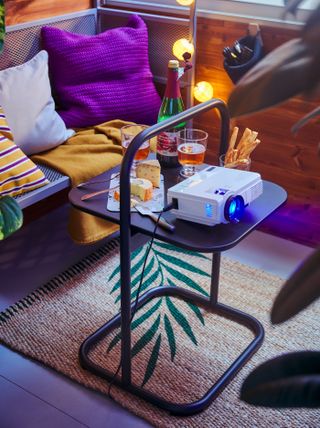 Gardening not really your thing but want to make of the outdoor space you have? Turn it into an outdoor cinema! Set up your outdoor projector on a small table (here the Husaro side table has been used), get a cheap bench (Svano is fab because you can grow plants around it too) and some cushions and outdoor rug and an old sheet and there you go!
10. Add DIY Ikea decking to your balcony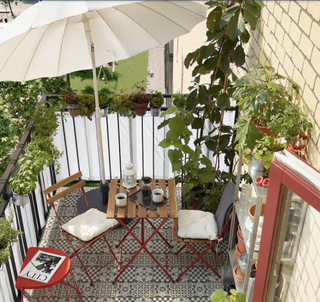 Balcony flooring seen better days? Or maybe you just want to go for a different look? Ikea sell decking that just clicks together and covers your patio or balcony floor, it's literally so easy. We like the patterned tile effect that the Mallsten tiles give (above) but there are loads of floor decking options at Ikea so check those out too to instantly update your balcony.
11. Create a tiny outdoor kitchen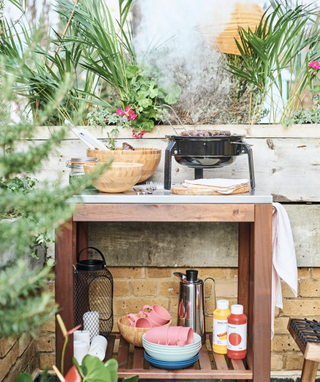 So when you have slaved away creating a lovely outdoor space, make sure you take time to enjoy it. And to us, enjoying an outdoor space means plenty of alfreso eating and drinking. We love this Ikea hack – creating a mini outdoor kitchen with just a kitchen trolley and a table top BBQ. This trolley is just £80 (£71 if you are an Ikea Family member). Store condiments and crockery underneath, and pop one of our picks of the best portable BBQs on top.
12. Create a fake 'living wall'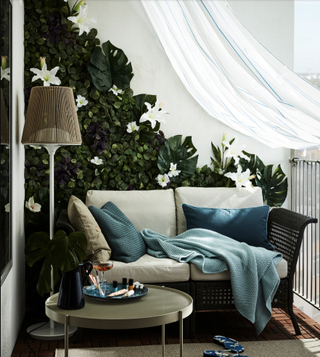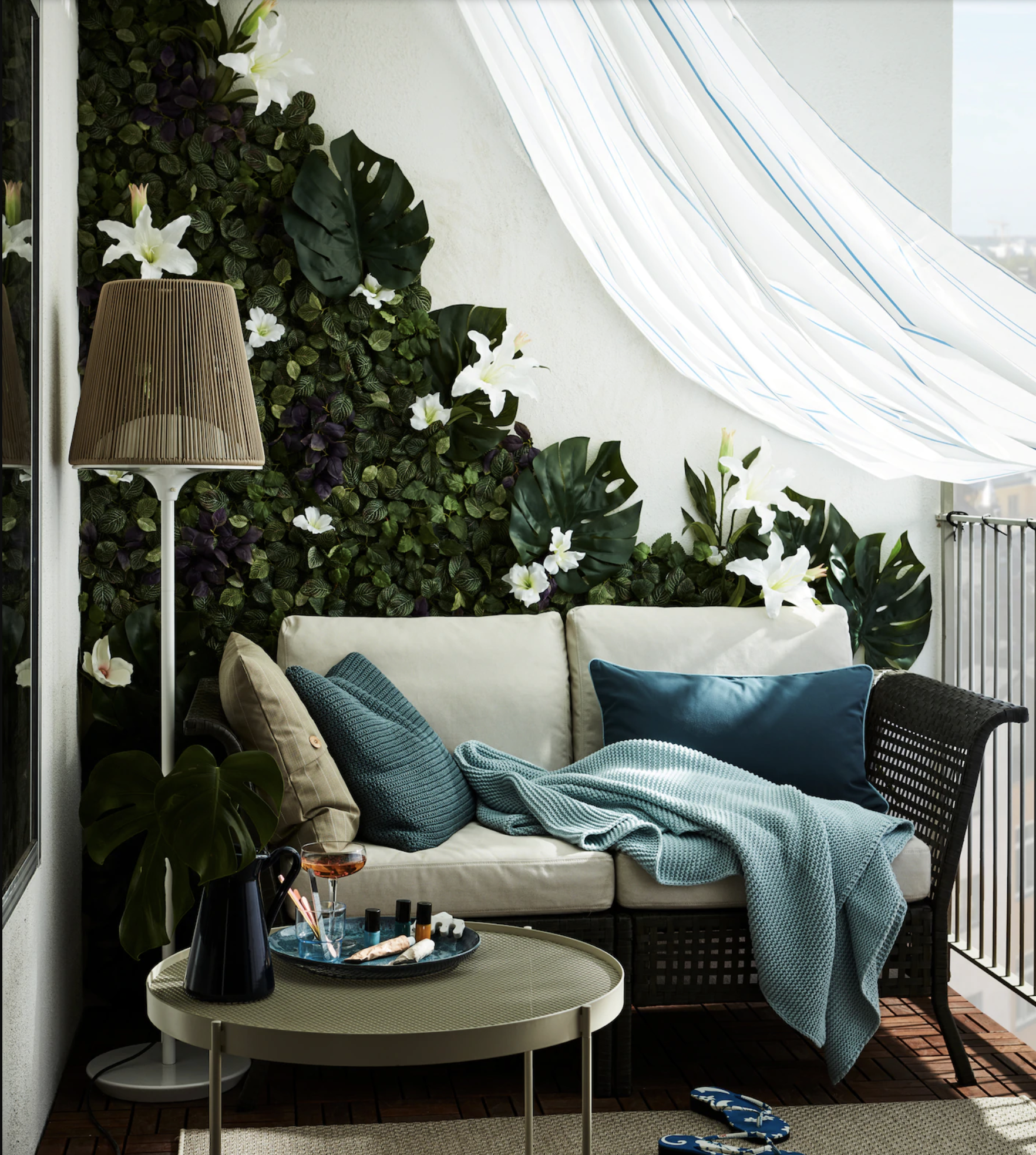 If you aren't green fingered or just want some guaranteed all year round greenery this is a fab Ikea gardening hack – build a green wall just with fake flowers. This one has been made using a combination of artificial lilies, monstera leaves and Ikea's very handy faux plant wall panels.
Discover more easy DIYs: