Creating a happy home is without a doubt about how it makes you and everyone in your household feel. And, socialite or not, keeping a home interesting and guest-ready in every way, plays a part in your home serving its purpose.
TV and Radio presenter Fearne Cotton who has been presenting the Happy Place podcast since 2018 knows a thing or two about creating a happy space, one where guests will feel at ease and content.
'I think it's all about the storytelling and the personality behind it.'
After all, whether you're having your parents or friends round for a cup of tea – perhaps Gok Wan and other exciting guests if you're Fearne Cotton – creating a welcoming environment where conversation flows naturally is a desirable home trait.
'I want you to walk into the room and go oh that's caught my eye, where's that from?' Oh what's that?' Says Fearne who recently partnered with eBay UK to help curate her own happy space sancutary.
Here are her failsafe tips on how to create a home that is happy, interesting and that sparks conversation with guests, also.
Keep considered 'stuff' on show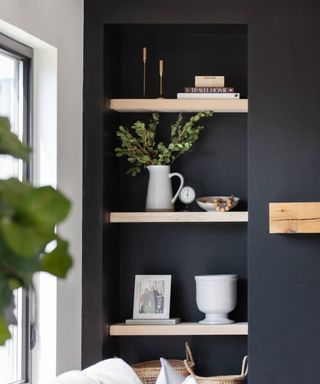 When you're looking to create a happy space that's calm and that acts like your retreat from the world, most of us might assume that decluttering your home is where to start. This is a healthy approach, but Fearne encourages us to not take it too minimal.
'I don't like excessive clutter, but I like stuff.' Says Fearne.
'I like things on shelves, trinkets and things with memories, and things that bring meaning, and things that have stories and things that I've picked up from wherever I've been, or things from friends that are meaningful,' proving how trinkets offer endless, effortless opportunity to bring more personality to your space.
'I would never just have something in my house because this is so on-trend and everyone's got one. I like things that have a personality about them.'
In the same breath, you don't want to take it too far, 'I don't like mess, I don't like stuff that is there but not functional, or at least bringing something beautiful to the room.' says Fearne.
And, it's clear that Fearne is not short of meaningful trinkets... 'Gok came round the other day, and Gok's got loads of trinkets and bits and bobs, but he went God you've got a lot of bits and bobs and I was like coming from you!'
'So I do have a lot of bits and bobs but to me it doesn't feel cluttered and they've all got meaning and a story so, I'm not a collector, I'm not a hoarder, but I just like things to feel interesting.'
Of course, if you're into Cluttercore, that's another talking point altogether...
Build a full sensory experience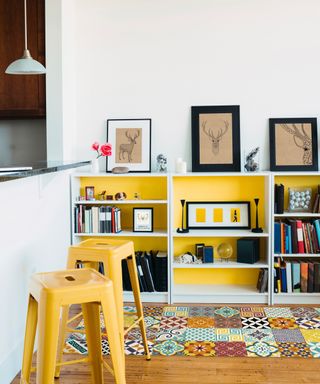 Fearne notes the importance of how a room looks and feels, and how tapping into all the senses is a must. 'I think, if you're making a nice relaxing part of the house, it's got to be a full sensory experience. I always have music playing in the house.'
'What does it sound like, what's that energy, what does it smell like – it's important.'
On asking Fearne what she keeps on her coffee table – a staple piece of furniture that makes a natural talking point in most rooms, especially living rooms where you're likely to be with guests – Fearne said: 'Like everybody, I love a scented candle.'
Fearne has people round to her home all the time for the podcast, and she admits that when stuck for time, she will light a scented candle before vacuuming. A wise move we must say.
'I would rather not have time to hoover, and there be a bit of the kids' breakfast on the floor, but it smells nice. That is such an important thing for me.'
Create stories in your displays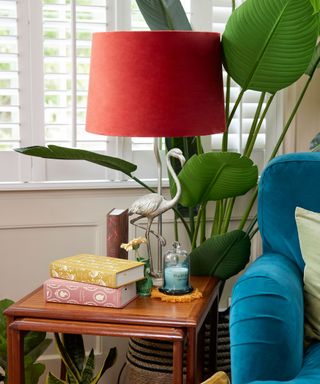 As well as a lot of candles, Fearne says that books are a great way to spark conversation. But not just any books, 'books again, that aren't just pretty coffee table books. Books that have things in, that if you looked at that pile of books you'd go oh yeah I think I know who's coffee table that is.' You want to show your personality to carry through into all the details of your home's decorative choices.
Ultimately, if your home is your happy place, full of the colors and things that you love, any guests will feel that good energy run through, for an inspiring visit.
It's all about being mindful in your home decor choices. As Fearne puts it, 'for there to be these sort of stories, and talking points. That I think makes an interesting home.'