Drew Barrymore and home décor are synonymous in our books. Her wildly successful Flower Home is a staple at Walmart — ranging from everything from the best peel-and-stick wallpaper to the best armchairs — and she's recently extended her endeavors, releasing Beautiful cookware, an all-inclusive kitchenware collection.
An expert in all-things-home, Barrymore's authoritative voice is trusted, and her recommendations are praised, with most home aficionados repeatedly seeking her out for guidance.
But when it came to her most recent must-have? We were a bit thrown as it appeared in the most unexpected of ways.
The 46-year-old posted to Instagram in honor of #NationalSelfieDay, and while Barrymore's mask is the focal point of the picture, it was the background that stole the show.
Behind her stunning selfie, you can spot a bright and cherry wallpaper that matches Barrymore's sunny disposition. The geometric print lends a modern-day on a beaming background, and the sun-inspired pattern is sensational.
So much so that if you want to recreate her backsplash — now is your chance. We spotted this exact wallpaper at Urban Outfitters, and while Barrymore is partial to the darker rust shade (or so it seems), shoppers can choose from four different variations of this print.
There's everything from cream — a lighter, white shade — to grey — a darker, moody option, with all four options stunningly suitable.
All in all, they're fantastic, and the only thing better than the versatility each variation offers is how easy it will be to apply.
The removable aspect is ideal for any renters or first-time homeowners who might not be ready (or able) to commit to a long-term paint or background. Here, this stick-and-peel wallpaper will easily apply to your walls and just as easily remove from your walls too.
Plus, when you factor in the very affordable $59 price tag for a 48" x 24" wallpaper roll: it is a no-brainer.
Go ahead and opt for this beautiful backsplash ASAP — because we have to agree with Drew Barrymore: it's the Instagram-worthy statement you'll want to snap on repeat.
The Drew Barrymore-approved wallpaper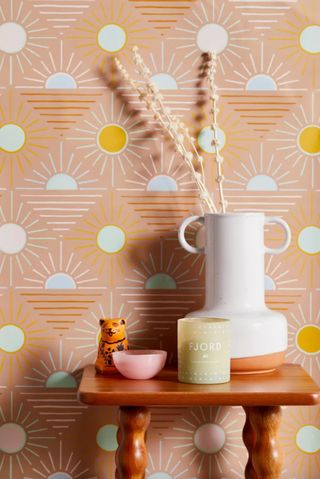 Geo Sun Removable Wallpaper for $59, at Urban Outfitters
Available in four different variations, this removable peel-and-stick wallpaper offers a sunny geometric print that lends a modern take on a beaming background. Cut in panels you can use to accent one wall or tile all over your room; it's sure to make a big impression with little effort.
Love this Drew Barrymore wallpaper? Check out similar selections below: