Now many of us are working from home, finding somewhere peaceful to work can be a challenge. However, one smart DIY-er revealed how you could fake your way to a secret home office with a smart IKEA Billy bookcase hack.
Designer Carolina Malmberg's stylish IKEA hack shows how simply the iconic bookcase has to be used to fake a built-in wall and hide your working from the home zone.
Room dividers come in all shapes and forms, but this is one of the best we've seen using something that may already stand in your home. However, like with all hacks, it's knowing how to use it that is the key. Here's what you need to know about Carolina's ingenious DIY project.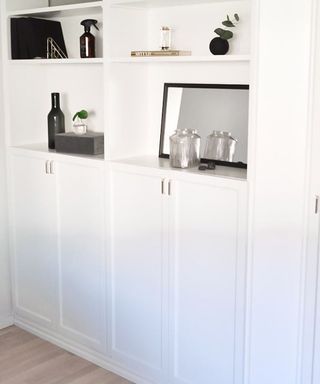 Secret home office IKEA BILLY bookcase hack
Carolina transformed her open-plan living space into a separate living room and office, using the iconic BILLY bookcase as her temporary wall.
In a video, Carolina (@carmaliv) shared the makeover process – so you can mirror her living room idea in your home. This is the WFH space solution you never knew you needed until now.
Before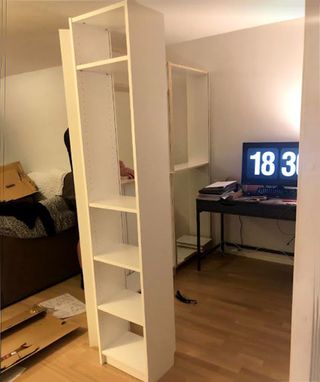 Carolina began by picking up three 80cm wide BILLY's, along with one 40cm wide BILLY. She then assembled the units and set them in place – facing outwards – with the backs creating the walls of the office space.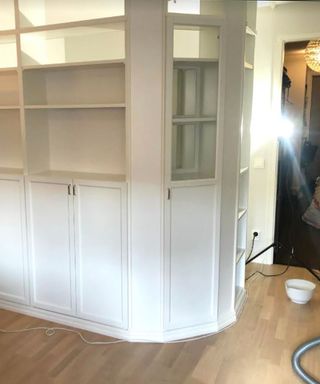 Carolina then trimmed the thin boards at the back of the units to create a 'window' which makes the space feel notably more light and airy. She then picked up some wide-height extension units and assembled them without the backer board for additional ventilation.
Plus, as half of the wall faced into her office, Carolina designed a gap in the first unit to house her printer and storage – and it's a home office idea we're rushing to replicate.
After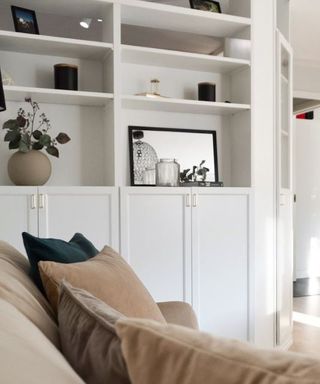 To conclude the hack, Carolina closed the back of the BILLY with MDF boards before wallpapering the space.
She then added trim to all the exposed edges and molding at the top. Finally, she finished the wall with baseboards to give the sense of a bespoke 'built-in look.'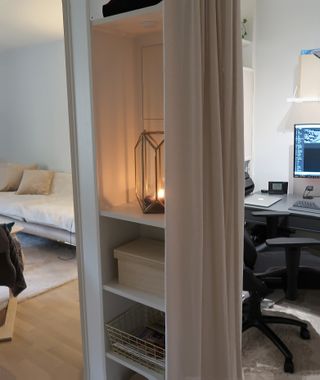 To crown the units – and make her new rooms feel even lighter – Carolina added IKEA's LOTS mirrors that reflected the rooms' natural light and made the space feel bigger and brighter.
The BILLY has interrupted the previously open-plan space to create two private rooms that offer a secret office –and a separate sanctuary when the work is complete.