Vaulted ceiling ideas are the epitome of unique design features and look beautiful in all types of home. Typically, you will have a large amount of space overhead and a vaulted ceiling describes a ceiling where beams angle up from the walls towards the roof, meeting in the center. They can also be slightly elevated on one side and they are usually constructed with support.
They originate from churches, as they allowed ceiling heights to be extended, and therefore take advantage of unused roof space. A loft conversion is a classic example, but you can also have them in ground floor spaces. The key is to make the most of the space below, without it feeling too cavernous, and of course, they can be used to great effect to open up an existing dark room that needs extra light.
Vaulted ceiling ideas that will open up your space
Ginger Curtis, owner and principal designer of Urbanology Designs says:
'Vaulted rooms do indeed make a room feel more expansive. Here are my three favorite ways to elevate the look and feel of a vaulted ceiling.
1. Add lighting that feels architectural and interesting. This will create intrigue and balance out what can feel like a void.
2. Add beams or a coffered ceiling. These decorative elements can really bring that wow effect to a room. There are so many unique and interesting ways to achieve both of these looks.
3. Paint your ceiling a contrasting color from the walls. This does not dominate the room because when the ceilings are high it's not in your normal view. But when you glance up it's an unexpected treat'
1. Go white, bright and high for an airy feel
This beautiful contemporary living room highlights the absolute joy a vaulting ceiling can bring to a space. The natural light from the windows flows in and creates a dramatic design feature that highlights the arch and vaulted ceiling. When you have this much light you use black successfully too without worrying if it will make the room feel dark. Choose a pendant light that can be suspended low enough to illuminate your seating area.
2. Provide a focal point – or two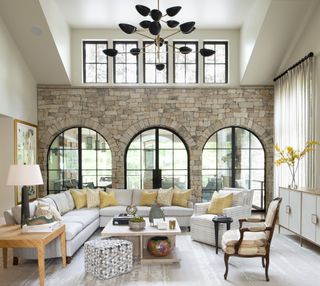 'One way to upgrade your existing vaulted ceiling or make the most of your newly planned investment is to select a statement light fixture,' advises Kristin Bartone, creative director and principal designer at Bartone Interiors.
'This provides a focal point for the viewer's eye to rest within the large space. Also consider adding clerestory windows like the ones shown here to add additional light and architectural detail.'
3. Match your decor to the beams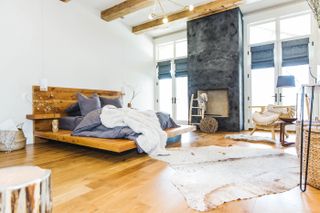 The rustic nature of vaulted ceiling beams adds character, so use that element to bring them further into your space by choosing wooden floorboards and a statement bed that enhances your ceiling ideas further. You can't have enough wood in our opinion – the knots and grains give a textural feel that gives depth to a large space.
4. Be inspired by the existing architectural details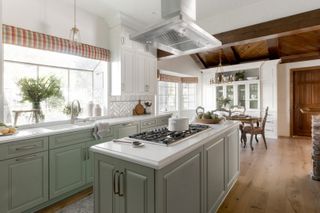 'Oftentimes we take on a project that has pre-existing architectural elements, some are great, and some not so great. Our Granada Hills project had beautiful handcrafted beams and vaulted ceilings that were original to the house. The challenge was to create a new kitchen that was modern, light and bright, while respecting the vaulted ceilings and beam work.
For this project we refinished the beams and ceiling that were looking tired and dated, with a deep rich warm brown stain and then a darker glaze to bring out the character. We relocated the cooktop from a peninsula under a beam, to an island in the center of the room. We then placed this modern hood vent over the island to modernize the space. We think we created the perfect blend,' says Jamie King, interior designer and project manager at JLK Interiors.
5. Embrace the light with structural glazing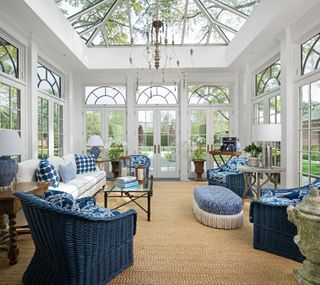 The vaulted ceiling in this sunroom adds a beautiful architectural feature that gives the space a classical feel. The result being a truly light-drenched space from the top and sides due to the structural glazing – what better way to 'bring nature in'?.
6. Brighten up a dark and drab kitchen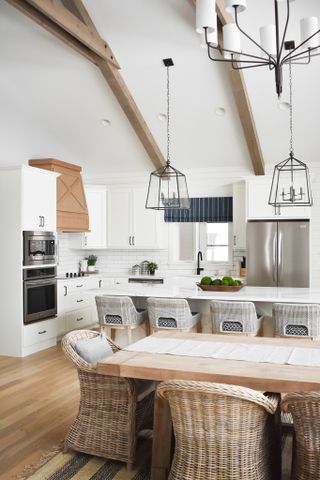 'Vaulted ceilings are one of the most beautiful ways to add dimension and openness to a space. They instantly make a room feel two times larger, and bring so many design possibilities to light thanks to the imposition of scale, lightness and height. We love to work with vaulted ceilings whenever we can - it may require more careful considerations but it's 100% worth the effort!,' says Amy Leferink, owner and principal designer of Interior Impressions.
7. Use shiplap as a textural design feature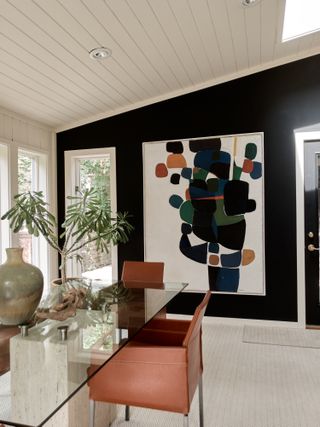 'Surely, a white, vaulted ceiling is dramatic by itself, but some may think it's a bit too bland,' says Susan Serra, CKD, CAPS and president of Susan Serra Associates.
'Adding wood planks to a vaulted ceiling provides a warm, crafted look. Painting the ceiling the same color as the walls allows the eye to flow across all surfaces, resulting in an even more spacious look. The addition of skylights adds wonderful natural lighting throughout the space.'
8. Add drama to an entryway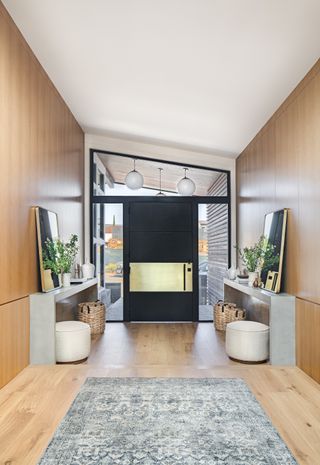 A vaulted ceiling can be used in any room of the house, this striking entryway is a great example of how it can work elsewhere. The angled ceiling is 'evened up' by the matching console tables, mirrors, plants, baskets and footstools. The wood paneling and floors add character and warmth while the window and door frame gives a punchy modern finish.
9. Use symmetry to create a further design feature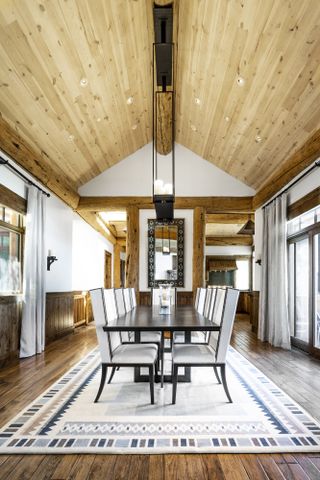 This stunning dining space shows how you can use symmetry in combination with the vaulted ceiling to create a truly special area.
The wood-clad ceiling adds character and the main beam is utilized for the pendant light above the table. White walls and windows each side allow the light to pour through and keep it feeling spacious.
10. Paint a vaulted ceiling the same color as your walls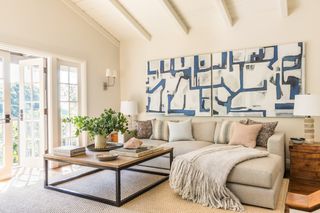 'In this California den we added tongue and groove ceiling boards and cross beams to really elevate the space by adding architectural interest and texture,' explains Joshua Smith, founder and principal designer at Joshua Smith Inc.
'We choose to keep them washed in the same color as the walls to keep an overall serene vibe which provides a soft backdrop for the art to have its moment. But the ceiling treatment makes the rooms sing!'
11. Elevated ceilings look great in modern homes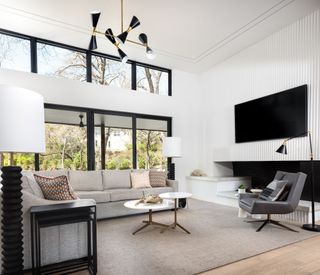 This ultra-bright space complete with its monochromatic scheme has a slightly elevated ceiling that gives it a contemporary edge. The use of white on the walls together with the ceiling helps to bounce the light around. Adding a neutral shade like taupe softens the overall look.
12. Use metal supports as a beam alternative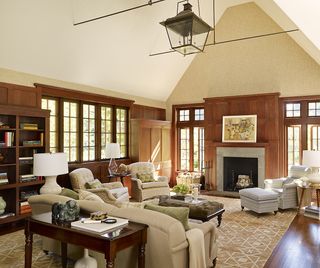 This farmhouse-style living room has the rustic quality you get from wood paneling and floors, yet without the 'heaviness' of large wooden beams. Instead, there are metal rods across the vaulted ceiling which creates a lighter feel visually and allows the large lantern to be a statement piece.
How do you upgrade vaulted ceilings?
'You can do so many things – everything from changing the finish on them to adding a third dimension such as exposing rafters, joists and beams. You can also design specific trusses for the space, add metal strapping, and enhance the lighting by adding a main decorative fixture and adding layers of light for ambient and task and accents,' says Dennis E. Zirbel, principal architect at Dennis E. Zirbel Architect.
Do vaulted ceilings make a room look bigger?
'Vaulted ceilings provide an interesting architectural element that will immediately open up the room and make it seem larger. Higher ceilings also mean room for bigger windows which allows for more sun and natural light to brighten your space. This type of look gives the room more character, a sense of grandeur, and an overall feeling of openness,' says Dennis E. Zirbel principal architect at Dennis E. Zirbel Architect.
'If the space is well lit via light fixtures and/or with skylights, a room with vaulted ceilings that is fully illuminated creates a space that appears far larger than it is; even if it is a small space. This effect also makes people in the space feel less cramped and much more comfortable,' adds Susan Serra, CKD, CAPS and president of Susan Serra Associates.