Looking for clever bedroom storage ideas? The space under your bed is a possibly the most valuable, and overlooked, storage space in your entire home, especially if you are battling a small bedroom. But even if you have meticulously squeezed in as many storage boxes as is humanly possible, or invested in a bed with built in storage, there's only so much you can cram under there. So where do you go next? Enter storage headboards... (they're genius).
1. Go for a sleek, Scandi style storage headboard
Beds with headboard storage can look sleek if you choose a slim frame in light wood that has an air of Scandi style about it. Better still, choose storage furniture for beneath the bed and for the rest of the room that complements the headboard and you'll have a serenely streamlined scheme.
This super stylish Vox headboard is really practical, with loads of built in storage. It has two large pull down cupboards plus plenty of shelf space above. For added storage you could hang up baskets as can be seen here – find similar at Ikea.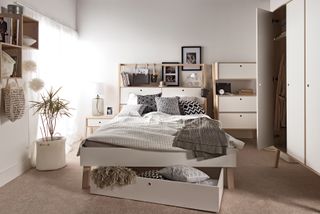 2. Top the headboard storage with side cubby holes
If your bedside table has become a dumping ground for book club reads you've never managed to finish, then opt for a bed that has not just headboard storage, but cubby hole storage down its sides, too.
This free standing Cody headboard by Maisons du Monde is perfect for tiny bedrooms – or people with tons of books.
3. Keep it simple with headboard storage shelves
If you don't want your storage headboard to be a focal point, go for a simple design that looks streamlined but, in a small bedroom, lets you do without bedside tables.
This Nikkö headboard from La Redoute has five, different sized, shelves, plus underbed drawers.
4. Hide the headboard storage away
Like to keep your storage subtle and your room tidy? From the front, this is just your average wooden headboard, but look to the sides…MORE STORAGE, but hidden.
Ikea are, of course, notorious for their nifty storage ideas and the Brimnes headboard is no exception. The three shelves are not only hidden but are also adjustable so you can move them around depending on what you want to store.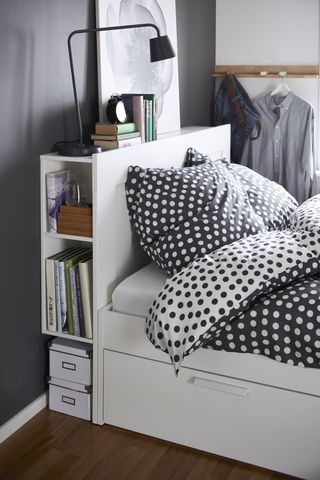 5. Industrial style? You can have it with this headboard
If it's a centrepiece to an industrial-style bedroom you are looking for, a storage headboard in unfinished wood is a must-have.
This solid wood headboard by Maisons du Monde has aged metal handles on the two drawers, and a built in shelf that could easily replace bedside tables.
6. Go overboard with a four poster storage bed
Need tons of bedroom storage but lack wall space? Why not invest in a bed that packs storage into every possible surface?
This Cuckooland bed has a huge shelving unit, enclosed storage in the headboard and alcoves underneath. You can even add side ladders for more vertical storage. We are just going to come out and say it: this has got to be the ultimate bedroom space-saving solution.
7. Swap bedside tables for headboard storage
If you are struggling to squeeze in bedside tables but need additional bedroom storage, go for a subtler storage headboard.
This white-washed wooden headboard by Maisons du Monde has two side tables built in, each with a hidden drawer – perfect if you are going for that clutter-free aesthetic (and, really, who isn't?).
8. Use the storage headboard for display, too
Storage headboards aren't just made for stashing away all your night time necessaries; choose one with a deep top shelf and you'll have plenty of pretty display opportunities, too.
The simple, sleek look of this La Redoute headboard would fit with the style of any bedroom. It offers a combination of open compartments for displaying your chosen bedside essentials, and two cupboards down the sides so you'll have plenty of room to store away bulkier items.
9. Maisons du Monde Tonic headboard
Looking for extra storage for kids' rooms? You can buy storage headboards for single beds, too.
This Maisons du Monde Tonic headboard has a handy alcove above the bed for keeping smaller items within arm's reach, while the larger shelves at the sides can store all your reading material or your ever expanding collection of skincare.
Want more storage ideas?