Waking up in a spacious and comfortable bed, especially a king-size bed, feels like the epitome of luxury. Not every room feels cut out for an extra-large sleeping spot though. Whether you can barely get your dreamy new mattress through your door or you have an awkwardly angled sliver of space, decorating a bedroom around a large king-size bed can be challenging.
If you love starfishing in a giant bed but think it's impossible to work a king-size into your tiny bedroom, we've got you. It's totally doable and there are certain tips and tricks that'll make styling and living go smoothly. Peep some inspo below.
How to style a king-size bed in a small bedroom
From balancing proportions to carving out enough space for storage, here are 10 ways to incorporate the bed of your dreams in the bedroom of your reality.
1. Balance the proportions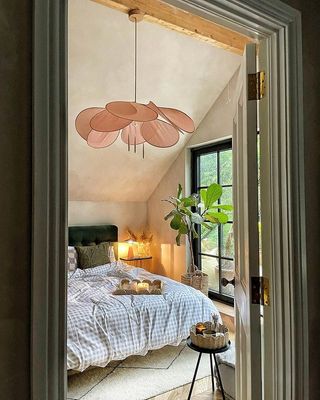 The key to designing your small bedroom around a king-sized bed is to balance proportions with the other elements in your room. For instance, bigger anchor pieces are great when paired with other oversized pieces, such as large end-of-the-bed trunks, chaise lounges, large chairs, or large light fixtures. Using large furnishings and oversized decor can be a great way to keep your bed from becoming an overpowering presence, no matter the size of your room.
2. Consider a sleeper sofa instead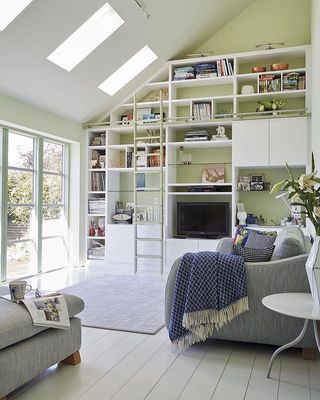 Those lacking in square footage don't need to give up their king-size dreams. Instead, an alternative could be to find a small sleeper sofa that folds out into a larger king-size bed. This is also a great idea for studio apartments or guest bedrooms, allowing you extra space in the daytime to decorate how you want.
3. Focus on bedding colors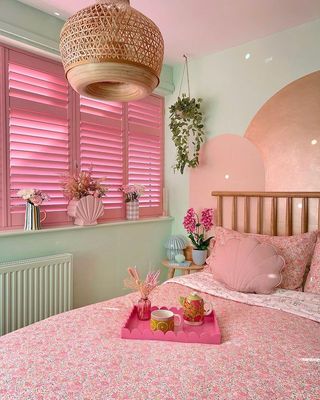 When decorating — because of the size of a king bed — it's vital to understand that your bedding will become an even more important decorative element. Whether you want bedding that can blend into a minimalist room design or hope to make a bright-colored statement, in order to find the right bedding for your room, you must consider your own tastes for your room design. Every detail, from the pillow shams to the comforter, will be on display. Everything should work with your vision for what you hope your bedroom will look like.
4. Consider all angles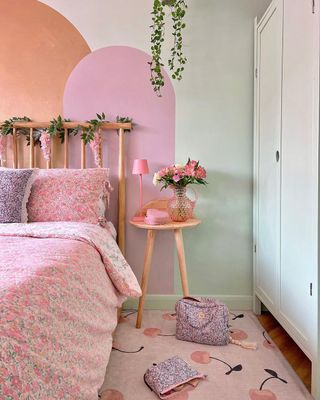 From the ceiling to the floor, every angle surrounding the king-size bed must be considered. Adding more details, plants, decor, furniture, or storage can help maximize space and help a larger bed fit in. Consider corners, floors, ceiling space, and other possibly overlooked angles as this will lead to better use of the space surrounding your large bed.
5. Add mood(y) lighting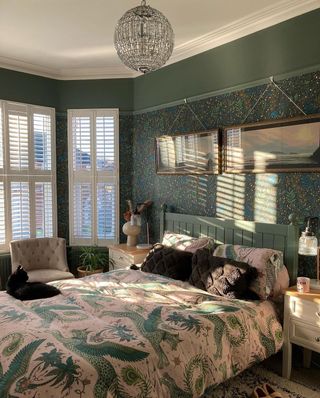 The right lighting, especially in small spaces, can set the mood (we hate the overhead light, too). For those wanting to create a feeling of coziness and warmth, moody lighting in the form of low-light lamps, ceiling lights, candles, and more opaque window treatments can create a serene, relaxing feel.
6. And add some natural light to make the space look bigger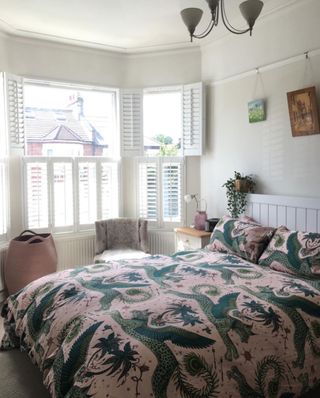 Although mood lighting is a great option for those looking for a relaxing, calming, or cozy space, the ability to add natural light can make a space feel bigger and more spacious. A bigger, brighter room is great for anyone who works from their bedroom, or for those who need a bit more sunlight in their mornings. More natural light also allows you to decorate using brighter elements. In order to have the best of both worlds, consider window treatments like curtain panels or blackout curtains that can easily be adapted to your mood and needs.
7. Make the most of your headboard and under-bed storage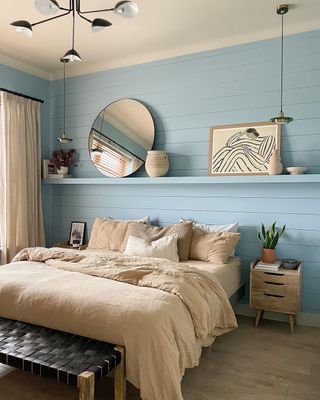 While a king-size bed could create a problem for space and storage, it's also an opportunity for more storage. Under-the-bed storage boxes are a great way to store books, accessories, or your seasonal wardrobe. Many king-size headboards also allow for more shelving and cabinet storage, so you can create a cozy reading or storage nook right in bed.
8. Choose your bed frame carefully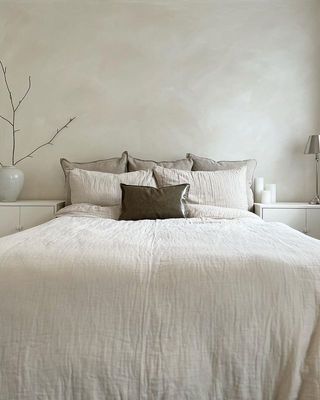 When decorating with a king-size bed in mind, consider the various bed frames out there. Some platform bed frames can take up even more room while others can aid in storage space. Another element to keep in mind is the height of your bed. Whether you prefer a minimalist, low-lying platform bed (that can create the feeling of higher ceilings) or a higher hotel-style bed (which allows for more under-the-bed storage), understanding the other elements at play with having a king-size bed is necessary.
9. Know that symmetry is everything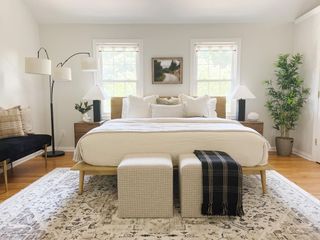 Balancing the room with nightstands or other furnishings is a great way to create symmetry in your room. For those who need to situate their bed in a corner, decorating around the bed with other large furniture pieces, such as a large trunk or tall dresser, allows a balance in the room. If a room feels symmetrical or evenly proportioned, your bed is less likely to be an eyesore in your room.
10. Optimize the space around your bed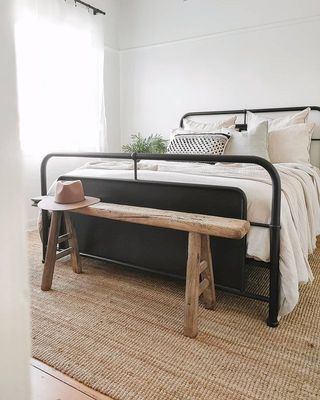 The space surrounding your bed, from the end of your bed to any empty areas between the wall and the headboard, are great places to consider adding extra decorative elements or furniture pieces. The first rule in decorating with a king-size bed is to measure every piece of furniture you hope to add in. This prevents sizing mistakes and helps you take advantage of any extra space.