What better way to celebrate Valentine's than with your best gals? Okay, sure, a movie night with the boyf or a romantic meal out sounds dreamy 'n' all, but for us single ladies, a night in together full of cocktails and fun can't be beaten.
I'm hosting the annual Galentine's this year, and in true extra mode, I'm planning on making my home look the part with all the heart-themed sh*t you can think of: heart-shaped champagne flutes, snack dishes, placemats, pink home decor, and more. Chick-flick at the ready and homemade Valentine's cocktails in hand (yes, we're doing this), I've created Galentine's night to remember. Well, it'll at least make the 'gram.
If you too have texted your gal pals to keep February 13th free, then peep these must-have items, and why not treat them to something special too? You'll be forever known as the hostest with the mostest of the group, trust me.
1. Glam glassware
My girls' and my favorite thing to do is make our own cocktails — we do this (at least) every month. And this time, given it's Valentine's Day, the theme is pink, obvi. We'll all be experimenting with our own mixes of cranberry juices, strawberry puree, and candies in the shape of hearts, but they'll only look the part if they're in glam martini glasses to match, right?
2. Heart-shaped serving dishes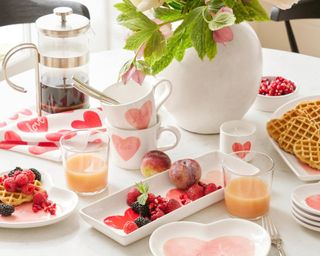 It's not a night in without snacks. Instead of getting out my usual blue bowls and plates — which wouldn't completely ruin the vibe, in my opinion — I've found a few serving boards, dishes, and table accessories for an extra special touch. But don't think these are the throw-away kind either. These inexpensive kitchen buys are great eco-friendly alternatives to buying plastic cutlery or napkins. They're so cute that'll you probably want to use them past February 14th, too.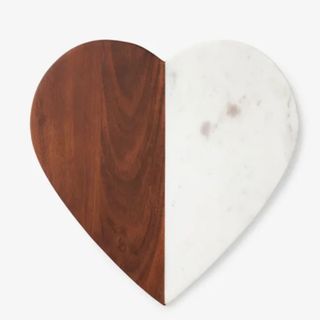 $43.99
The Company Store Marble & Wood Serving Board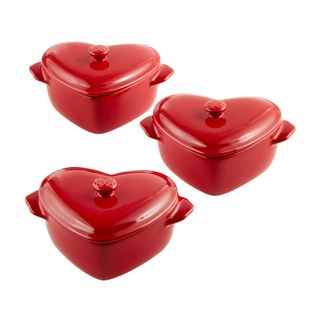 $19.99
Red Mini Heart Ceramic Baking Dishes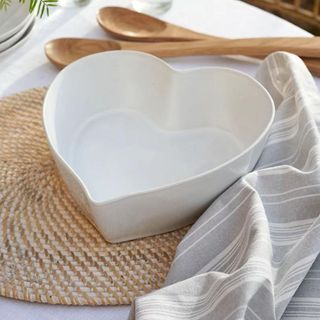 $55
The White Company Porto Heart Oven Dish
3. Candles to set the scene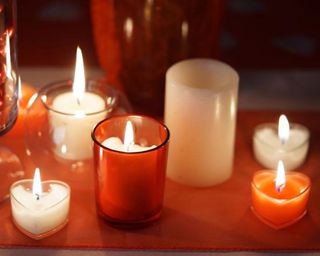 A cute candle or two is the ultimate mood-setter. But I'm not just talking romance. Getting a few heart-shaped tealight holders or sweet-scented pillar candles make the perfect backdrop to take some photos or a TikTok. They'll give all the chill vibes when you're settling down for movie night, too. Here's your sign to set up a Galentine's Day shoot with your friends.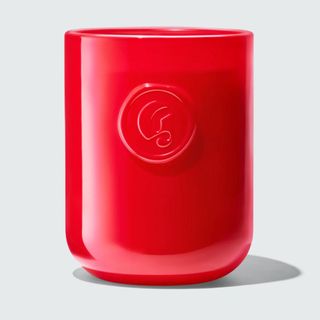 $45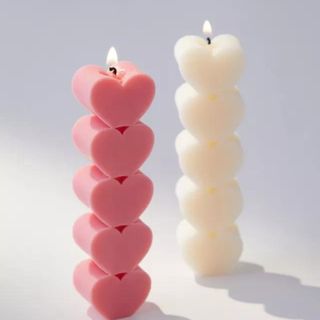 $29
Yui Brooklyn Heart Skewer Candle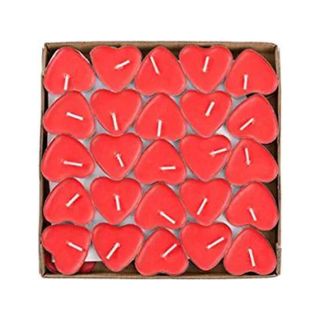 $9.99
50 Heart-Shaped Tea Light Candles
4. Cute cushions and extra special touches
I'm guessing you also saw that Kim K completely redecorated her house pink and added new carpeting and more for her daughter's birthday party? I'm sure we'd all love to be able to totally transform our space to fit every party we have, but as a renter (who's on a *tight* budget) it's not an option. So, instead, I've picked up a few cushions and Valentine-themed items to get my home all loved up.