The only way to be ready for unexpected house guests is by having an extra bed on standby, whether you live in a large house with a spare bedroom or tiny apartment. We've done all the legwork to find the best guest beds for stylish – but comfortable – sleepovers for homes (and budgets) big and small. Some look like sofas, some like beds and some are fiendishly disguised.
Done browsing? Find how to buy a sofa bed in our advice-packed feature, and see more bedroom-related advice, buys and design tips on our hub page.
1. Invest a grey day bed
If your home conveniently turns into a hotel most weekends, investing in a sofa bed or an elegant day bed seems like a smart choice. The Douglas sofa bed from Sofa.com, would look great pushed underneath a window to create a kind of window seat effect, or, if you have got the room, in the hallway. Imagine, literally open your front door, take a quick nap on the day bed.
Find more gorgeous grey sofas in our buyer's guide.
2. Choose a multitasking sofa bed with storage
A corner sofa that not only converts into a bed but also features a discreet storage compartment? That's three major boxes ticked by Ikea's Friheten sofa. Simply remove the back cushions, pull out the underframe, and hey presto, you've got an extra bed. Store your extra sheets pillows under the chaise longue. The Friheten is £450 from Ikea.
3. Make comfort the priority
Habitat's Kota three-seater sofa bed is very much designed for utmost comfort, with a supportive foam and fibre filling and mechanism that allows it to flip all the way down, converting into a double-size bed. As well as dark and mid grey, it's available in a rather jazzy orange hue – £395, Habitat.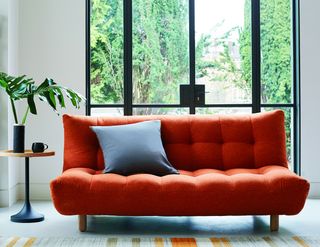 4. Pick a chair-bed for small spaces
If space is limited – or you already have a cherished sofa that you're loath to replace – how about a chair-bed (aka a daybed)? Furniture Village's Newman bed comes equipped with a matching footstool – simply 'click-clack' the chair flat, throw on a single duvet or blanket and you're good to go. It makes a stylish chaise longue for daytime lazing, too. It costs £439, Furniture Village.
Find more daybeds in our dedicated buyer's guide.
5. Save even more space with a folding bed
A folding bed is a clever contraption indeed. Often these can slot under an existing bed, or in a cupboard – and they couldn't be easier to prepare when unexpected guests come a-callin'. Wayfair's Jubilee bed comes with its own mattress, and is a bit of a snip at £104.99.
Check out all of Wayfair's sofa beds.
6. Invest a quality bed for a guest bedroom
Make like Monica from Friends and go all out on your guest room, with a bed possibly even better than your own. When you don't actually have guests it'll serve as a peaceful sanctuary. Sofa.com's gorgeous Cleo double bed (upholstered in Lychee Smart Velvet) is £1,310.

7. Choose a contemporary style guest bed
While practicality is key, you shouldn't have to compromise on style when investing in a sofa bed. Dunelm's Navy Rowan single bed is about as sleek as it gets, upholstered in a smart herringbone fabric. With a sprung slatted frame, the Rowan is available in double-form, too. £499, Dunelm.
Dunelm have some amazing guest beds and sofa beds that are stylish and budget friendly so make sure you go and check out all of their offerings.
8. Make a statement with a colourful guest bed
Make your sofa bed work for you – Made.com's hip Haru bed is available in a range of sumptuous materials and cheery colours, from Butter Yellow to Flame Orange, making it irresistible whatever its incarnation. It costs £299, Made.com.
Check out more nifty sofa beds from Made.com.
9. Don't compromise on size with a clever transformer bed
At first glance just a humble daybed, one swift manoeuvre is all it takes to convert John Lewis's Sonoma Sofa Bed into a luxurious kingsize bed. With magnetic bolster cushions that can be used as pillows – or arms at either end – the Sonoma is ideal for spare rooms, studies and living areas. £699, John Lewis.
Shop more guests beds and sofa beds from John Lewis.
10. Choose an air bed as a simple and affordable option
If you're after something temporary, cost-effective, and that you can keep in the cupboard, an airbed is your ally. With an in-built electric pump, Dreams' heavy-duty Comfort Air Bed inflates with the simple flick of a button, deflating with the turn of a dial. At only £54.99, it doesn't matter if this bad boy only comes out once or twice a year.
Read more: