These above-ground pool deck ideas on a budget will suit anyone who has a bit of DIY skill and wants to make their above-ground pool area that little bit nicer. Of course, there's nothing wrong with just placing an inflatable above-ground pool on your lawn or patio, it will still do the job. But if you're a little more design-conscious and want the pool area to enhance your backyard, then building a deck around it will make a dramatic difference.
So, if you're ready to tackle above-ground pool ideas yourself and have experience doing DIY, these simple deck area enhancements are well worth considering.
1. Add a deck to the perimeter to make it look built-in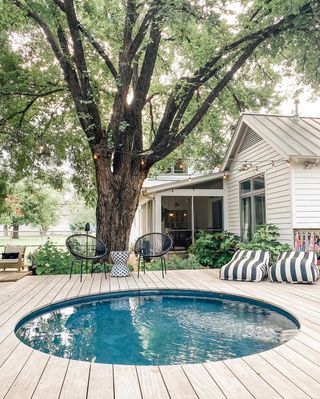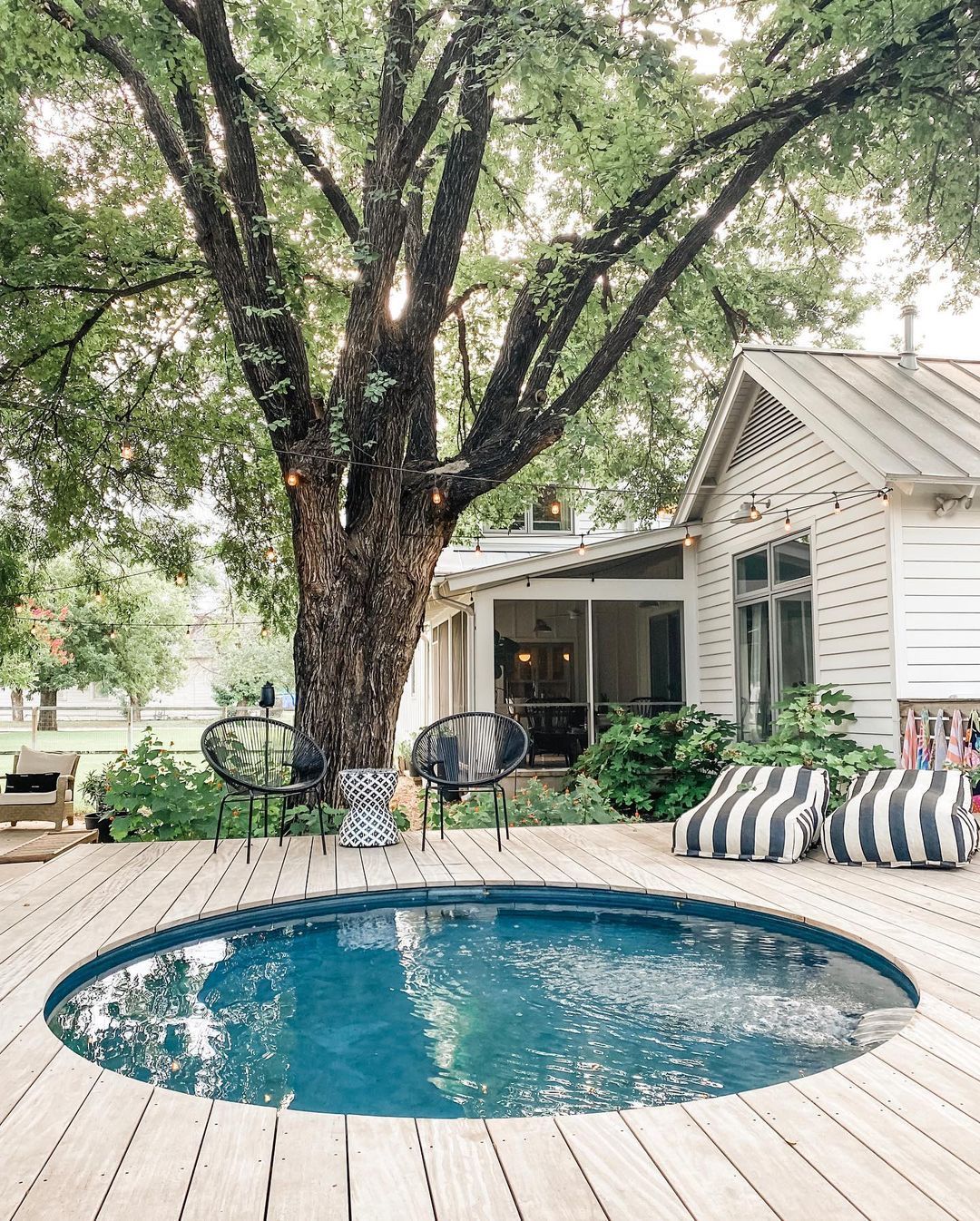 Don't have a deck just yet? You'd be surprised by how much of a difference adding a wraparound deck to your above-ground pool makes to the overall backyard.
Not only does it make it much easier for guests to get in and out – as there is no ladder or steps required – it also gives the appearance of actually being a built-in pool.
Take a peek at this design from Harvey House Austin which has used a 10" stock tank pool and surrounded it with ample decking which has space for pool furniture, like an umbrella and daybeds.
If you're wondering how to install decking, check out our expert-approved guide.
2. Match the furniture around your pool to your decking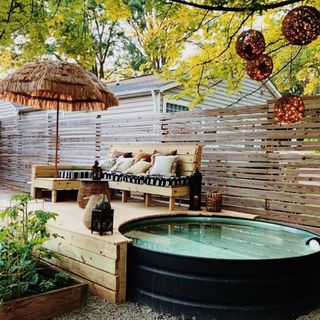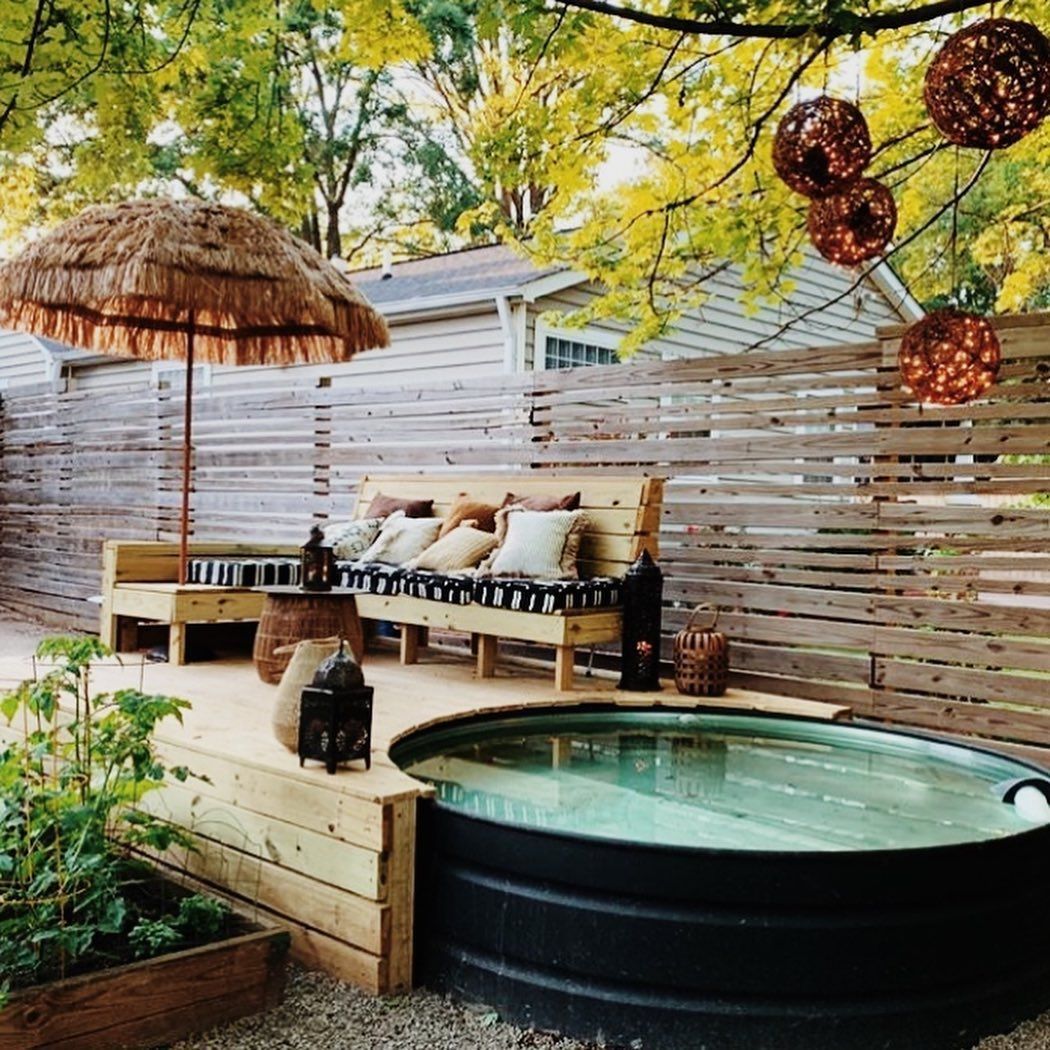 So, you're invested in stock tank pool ideas and you've added wrap-around decking to create a cool look. What's next?
Don't stop at your decking. It's now time to turn your hand to more DIY to create something similar to this design from The Unplugged Family who said, 'We built it all ourselves. We bought and painted the stock tank and then designed the deck and benches to fit around the pool. It was our temporary oasis during COVID until we get around to putting a permanent pool and backyard design in.'
After creating decking, matching furniture is a great way to finish off your budget above-ground pool design. If you've ever looked for the best outdoor furniture you will know that it can be just as expensive as indoor furniture. So it's a total no-brainer to create a custom-made modern-looking DIY outdoor sofa, using common lumber and separate cushions. Dreamy, and all for just over $400...
3. Go for spa-inspired woodwork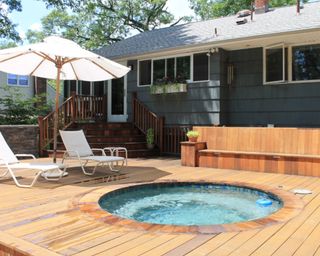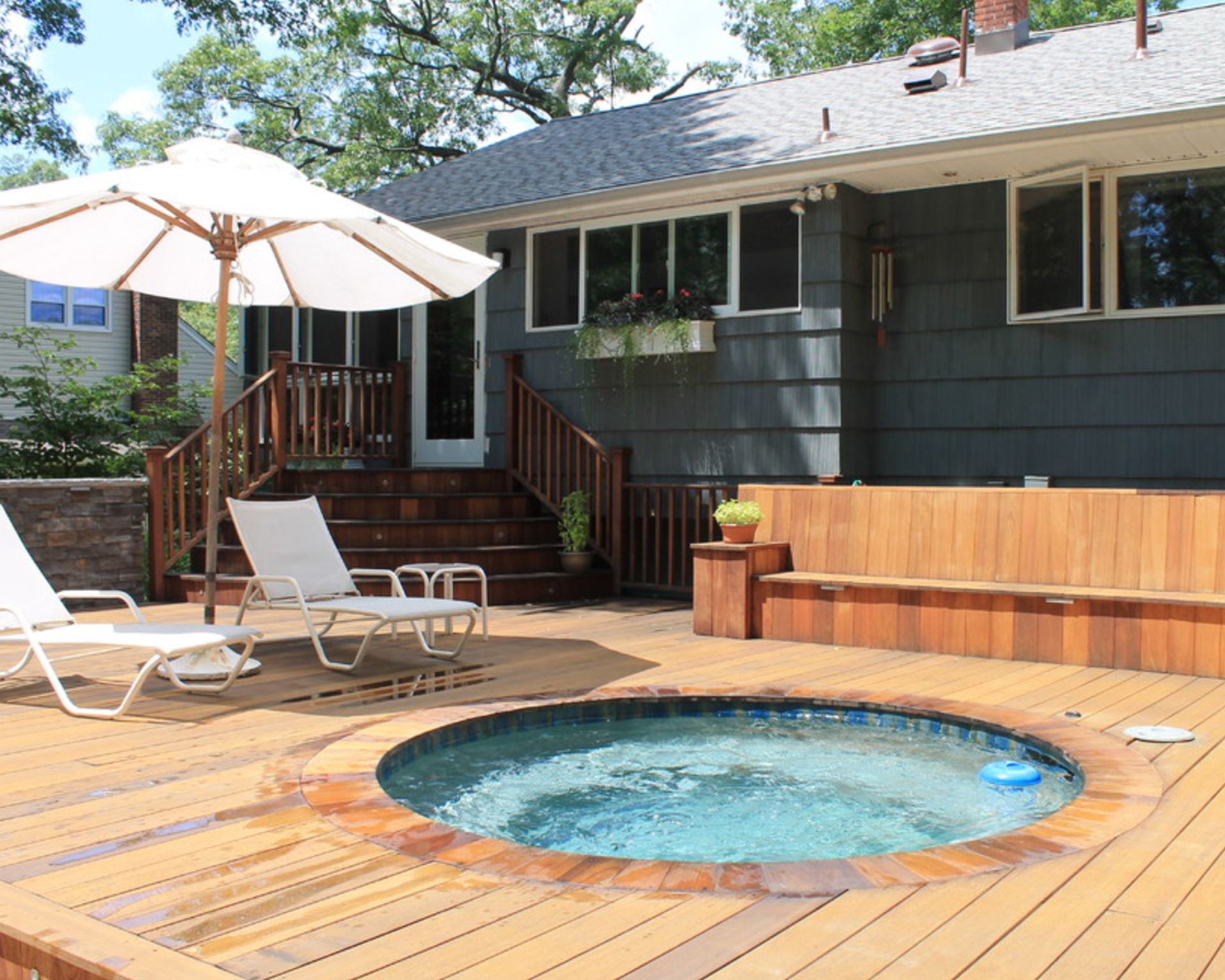 This one might require the help of professionals but it's well worth the extra legwork if you're hoping to foster a sense of zen in your backyard. Building up spa-inspired woodwork will instantly transport you to your favorite Scandinavian wellness retreat – without leaving home. We already feel relaxed even by just looking at this creation.
Having said that, there's nothing stopping you from experimenting with different decking ideas should you want to take the work on yourself.
4. Add tile to your above-ground pool for a luxe look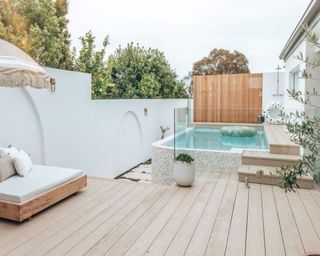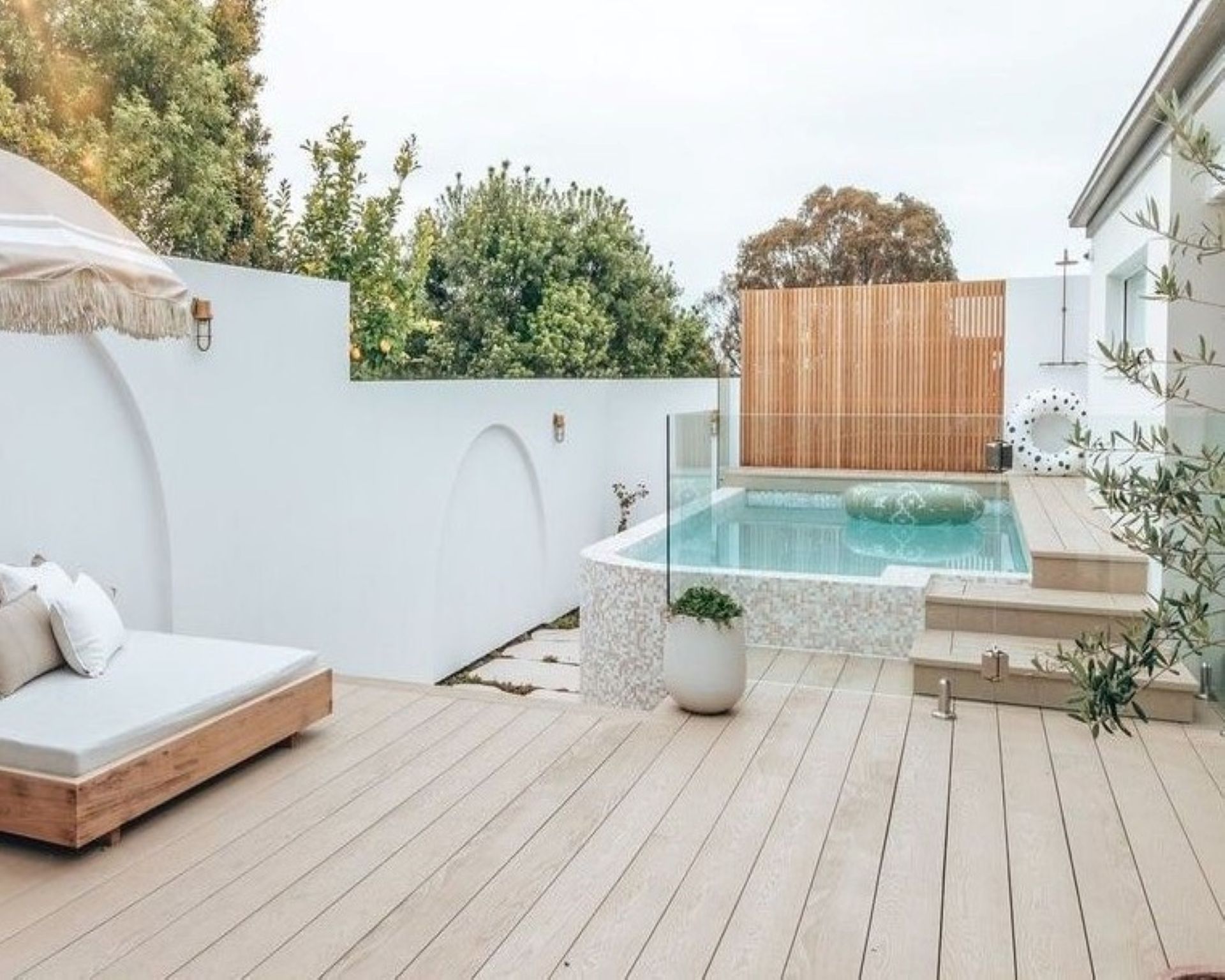 If you want an above-ground pool deck look that rivals a fancy hotel, minus the price tag, consider tiling the exterior of your pool yourself. Krystal Dahaby of House of Harvee had her above-ground pool tiled in a light, shimmering tight that harmonizes beautifully with the light color of the wood deck.
If you're thinking of completing this type of project on a DIY basis, we'll say this: if you've tiled a bathroom and/or know how to install outdoor tile, you're good to go.
5. Got kids? Create a stepped deck around your pool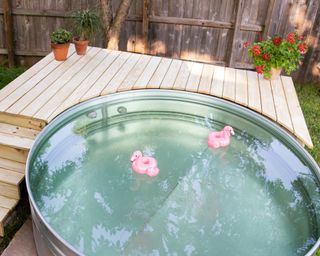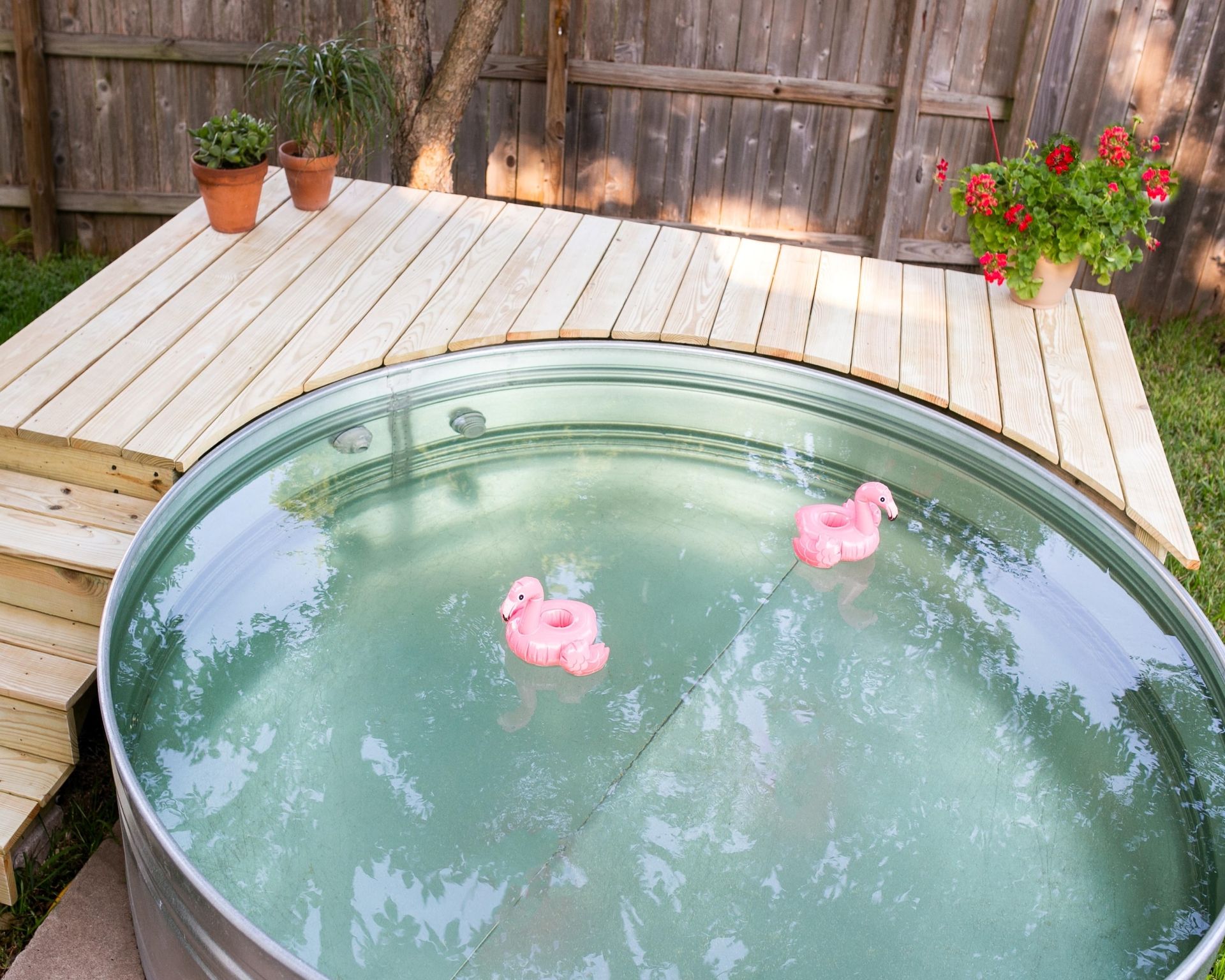 Above-ground pools are some of the best outdoor ideas for kids, but if yours is significantly raised it can be difficult for small children to climb in. To make the whole bathing experience easier and safer, build a wraparound deck with steps. This obviously required a bit more DIY woodwork skill than a simple rectangular deck design, but steps are generally easy to build. If you're confident in your ability to install a deck yourself, then adding this feature shouldn't be difficult.
How much does it cost to put a deck around an above-ground pool?
Melody Estes, Landscape Design Gardening Supervisor at The Project Girl, explains that 'the cost of putting up a deck will depend on how many materials are needed and how much labor is involved in the process. The type of wood used can also affect the price.
'A typical wood deck costs between $3 and $10 per square foot depending on whether it is made from pine or cedar lumber. Some contractors may charge more for installing additional features such as railings or stairs onto an existing deck structure; however, these extras are usually not necessary if all you want is a simple surface area for sitting around while swimming in your backyard hot tub!'
Do you need a permit to build a deck around an above-ground pool?
Yes, you need a permit to build a deck around an above-ground pool. Estes says: 'If you want to build a deck around your above-ground pool, you must apply for a permit from the city. This is because decks must be built to certain specifications and codes, and they must be inspected before they can be used.
'The decking materials used also need to meet certain standards. Your local building department will have all the necessary information and forms for applying for this type of permit, as well as instructions on how long it should take to process.'