If there's one item of furniture that's definitely having a moment, it's the velvet sofa. It's easy to see why, too. Featuring plush, tactile fabrics that are perfect for sinking into, as well as attention-grabbing colours ranging from hot fuchsia to deep green and just about everything in between, a velvet sofa is guaranteed to be a striking centrepiece in any room scheme.
What's more, opting for a velvet fabric is a great way to give a classic design such as a Chesterfield sofa a more modern edge, while simple, streamlined styles will suit contemporary and traditional schemes alike.
As with any sofa, a velvet design is an investment piece, so make sure you choose a colour you're confident you'll still love in a few years' time.
With a wide range of designs available, you're guaranteed to find one to suit your space, style and budget. Take a look at our round-up of our favourite designs.
1. JEWEL IN THE CROWN
Offset dark charcoal-grey walls with the vibrant Saturday two-and-a-half-seater sofa in Peony cotton matt velvet. Its show-stopping jewel-like colour ensures it's definitely on our wishlist. Priced at £1,840 from Sofa.com.
2. DARK TONES
With its elegant button detailing and feather-wrapped seat cushions, this Crumble three-seater sofa in Clever Velvet Steel offers an updated look on a classic design. The solid timber frame is guaranteed for 10 years, making it a great investment too. £1,949 from Loaf at John Lewis.
3. SUNSET SHADE
Ideal for creating a striking focal point in a modern, neutral scheme, the burnt orange velvet fabric of this gorgeous Fenner sofa from Habitat ensures it stands out from the crowd. Priced at £1,600 for a three-seater design, it's also available in five other velvet fabrics.
4. MODERN TWIST
Swapping leather for velvet instantly gives this classic Chesterfield sofa a softer, more modern feel. What's more, the blush pink colour is one of the most in-demand shades this spring. This four-seater design is currently on offer at £1,100 from Debenhams.
5. FOREST GREEN
Give a classic monochrome scheme a designer edge by adding one statement piece of furniture. This George sofa in Isla Mallard Velvet with dark oak legs stands out for all the right reasons. It costs £1,780 for a medium sofa from Neptune, and is also available as an armchair or a large sofa, and in six other velvet fabrics.
6. GOT IT CORNERED
What's not to love about this sofa? Comfy corner design? Check. Stylish button detailing on the seat cushions? Check. Plush fabric in a Gold cotton velvet? Check. Cosy bolster cushions at either end? Check. Basically, this Scott corner sofa from Made.com has got it all. It costs £1,799, and matching items are also available.
7. THE MIDAS TOUCH
Want a sofa with an extra touch of luxury? Combining a plush green velvet fabric with brass-capped feet and individually applied gold studs as detailing on the arms and across the front edge of the sofa, this Hatfield sofa is an elegant choice. Priced from £1,750 for a two-seater velvet sofa, Sweetpea & Willow.
8. AHEAD OF THE CURVE
With deep seats and sweeping curved arms, you won't be able to resist sinking into the stylish Sofia sofa from Made.com. Pictured in Plush Asphalt Velvet, it's a great buy at £899. Also available in three other velvet colours.
9. ENDURING APPEAL
If you want a timeless design that won't go out of style, this Eva sofa is just the ticket. Pictured in Isla Fox cotton velvet, it costs £2,250 for a medium sofa from Neptune. Also available as an armchair or a large sofa, and in six other velvet fabrics.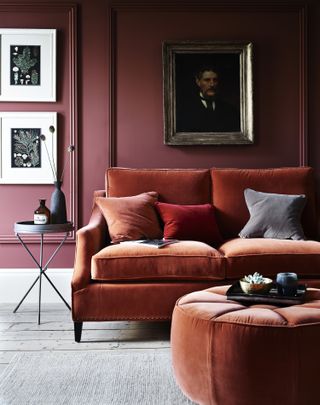 10. HOT MUSTARD
Available in an on-trend mustard shade, this Gastard sofa in matt velvet Turmeric from Willow & Hall is perfect for adding a splash of bold colour to your living room. Prices start from £1,090 for a two-seater sofa.
11. GROWN-UP GLAMOUR
Give your scheme a sophisticated look with this elegant high-backed Venezia sofa in Fern from Swoon Editions. It costs £1,299.
12. BUTTONED UP
With deep seat cushions that look this inviting, chances are that once you've sat down on this Truffle sofa, you'll find it pretty hard to get up again. Handmade to order, it's pictured in Real Teal Clever Velvet and costs £2,045 from Loaf.