Looking for staircase lighting solutions? Whether you're designing a staircase from scratch, want to incorporate a staircase revamp into the process of designing a hallway or are looking for practical lighting solutions in a poorly lit space, our staircase lighting tips are here to provide practical advice and design inspiration. Don't miss our stylish hallway lighting buys, too.
1. Plan your lighting when designing a staircase
If you're designing a staircase, it's important to ensure that you plan your lighting at an early stage. This is particularly important if you want the lights to be unobtrusive, as trimless styles need to be installed before plastering.
Another key consideration is fixing points. Whether you're lighting from above, at tread level or in the wall, factoring the lighting into your plans is really important in achieving the desired effect.
2. Staircase lighting: decorative or functional?
Take time to consider whether your staircase lighting is intended for decorative definition or more functional purposes. If it's the former, be particularly careful not to overdo it.
Whilst it's important to ensure that a staircase is sufficiently lit, opting for a solution that's subtle and simple tends to achieve more elegant results. Ideally, staircase lighting solutions should aid the transition from one space to another, so ensure that brightness is similar to the rest of your home.
3. Illuminate a dark staircase with under-step lighting
If your staircase has lipped steps, using strip lighting is a subtle and attractive way of illuminating dark staircases that see heavy foot-fall. A little more complex to install, this style may require the assistance of a professional for correct fitting. The final effect is worth the extra effort.
4. Take measures to avoid glare
A common mistake when installing staircase lighting is to forget the potential glare that will be caused when walking up the stairs. Well-designed marker lights will avoid this by being well recessed into the wall.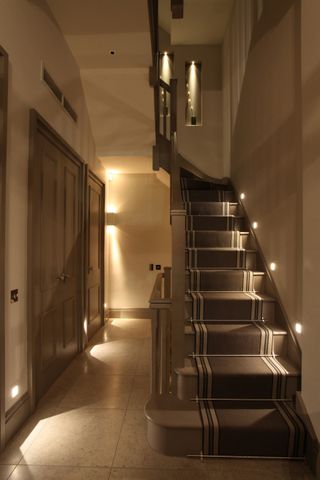 5. Illuminate recessed walls to create a design feature
Illuminating recessed wall spaces is an effective way of creating an attractive design feature while lighting a staircase. Use spotlighting to cast shadows throughout the space and illuminate a simple, stylish feature.
We love this example from John Cullen Lighting, where spotlighting is used to illuminate minimalist looking faux-flowers.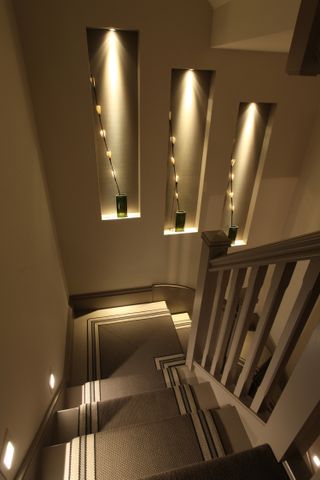 6. Light the underside of open riser staircases
Are you looking for lighting solutions for open riser staircases? Hiding a contoured LED strip on the underside of a riser means that they remain out of sight when unlit, but create a soft, floating effect when illuminated. The shadows cast below the risers create a subtle and attractive finish.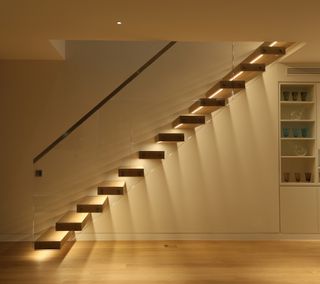 7. Use coloured lighting to change the atmosphere
Particularly fitting in contemporary homes, the addition of coloured staircase lighting to an otherwise neutral or monochrome scheme can be effective in creating an eye-catching design feature and is a great way of injecting personality into a space. This effect is particularly striking when paired with concrete or marble clad staircases.
More smart staircase ideas and lighting solutions: