Vikki Savage loves Christmas, and she has redecorated her home so it looks its best when the halls are decked and the sitting room is a sparkling festive fantasy.
We hear how she and her husband, Will, found their dream house — when it came on sale the day after they picked it as one of their favourites on a street where they wanted to live!
'We were working at the dining table when Will lifted his phone over our screens to show me the listing and we both started squealing,' remembers Vikki. 'Amazingly it was in our price bracket, so we viewed it within half an hour and offered the full asking price.'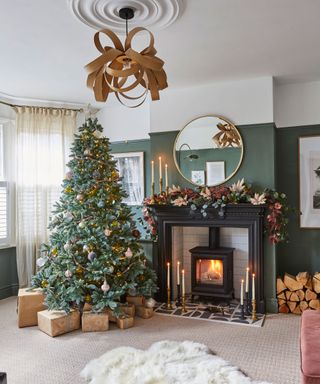 They'd fully renovated their previous three-bedroom 1930s semi nearby, so the couple was happy to take on a project with a house that hadn't been updated in over 20 years. 'I came to the second viewing armed with a notepad and wrote down where the boiler was, which radiators needed moving and what walls had wood chip wallpaper,' says Vikki.
Profile
THE OWNERS Vikki Savage (@little_savage_life), an NHS project manager, and her husband, Will, an NHS procurement manager, live here with their two children, Findlay and Alice
THE PROPERTY A detached four-bedroom three-storey 1930s house in Shrewsbury
Project cost £35,800
'It soon sunk in that every room needed doing. In the old house we'd lived with things we wouldn't have chosen as there was nothing wrong with them; here it really was a blessing to be able to change everything.'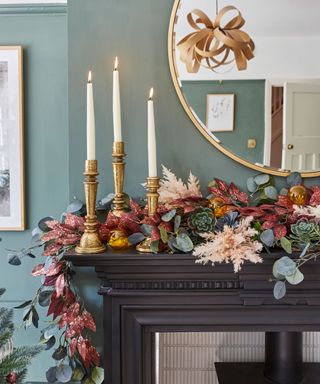 With boxes still unpacked, the couple began ripping out fireplaces and had an electrician already lined up to rewire the house. 'I'm an obsessive budgeter and we'd held back some equity from our house sale to give us a decent pot to get started,' says Vikki. 'Our first priorities were the bathroom and living room.'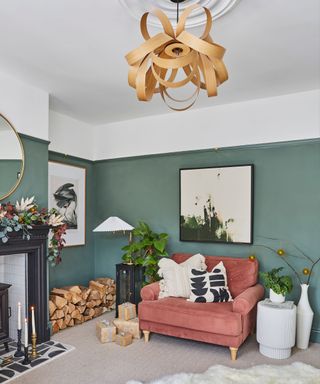 Faced with a long, narrow, carpeted bathroom and a separate toilet with bright yellow walls and no sink, it made sense to remodel and knock the two rooms together. 'There was a shower over the bath and your elbows touched the walls when you sat on the toilet,' says Vikki. 'We were desperate for a separate bath and large walk- in shower, so we moved the door further into the landing and removed a boiler cupboard, fitting a new combi boiler under the stairs.'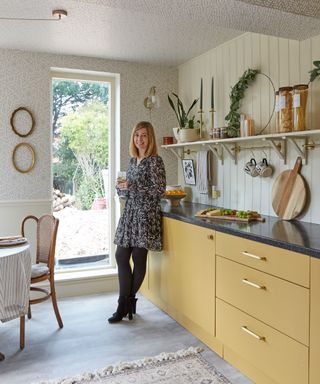 While some rooms were skimmed and redecorated, like the living room and guest bedroom, others were given a quick fix with an eye to more significant remodelling in future. 'Phase one is getting what's already here up to scratch,' says Vikki. 'But phase two — which might take years to save up for — will be knocking through and extending the kitchen and dining room, as well as adding a utility and playroom.'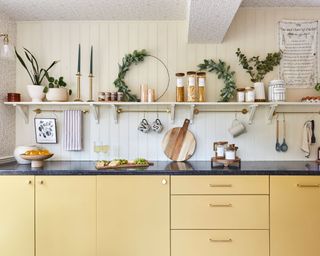 With that in mind, the 10-year-old white gloss kitchen was repainted yellow, and new LVT flooring was laid to replace the impractical red carpet tiles that had become encrusted with Play-Doh. 'The wall cupboards were so big that we couldn't use the work surface properly,' says Vikki. 'So we've replaced them with shelves and rails, plus a panelled backdrop.'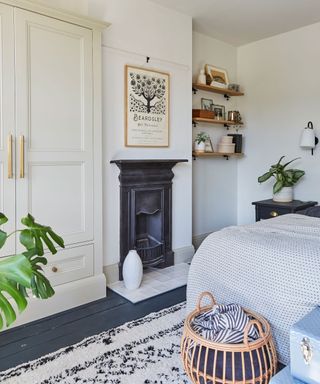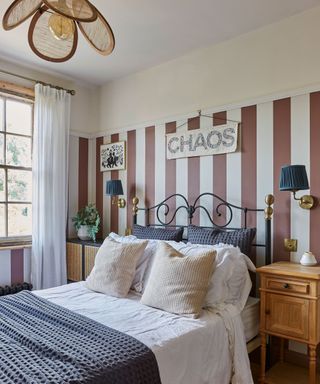 Although their previous home was from the same era, this house is a little grander with slightly bigger rooms, which has emboldened Vikki's décor choices. 'Our former house was very black and white, but here I have a yellow kitchen, a pink bath, and a burgundy guest bedroom,' she says. 'I've definitely found my style and become more confident.'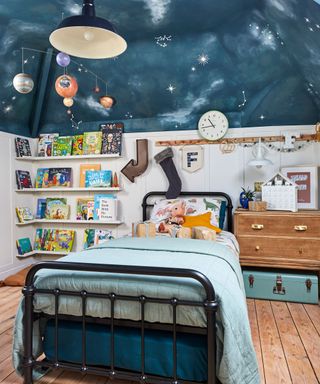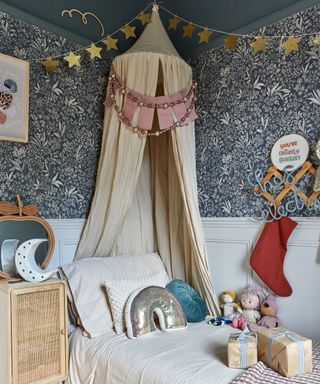 Underpinning everything are several threads that create cohesion; namely an off-white base in each room, panelling, gold accents, matching ceiling roses, and lots of plants. 'Most of my accessories could move to any room, so the styling gives it flow as well,' Vikki adds.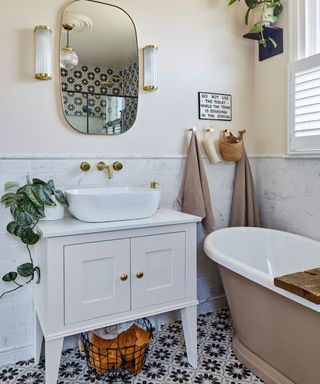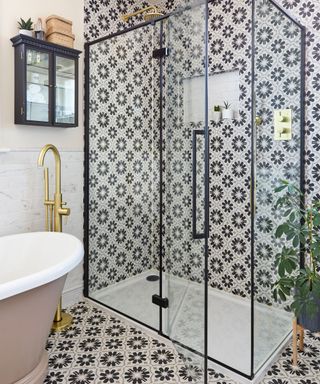 With the hall, stairs, and dining room still to tackle, Christmas will be spent between their parents' homes this year. However, they still love dressing up the house for the festivities. 'I'm obsessed with Christmas and usually get the tree up by the first weekend of December,' says Vikki.
'Helping my mum put up decorations as a child is what got me into interiors in the first place. And when we bought our first house, I realised the room would look even better at Christmas if there was a better backdrop for those decorations. We can't wait to host here.'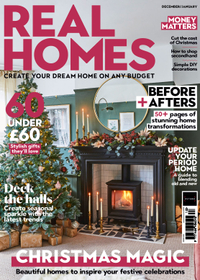 Subscribe to Real Homes magazine
Want even more great ideas for your home from the expert team at Real Homes magazine? Subscribe to Real Homes magazine and get great content delivered straight to your door. From inspiring completed projects to the latest decorating trends to ample expert advice, you'll find everything you need to create your dream home inside each issue.