Fashion designer Veronica Sheaffer needed an apartment that could do it all. The 900-square-foot space had to serve as a respite for Sheaffer and her young daughter as well as an inspired atelier for her eponymous luxury womenswear collection.
No surprise here, the Project Runway Season 18 contestant was able to "make it work" with a creative layout and several smart DIYs.
Inspired to give your own space a refresh? Enjoy more real home transformations.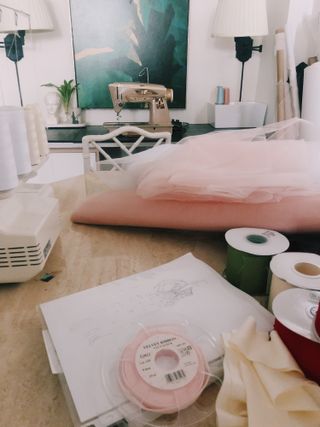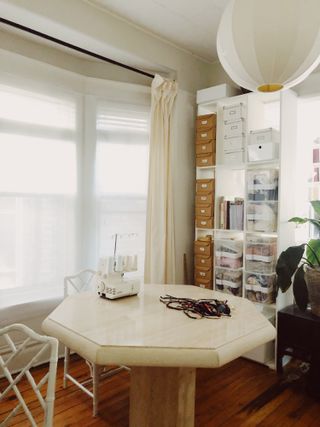 In the past, Sheaffer has tried to camouflage her home workspace. But with limited real estate this time around, she had to embrace the idea that her dining room would also be a work room.
"Still, I needed it to be beautiful for my own sanity and creativity," the designer adds. "My sewing machines have to be out so I can access them easily. But at the same time, I've got a room divider that separates the living and working space so I don't feel overwhelmed by work when I'm relaxing in the living room."
For home office ideas look to our feature.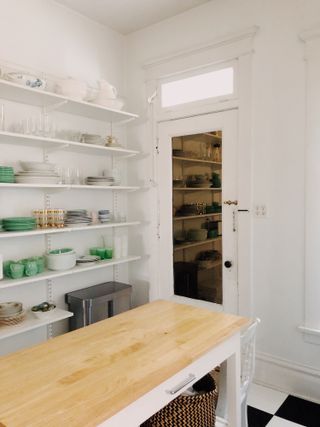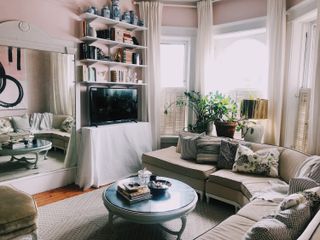 Throughout the home, nearly all of the furniture is sourced from Craigslist, antique shops, or thrift stores. Sheaffer's crown jewel is the living room's Mid-century sectional. When the designer had her heart set on finding one a few years back, she set up alerts on Craigslist to find exactly what she was looking for.
She ended up finding one that was for sale by the original owner moving from her original home. "Her daughter was there when I went to buy it, and she was telling me that no one was allowed to sit on the couch except for on Christmas Day," she remembers. Of course, it was in remarkable condition.
When the sofa started getting daily use, the 1950s foam began to deteriorate, so Sheaffer gave the piece a contemporary upgrade by reupholstering it with family-friendly Scotchgard fabric.
Need more living room ideas and inspiration? We can help.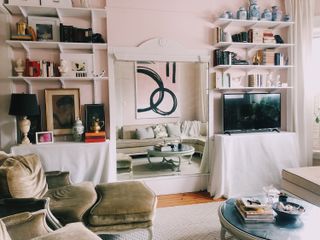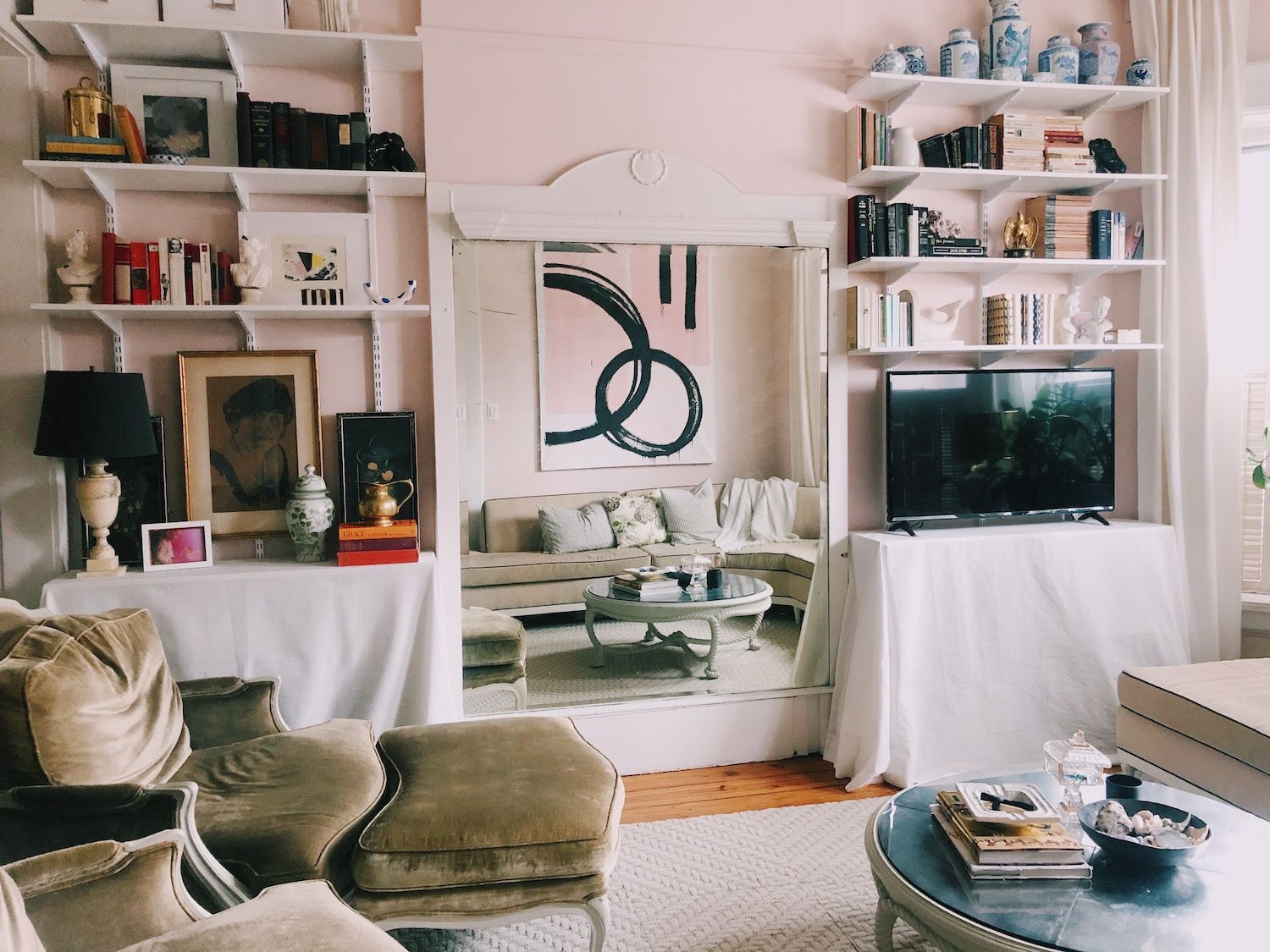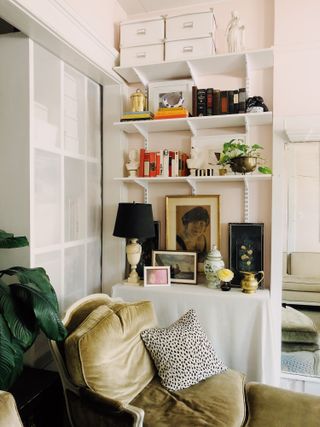 While she often prefers to show off a piece's original aging and patina, Sheaffer says upholstery is an easy way to upgrade a long-loved piece. For the French-style chairs in the living room, she added a fresh coat of paint that was more complementary to the vintage olive velvet.
Sheaffer also likes to give artwork frames a new coat of paint for a clean, contemporary feel. "My personal style is not heavy antique but more of a mix," she notes. "I really like modern/fresh things." In fact, Sheaffer's home decor style is much like her signature fashion looks. "It's very feminine and romantic, but I want it to feel cool and approachable," she says.
Since this was the first home Sheaffer and her daughter settled into on their own, the designer wanted to create a soft feminine space. In the living room, pale-pink walls balance the more industrial feel of overhead shelving units.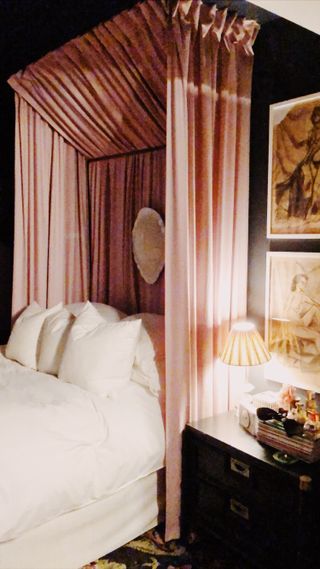 To create a romantic vibe in the bedroom, Sheaffer put her sewing skills to work creating a pink canopy to fill the angular space created by a soffit over the bed. "The bedroom was already painted very dark, almost black, and it doesn't get a lot of natural light. So I wanted something that would make it feel more luxurious in there," she explains. "I had already experimented with building a canopy in a guest bedroom a couple of apartments ago, so this time around I knew exactly how to put it up."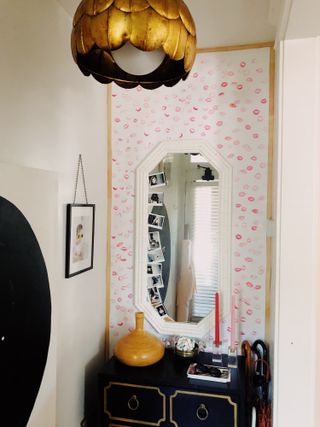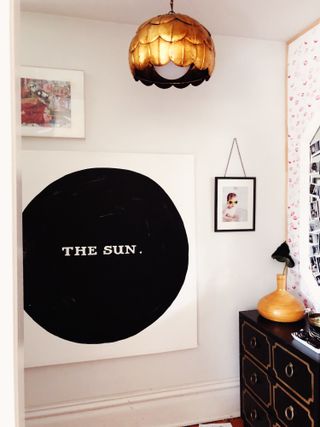 In the entryway, a quarantine DIY really kicked up the feminine romance. "I looked at that wall one day and knew instantly it should have a kiss wallpaper," Sheaffer says. So, she rolled out a stretch of white seamless paper she had on hand from a recent photo shoot, grabbed a pink tube of lipstick and went to work with the help of her daughter. "We both kissed it which I think is the cutest thing ever," she laughs.
A brass light fixture overhead completes the look. "The most transformative thing you can do in a rental is to swap out a light fixture," she declares.
Read more: