In 2016, interior stylist and TV personality Leah Ashley (you know her from FABLife with Chrissy Teigen and Design Buzz on The Design network) and her family packed up their Los Angeles home to move into a newly constructed farmhouse in Dripping Springs, Texas.
Since Ashley and her husband are both from Texas originally, the move was a homecoming of sorts. That said, it was definitely an adjustment from their California-cool aesthetic. And, Ashley adds, "it's true that everything is bigger in Texas."
Inspired to give your space a makeover? Enjoy more real home transformations.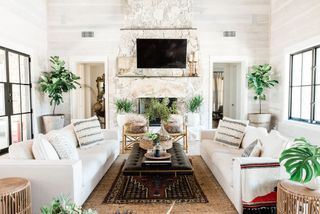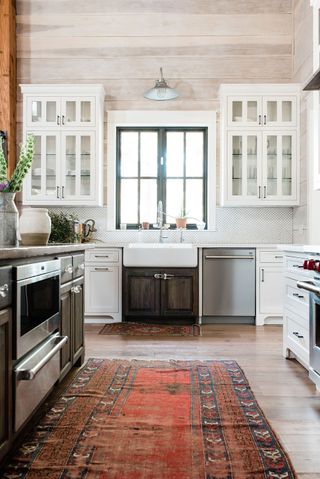 The family more than doubled their LA home's footprint when purchasing the nearly 2,000-square-foot contemporary farmhouse. "There were taller ceilings—the great room has 28-foot ceilings—bigger rooms, and the scale felt all wrong," the interior stylist remembers.
So the family needed to source a lot of "new" furniture, but instead of shopping retail, Ashley chose her preferred rout of scouring thrift stores, local antique shops, and flea markets for vintage goods. "About 75 percent of our decor is secondhand," she says. "I'm a huge believer in mixing modern pieces with vintage to make it feel like a unique space. Vintage is a great tool to express your personality and point of view in design."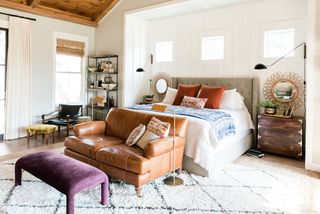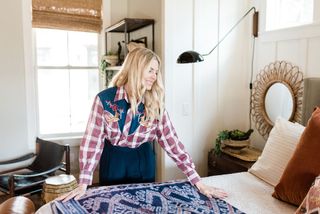 And, there's an added bonus for a family like Ashley's with two small children. "If they nick or scape or scratch something, it only adds to the appeal," the stylist notes, adding that she prefers to leave antique pieces in their original condition. She'd rather let the aging and patina shine than worry about up-cycling every piece. "Antiques have already lasted 100 years, and they're going to last another 100," Ashley adds.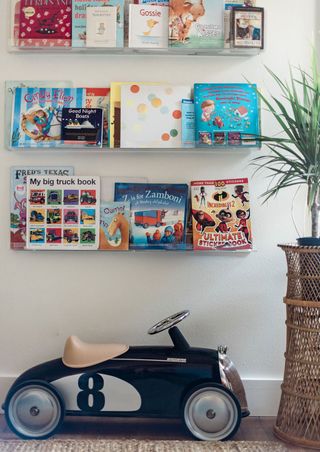 She also loves the idea that these heirloom pieces can be passed on to her children for years to come. For example, an oversized antique Ford motor sign hangs in her son's room (he shares a moniker with the automaker) that she envisions he will take along to his college dorm room, first apartment, and forever home.
In the nursery, a Mid-century modern cupboard doubles as a changing table. "When they're out of diapers, it becomes a piece to store clothes and toys," Ashley notes. "It can continue with them."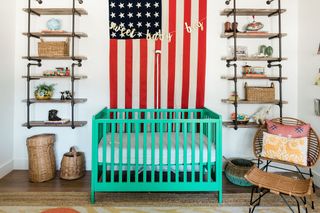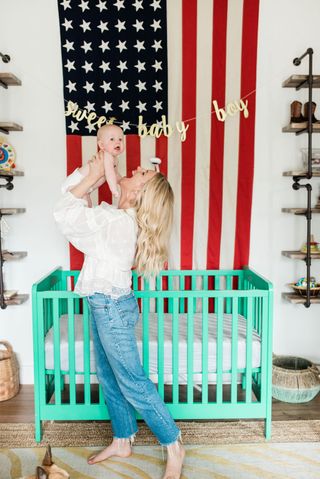 That philosophy extends to the playroom where a vintage tool caddy houses toys. "Just because kids have clutter doesn't mean you can't store it beautifully," she says. "Wherever it is, toys need a home." And though the space is designed for her children, it didn't keep Ashley from putting her own spin on it. She utilized the high ceilings to hang out-of-reach shelves to house vintage canisters, books, and decor, and added a stylish rug.
The stylist always throws a rug over carpet, especially in kids' spaces. "I can't tell you how many spills we've had," she laughs. "It's both a stain protector and an opportunity to bring in some color."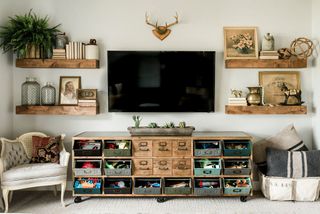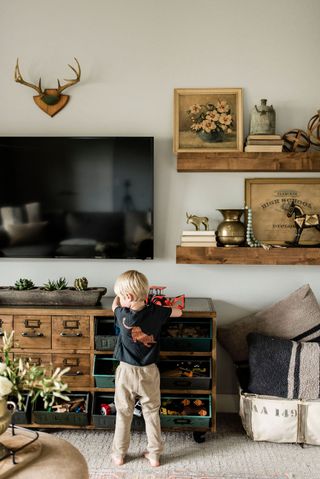 Ashley believes in extending your home's style into these oft-overlooked spaces, like playrooms and bathrooms. And of course, the outdoors isn't forgotten either. When the home's construction took its toll on two old oak trees, Ashley crafted a DIY garden bed around the old stumps. "I'm a terrible gardener but I love the idea of taking plants into the house and making little salads," she says. "We have a garden that is producing!"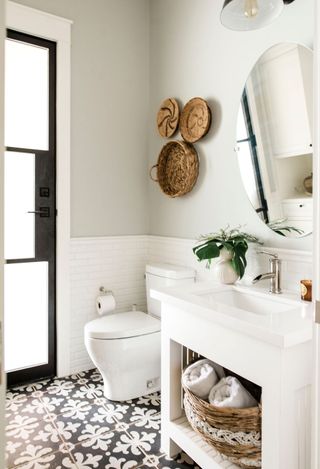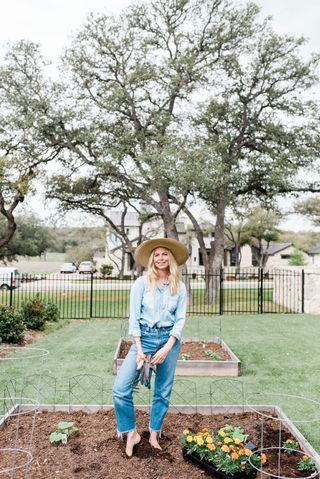 And of course, the yard houses some vintage rattan chairs Ashley scored off of Facebook marketplace (her go-to source for antiquing while larger flea markets are on pause). "When I bought the patio chairs, the owner said she hadn't gotten around to refinishing them," she remembers. "I was glad she didn't. I really love old things."
Read more: