Beyond the cottage gate, a long, grassed path creates a walkway leading to the Cotswold home of Joolz and Jonathan Abbs-Woodd. It is flanked on both sides with deep borders full of beautiful summer flowers and lush foliage, before revealing the couple's stunning Georgian family home.
Inspired to tackle your own project? We have masses of ideas and helpful advice on what to do and where to start in our feature on house renovation. For more real home transformations, head to our hub page. But first, let's take a tour of this gorgeous Georgian cottage.
THE STORY
Owners: Joolz and Jonathan Abbs-Woodd live here with their 15-year-old daughter Madeleine. Joolz is a floral stylist and runs her own floristry business Posy Flowers, and Jonathan is a property developer. They share their home with Sybil the dog and cat, Samantha
Property: The four-bedroom Cotswold stone house was
built in 1777, in a village about 20 miles north of Oxford
What they did: The roof was replaced, new sash windows fitted, the entire house replastered, new floors and bathrooms were fitted, and a two-storey extension and carport built at the back of the house
'We were staying with friends in the village when we first spotted this house, back in the 1990s,' recalls Joolz. 'It wasn't for sale at the time, but we saw a glimpse of the house and its lovely long garden from the road and I remember saying to Jonathan, "That's the house I want."
How lucky we were to buy it a couple of years later.' The couple viewed the house in the depths of winter and moved in during the spring of 2001.
When Joolz and Jonathan bought the house, the interior was very dated. 'It was in need of some TLC,' explains Joolz. The previous owners had become infirm and so many aspects needed a fair amount of attention,' she recalls.
Having lived in their previous property while refurbishing, the couple vowed never to do that again and so before starting the renovation of their new home, moved into a rental cottage nearby. 'We knew we were likely to encounter lots of issues with an old property,' says Joolz. 'They always say renovating can be a can of worms and usually double the price of any quote! All of this can be said of our project, but thankfully, all the works were carried out and overseen by our company, so overall it was a positive experience.
The renovations lasted about a year from when the couple started their project and they were able to take up residence in April 2002.
'We hadn't anticipated quite how long the restoration would take. In the end we replastered the whole house, as the walls weren't in the best condition. This enabled us to put in our signature curved walls on many of the corners, creating new features to complement the original characteristics,' explains Joolz. The build wasn't without its difficulties, however.
During a spell of bad weather, the couple arrived at the house to find a problem
at the back of the property. 'As the extension was being built and before any plastering was carried out or windows fitted, we walked in to find water pouring in through the roof and into the house. It was a very sorry sight and of course a setback, but fortunately we were on hand and dealt with it fairly swiftly,' says Joolz.
A huge positive for Joolz and Jonathan was when the old outbuildings and garage were taken down, and they were able to reclaim all of the stone. 'We built our extension, and then sold on the excess stone to build three neighbouring extensions, plus part of another house in the village,' says Joolz. 'It was very satisfying to see the old materials reused.'
With a keen eye for detail, Joolz has combined her love of nature and the changing seasons with her passion for interior design. 'Having completed an interior design course back in the 1990s, I wanted to get everything right for this house, from fixtures and fittings to décor,' says Joolz. 'I kept a scrapbook with all our ideas; it's fun to see how much of the house is similar to the magazine cuttings and sketches I made nearly 20 years ago.'
The couple have incorporated treasures collected on their travels with inherited family heirlooms. 'We love items with a history; I still use my granny's blue and white china on a daily basis,' says Joolz. Initially the couple decided on a neutral palette for the walls and paintwork, introducing colour in accessories and textiles. 'Over time we have definitely become braver. The kitchen and living room now have more impact with stronger tones,' says Joolz. 'I guess it's just a matter of finding a good background colour, and also not over cluttering an area. I like to move things around in the house just to refresh a room.'
Joolz and Jonathan have made changes to improve the flow of the house and enhance their living space. 'Originally the living room was the dining room and vice versa,' explains Joolz. 'It works so much better this way around. We entertain in the kitchen and dining room, but parties usually end up in the kitchen.'
Joolz uses flowers and foliage from her garden, to create a natural, relaxed interior. 'It is such a lovely idea to be able to grow and then pick fresh flowers and enjoy them indoors,' says Joolz. 'I have run my business, Posy Flowers, from home since 2012. I started by creating wreaths and arrangements and now I hold workshops and mainly grow small scale for weddings and flower arrangements. Last year I became a member of Flowers from the Farm, a fantastic association of members across the UK who grow British flowers with the seasons.'
The couple feel fortunate to have found their home in the heart of the Oxfordshire countryside. 'We consider ourselves guardians of the property and have renovated sympathetically to respect its history. The village has a wonderful community, a good school and a great pub. We have considered moving to give ourselves another project,' says Joolz, 'but when push came to shove, I knew we were not ready to leave. We are happy here; it's our home and we love it'.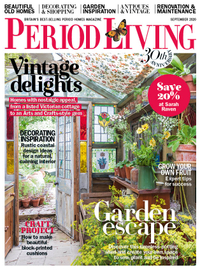 More characterful Cotswold homes: