One of the choices anyone renovating a period property has to make is how far
they're willing to modernise it. Any older home is going to need some work – nobody wants damp problems or draughty single glazing, after all – but families in particular
need to think about whether the original layout works for them. The biggest change you'll probably have to make? The long, narrow galley kitchen at the rear of many
a Victorian or Edwardian property.
That was the case for Andrew and Katie, who took on their early-Edwardian semi with the idea of a side-return extension in mind. The couple managed to build their beautiful glazed extension under permitted development, but they faced plenty of challenges along the way – including how to balance their love of period design with the practical demands of modern family living.
Do you want to improve the layout of your home by adding on? We have lots of ideas and advice on what to do and where to start in our feature on extending a house. For more real home transformations, head to our hub page.
Profile
The owners Andrew White, a patent attorney, lives with his wife Katie, a haematologist, their son, Charlie, and their black Labrador, Digby
The property A five-bedroom early Edwardian semi in
Lewisham, London
Project cost £177,000
'We knew we wanted to do something substantial with the house,' says Andrew. 'It had a traditional dining room that, while small, had a wooden floor, a fireplace and French doors. There used to be a serving hatch to the kitchen, which previous owners had turned into an archway. Parallel to the dining room, there was also a corridor leading to the kitchen from the hallway, so there was a kind of double route. The kitchen itself felt dark and narrow.
'At first, we thought we might just do a small side-return extension. While we had lots of ideas, we'd never done a project like this before. We initially thought we could get the builders in straight away, but after talking to a few contractors we decided we needed proper architectural plans drawn up.'
'We looked online for projects we liked and approached architects from there, which is how we started speaking to Design Squared. We met at their studio and they asked us to bring along a moodboard of projects we liked, which is where we got the idea for the box window. While a lot of the things on there weren't things we necessarily needed or could afford, you can see how it's informed what we have now.
'Taking on an architect meant things took longer than we envisaged, but it was worth it – we now have something unique to us. The builders were great – the work started in March and was finished by June. We were so ahead of schedule, we even had to wait a few weeks for the kitchen delivery, which is normally unheard of!'
'Our previous house had a side-return extension with one big skylight. We thought we might do something similar here, but this house has such high ceilings that if we'd added an extension with a normal roof, it would have added an extra foot and therefore come up too high relative to the sash windows above. The other option was to lose head height in the extended part of the kitchen, but it would have looked odd.
'Instead, the architect suggested a conservatory-style extension made of glass panes supported by steel, which have a much thinner profile and don't come up too high. That had the additional benefit of coming under permitted development (PD), too. It feels like a natural extension of the space and it's lovely and bright.'
'The addition doesn't extend out as far as the original part of the property so it has a kind of dog-leg shape to it. That was originally done so that we could do the work under PD, but it also gives the space more definition, rather than just being one big rectangle. It helps define the zones of the room, too, along with the kitchen island and the beams.
'We've tried to go for a modern take on an older property while still being sympathetic to its character. We'd originally ordered the kitchen in a classic Pantry Blue, but we were worried that the space might feel too dark, so we went back to the Devol showroom and changed it to Clerkenwell Green. It's quite difficult looking at a painted A4-sized piece of wood and trying to imagine how it'll look in your space!'
'We lived in during the build. Everyone says it, but it was much dustier than we thought it would be. I put towels under all the doors but I could still taste dust in my mouth when I went to bed at night! We had a kitchen unit with a hob and microwave in the hallway. It was fun, though. I liked coming home from work and seeing what the builders had been doing that day, and Charlie loved coming out with me into the building area to see how it all worked as well.
'I think we've been sympathetic to the house. The ceilings are new, but we took pictures of the original coving and looked online for a replica. I like the style of traditional Edwardian houses, so we've kept all the features we could – including the original fireplace – and made it work for us as a modern family.'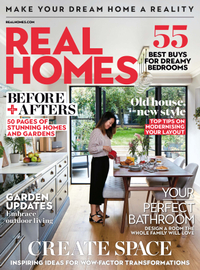 (opens in new tab)
Subscribe to Real Homes magazine (opens in new tab)
Want even more great ideas for your home from the expert team at Real Homes magazine? Subscribe to Real Homes magazine and get great content delivered straight to your door. From inspiring completed projects to the latest decorating trends and expert advice, you'll find everything you need to create your dream home inside each issue.
More reading: