Renovating a home is a unique opportunity. It's not something to rush into, and it's rarely something you can delegate to someone else. If you're extending or doing large-scale work, it's also probably the most money you'll spend outside of buying the property. It's scary but you have to be brave and throw yourself into it.
That's why Julie approached her kitchen renovation with a motto of sorts in her mind. As she told her husband, 'We're only going to do this once.' Tasked with transforming their ground floor into an extended space fit for open-plan family living, the couple carefully considered every decision, from colours and materials to budgets. They were able to spend in the places it mattered most by making compromises elsewhere, and their balanced approach has resulted in a beautiful kitchen.
If you're inspired to add space to create a dream kitchen, we have plenty of advice on extending your house. For more real home transformations, head to our hub page.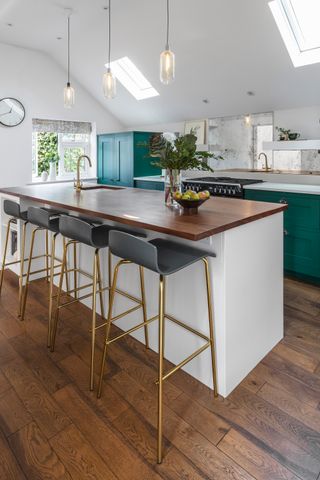 Profile
The owners Julie and James Anderson, a part-time business and marketing consultant and a senior principal in a healthcare data company, and their children, Kitty and Sam
The property A four-bedroom detached 1920s house
in Shenfield, Essex
Total project cost £169,310
'We wanted to introduce more light and space downstairs in our property, and decided to make the move towards open-plan living,' says Julie. 'We added a single-storey extension, allowing us to create a dining room towards the back of the house, and although we haven't changed the size of the kitchen, we opened up the roof to have a vaulted ceiling. The dining room was at the front of the house and closed off most of the time except when we had friends round. We wanted to make it part of the wider living space and use it for homework, family meals and entertaining. It also freed up the front of the house for a more adult lounge.'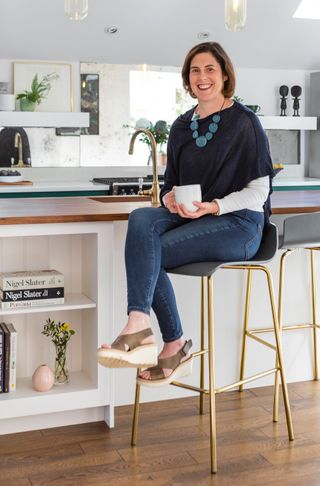 'The old kitchen was a 1980s farmhouse style. We salvaged some of it for our utility room – mainly to keep down costs, and because it was such good quality it seemed a shame to throw it in a skip. We kept the double glazing we'd already had installed and moved an existing set of French doors into this room.
'We lived in during the build using a basic utility room with a microwave and kettle. It took three months – I was dreading it to start with, but it was so much better than we thought! The only issue was trying to find a fridge-freezer that would fit the slanted roof. The eaves-style space is a bit of a quirk – the fridge we have was the only one we could find!'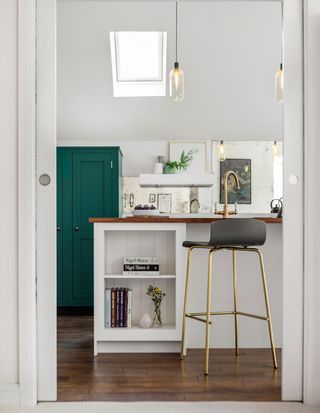 'When we put the project out to tender via our architect, our builders weren't the cheapest, but they were flexible. Their initial quote was too high, so we said, "We can pay this – where can we amend the design to fit?" We agreed a figure and held weekly meetings to discuss what had been done and where we were with the budget to stay on track.
'We cut back on costs where we could and splurged in other areas. There were compromises, too. The architect designed the extension roof with zinc, but we went for a less costly choice – I wouldn't have been able to tell the difference! We had wanted three Velux windows above the oven, but realised we didn't need all that. Communication was key – we were clear with the builders, but we could see how costs can quickly spiral.'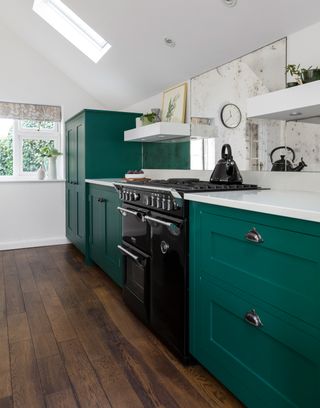 'I wanted a fairly traditional kitchen to fit in with the house's age. We looked at various classic Shaker kitchens. From the moment we walked into the Harvey Jones showroom, they were interested and wanted to help. I liked the wood flooring, and we have lots of dark wooden antique furniture, so we decided on an American walnut colour for the breakfast bar to fit with the flow of the house. The antique brass fittings are warm and homely. I didn't want the space to feel like a show kitchen. I know the wood will get knocked and scratched and I'm not precious – the kids charge around all the time! I think little imperfections just show the love in it.'
'The dark green colour in the kitchen works beautifully with the garden, which we have views of from this room. I was nervous beforehand – I really wanted to go for it but it seemed like a bold choice. Because the walls are pale, it doesn't feel overbearing. My favourite part is the breakfast bar. The wood has a lovely feel and I can perch there with my laptop. The mirrored splashback is something I'd seen in a magazine and loved for years, but I couldn't find one I liked at a sensible cost, so I asked Harvey Jones to source it. I love the antique look and the way the light bounces off it.'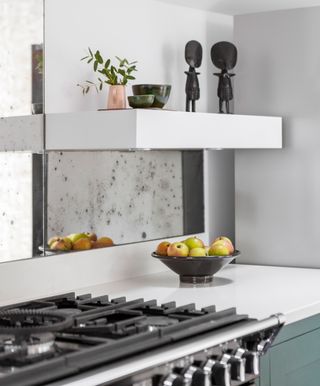 'The space is open plan, but knowing we'll need some separate space when the kids grow up, we put in sliding doors to the lounge to close when the kids are watching TV while I'm in here listening to the radio. It works really well for us now, and I think it's futureproofed, too.'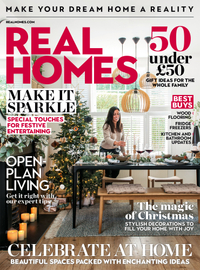 Subscribe to Real Homes magazine
Want even more great ideas for your home from the expert team at Real Homes magazine? Subscribe to Real Homes magazine and get great content delivered straight to your door. From inspiring completed projects to the latest decorating trends and expert advice, you'll find everything you need to create your dream home inside each issue.
More reading: