Many potential buyers wouldn't have given the house a second viewing, deterred by the substantial cost of updating it. Kathleen and Scott, however, saw beyond the obvious cosmetic and not-so-obvious structural challenges of the dated 1930s property. Instead they saw a sturdy and beguiling family home promising a casual, rural lifestyle – the antithesis of their London townhouse.
Read on to find out the Simpsons went about creating their dream home with arts and crafts influences, then browse the rest of our real home transformations. Don't miss our guide on renovating a house, too, for more guidance.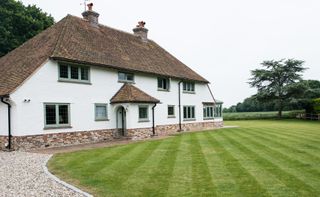 THE STORY
Owners Scott and Kathleen Simpson, both lawyers, who have three grown-up children. They have two dogs, George, a Clumberpoo, and a cockapoo called Teddy.
Property A four-bedroom 1930s detached house,
set in 0.7 acres of garden, near Portsmouth.
What they did Underpinned a portion of the property before renovating throughout, taking the house back to a shell while retaining its original room layout and Arts and Crafts appeal. This included roof repairs, new windows and doors, new floors, renovating fireplaces and decorating throughout.
'We had been renting second home properties throughout England for many years but we were always aware of the lack of permanence,' says Kathleen. 'We came to the conclusion that if we bought somewhere we could make it our own.'
This house appealed on many levels – but particularly because it was so close to the sea. Scott is a keen surfer, and the family spend as much time as possible on or near the water. They enjoy beach walks with their dogs, and the house is ideal for weekends and holidays away from the city.
The coastal location was undoubtedly one of the property's greatest assets, but Kathleen and Scott were also drawn by its character and cosiness.
'We did not want a modern, soulless home. We liked the Arts and Crafts elements; the combination of natural light and materials. It's a very relaxed and comfortable environment,' says Kathleen.
If you also love arts and crafts style check out our 11 Arts & Crafts design ideas.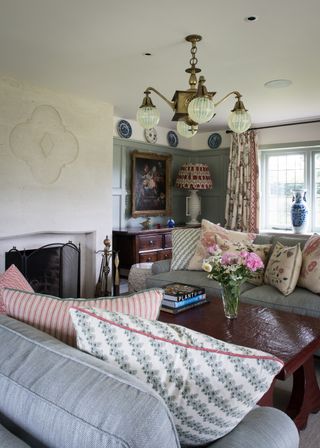 Kathleen and Scott moved in and lived with the imperfections for six months while they decided what they needed to do and what to tackle first. The most pressing problem was the rising damp and evidence of subsidence, but Kathleen was keen to replace the dated kitchen as soon as possible, and the plumbing and electrics also needed upgrading.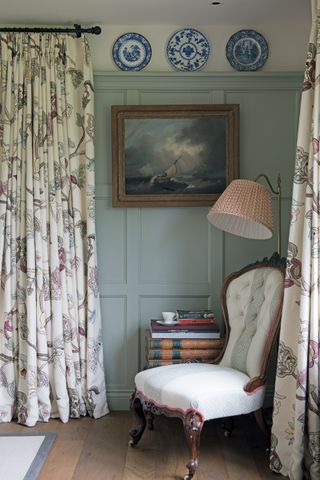 The six-month delay gave them time to establish exactly what they wanted from the house. They were keen to avoid any planning issues, so kept the room layout as it was with just a few minor 'tweaks'. Their focus was on restoring it to a good structural condition and modernising the interior without losing any of its character and comfort.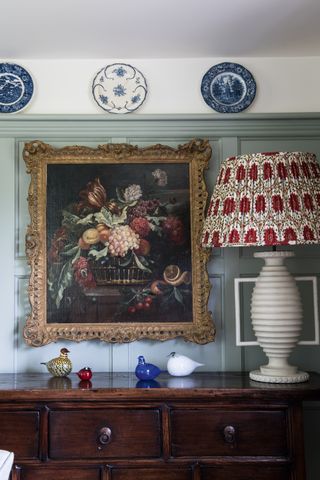 To begin with they employed a local builder to renovate a detached annexe so they could live there while the main house was being done up. Facilities were basic and they relied on a barbecue for hot meals, but it gave them a comfortable base from which they could oversee the main project.
'We gave ourselves a target of Scott's 60th birthday in the following August,' says Kathleen. 'We achieved it – but only just.'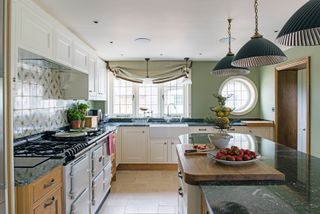 The restoration took more than 10 months, during which time the house was underpinned with 2m high underground concrete pylons and blocks, cleared of soil that was banked against the exterior walls causing rising damp, completely rewired and replumbed.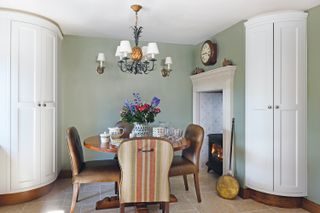 The roof was retiled after the Simpsons discovered the original nails had corroded, exterior walls were pointed and internal walls plastered.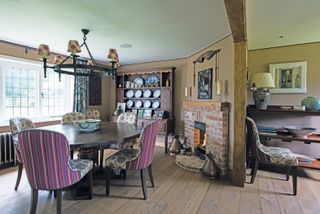 The old floor covers were taken up and replaced with engineered wood on the ground floor and solid oak upstairs. All the PVCu windows were replaced with handmade bespoke wooden ones, as were the internal doors. This was followed by a new kitchen and bathrooms, before Kathleen turned to London-based interior designer Louise Jones for help with the décor and furnishings.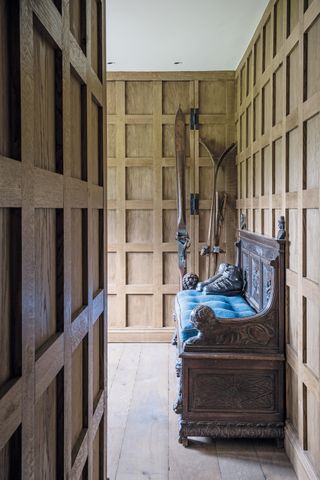 'Louise had helped us with our home in London and we trusted her completely to do the same here,' says Kathleen. 'We had some key pieces of furniture that we wanted to keep – pieces handed down through the family or favourite items we have had for years – but we also asked Louise to find things that suited the house and our lifestyle.'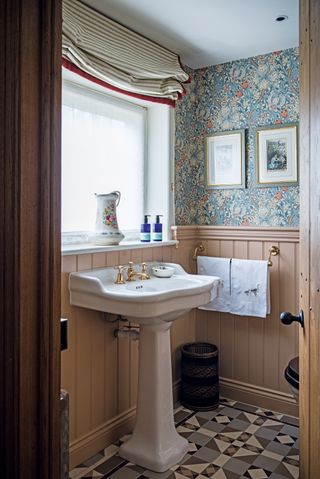 Kathleen wanted the overall look to be relaxed and comfortable, a place where family, friends and work colleagues could enjoy time out. As a result, oak panelling, richly patterned wallpapers, plush fabrics and beautiful antiques sit side-by-side with modern sofas and timeless accessories. Discover how to use decorative wall panelling to add character, texture and interest to every room with our 10 wall panelling design ideas.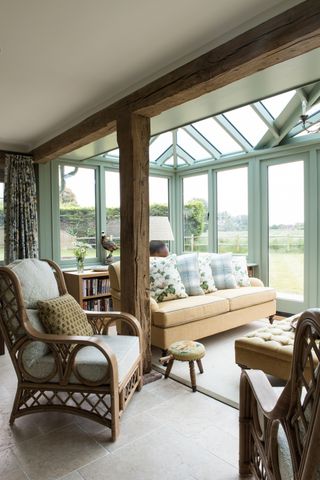 One of Kathleen's favourite features is the collection of 1930s light fittings and hardware which is sympathetic to the house.
'The success is in the detail,' says Kathleen. 'Louise is excellent at sourcing the slightly unusual and bespoke. It's the kind of house that lends itself to a more eclectic interiors style.'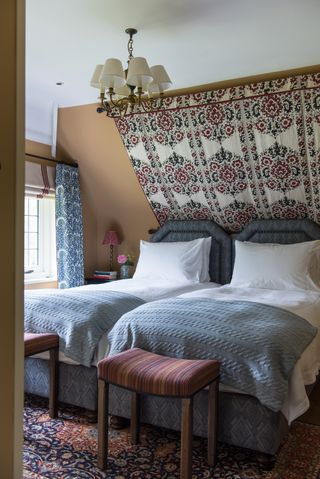 While the Simpsons have invested in some beautiful antique furnishings and artwork, Kathleen still enjoys a bargain. The ceramic plates displayed in the living room cost her just a few pounds a time from fairs and antiques shops, and she has also updated family pieces, such as armchairs, which she has had re-covered, and a rosewood bed that her parents bought by accident in an auction and now fits perfectly in one of the guest bedrooms.
Discover how to re-cover your own footstool and give tired looking furniture a new lease of life.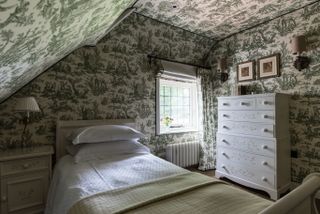 MORE FROM PERIOD LIVING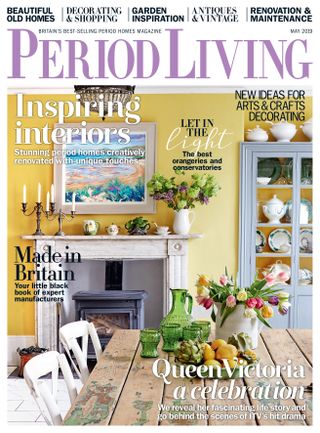 Get the best period home inspiration, ideas and advice straight to your door every month with a subscription to Period Living magazine
They have also made good use of any extra furniture in the boathouse guest annexe – the only place with a television, and a favourite chill-out area for younger members of the family.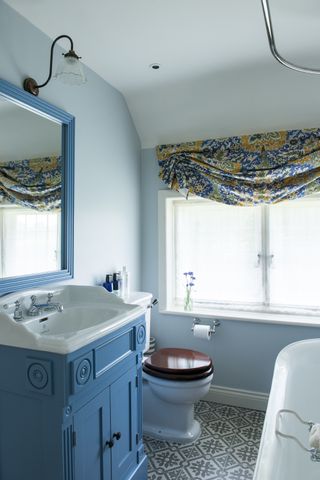 'We spend as much time as we can here,' says Kathleen. 'We love our home in London but this is the place we escape to for weekends and holidays. What we truly love about this place is the sense of permanence after so many years of renting. There may come a point when we buy a smaller place in London and make this our main home, but for now we are just enjoying the best of both worlds.'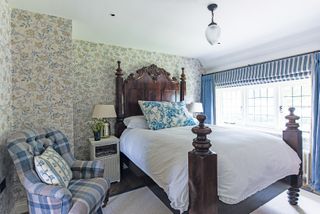 More homes to browse: