Ask Gemma what her favourite time of year is, and she won't hesitate to tell you that it's Christmas. 'I absolutely love it – I just get so excited about it,' she says. 'I've even been known to have two Christmas trees!'
And Christmas is the time of year where our homes really take center stage. They're the backdrop to everything from present unwrapping to turkey cooking and sofa slouching, so it's no wonder that the first Christmas in a newly renovated home is often a momentous occasion.
Take a look through these Christmas decorating ideas from this stylish home.
The profile
The owners Gemma Mahabeer, sales manager at an international fashion brand, and Navin Mahabeer, a relocation consultant, live here with their children, Arlo, four, and Mabel, 18 months, and their sausage dog, Frank
The property A 1930s double-fronted detached four bedroom house in Buckinghamshire
Project cost Around £260,000
Having previously lived just down the road in an already-renovated cottage, Gemma and Navin had their hearts set on a project that would give them, their children, Arlo and Mabel, and their sausage dog, Frank, a lot more space. 'We didn't want to move away from the area as it's just a really lovely place to live, being close to both London and the countryside,' Gemma says.
They found their perfect home, and now that all the renovation work is done, Gemma has gone to town with her Christmas decor. We're here to show you how to recreate her festive look.
1. Hang delicate fairy lights around your pictures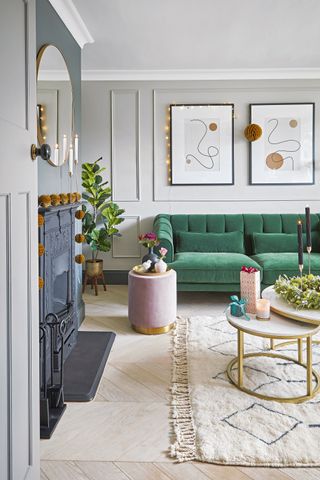 Add some extra twinkle by positing some elegant, dainty fairy lights above your picture frames, just like Gemma has done here. Choose battery powered lights so you don't have to ruin to the look with a long wire reaching to your plug.
This coffee table wreath also makes for a great centrepiece. Simply position some candlesticks inside the wreath and you're all set.
2. Choose colored candlesticks for a dinner table feature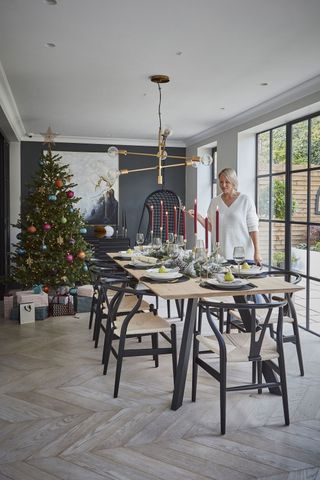 Christmas table settings can be tricky to get right. This year, we've seen candlesticks gain a whole new groove with vibrant colors and twirly shapes.
Whatever color and shape you choose, laying candlesticks down the center of your dining table will always bring a regal feel; an unmistakable air of grandeur that's extra special for Christmas day.
Drape some flora and fauna at a low level along your table for a simple Christmas table centerpiece (so your guests can still see each other across the table) and light your candles just before your guests sit down for a magical glow.
3. Liven up your hallway with garlands of all kinds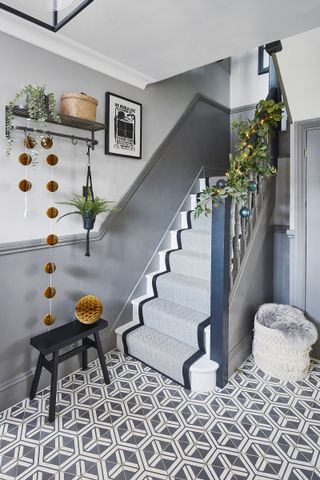 At Christmas time, no staircase bannister should be left without a Christmas garland, fact. As the first thing your guests see when they walk through the door, your hallway set the tone for the rest of your home, so ensure it sets the best first impression.
Even if your bannister is on the smaller side like Gemma's, a garland is enough to brighten up the whole space. And you can make it personal by tying on some baubles.
Top tip: use paperclips to attach your baubles to your garland. This ensures they're securely fastened and leaves enough ribbon for your baubles to hang nicely.
This paper garland, hung haphazardly from the coat rack, in a lovely copper hue, adds some warmth to the grey scheme.
4. Position your tree so you can see it from multiple rooms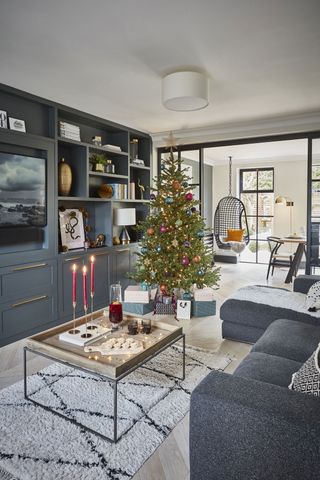 Open plan homes can be a lot to decorate over Christmas - the large expansive space leaving you with so much room to fill. If this is the case for you, we suggest positioning your tree right in the centre of your space, so you can see it from all over.
Here, Gemma's Christmas tree idea is visible from the family room, the dining room and even the kitchen. Ensure to decorate your tree all the way around.
5. Hang paper decorations above your kitchen island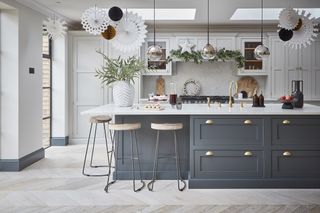 We spend a lot of time in the kitchen over Christmas, so take heed from Gemma and give your kitchen the top notch festive decor it deserves.
Hang large paper decorations above your kitchen island (or anywhere for that matter) to add instant wow factor to your space.
At around £15 for a large design, they're a fairly low cost, high impact solution that you'll bring out year after year. But don't hang them directly above your hob, for obvious reasons.
6. Wrap a Christmas garland around your headboard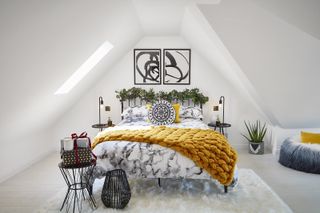 Bring some festive cheer to your bedroom too by hanging a Christmas garland along your head board. This is an especially nice idea if you've got guests staying for the festive period, to make your guests bedrooms feel extra welcoming.
Wind some fairy lights around your garland too to make the space feel extra cosy. We've got a few bedroom Christmas light ideas you could try out yourself.
7. Make a decorative feature out of the kids' stockings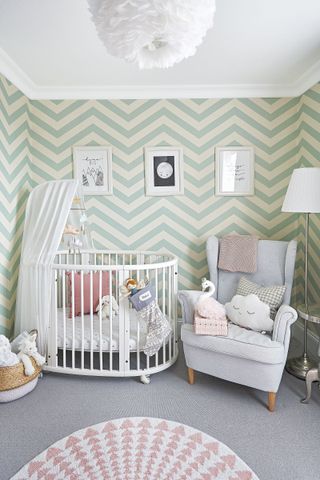 Gemma's chosen a color coordinating Christmas stocking for her daughter Mabel, and it adds just enough Christmas joy to her pretty nursery.
Kids Christmas toys, such as this fairy, are also a two in one way to up the festive factor in their space, and keep them entertained.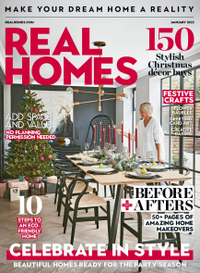 Subscribe to Real Homes magazine
Want even more great ideas for your home from the expert team at Real Homes magazine? Subscribe to Real Homes magazine and get great content delivered straight to your door. From inspiring completed projects to the latest decorating trends and expert advice, you'll find everything you need to create your dream home inside each issue.