Need convincing about the benefits of going bespoke for a kitchen or joinery project? Let Catrin and Jono be your inspiration. Their kitchen extension was the largest part of a full renovation of their coastal home, set in the scenic Mumbles in Swansea Bay. On the wish list? Something bold, spacious and, above all, practical.
Looking for a kitchen that would look and feel easy to use and live in, they enlisted the help of their builders, who constructed a stunning plywood and Formica design with plenty of clever storage solutions woven in. The result is a bold centrepiece at the heart of their extended kitchen-diner, a social hub for the family of four and a creative space to live in. So successful has it been that Catrin plans to start her own interiors consultancy business. We spoke to her to find out how it all came together.
Before: a dated kitchen that was too small
Profile
The owners Catrin Stuart (@catrin.stuarthome), a part-time teacher, client services worker at YMU Rugby and owner of a holiday cottage let (@seaglasscottage_mumbles), her husband, Jono, MD of global rugby at YMU Sports Agency, and their children, Megan and Campbell
The property A five-bed Edwardian house in the Mumbles, south Wales
Project cost £136,350
'We moved here in January 2018 to a very tired house – every room needed a bit of TLC. The kitchen didn't work for us. There was a tiny island with a small sink, and no place to put a fridge except against a hole in the wall. The ceiling was quite low over the kitchen itself, and the other half was glazed but leaky and draughty.
'We knocked the existing walls down, keeping the foundations but extending to the side, and adding a larger island. We built a wall up to the playroom to make a snug, reconfigured the utility, replaced the roof, added a front patio and changed the bathrooms. We didn't envision doing such a big project, but wanted a space we'd love.'
Living in and designing the space
'We had very strong ideas of our own, so we approached a builder before an architect, visiting some of his projects and speaking to people who'd used him. He was open to ideas and had some of his own. He put us in touch with an architect, who drew up plans.
'The project took about 18 months – we couldn't start the extension until the roof was done and the scaffolding taken down. The kitchen took about four months. We lived here throughout. The builders closed off the back and created a temporary kitchen in the snug with hot and cold water. We were on a gas camping stove, but it wasn't too much of a nightmare – though the kids ate more Pot Noodles than I'd like!'
Style contrast
'Having opted for a grey Shaker style in our last house, we wanted something different to contrast with the Edwardian features of the property. We loved the look of plywood, but it proved tricky to get someone to make a kitchen like it in Wales. We showed our idea to the builders and, thanks to their joinery background, they were able to mock up a cupboard in plywood with Formica.
'We were able to go completely bespoke with the design. Above all else, the space needed to be easy to use. We have a corner larder cupboard with ply detail inside, and a spice rack on the door. A breakfast cupboard for the microwave, toaster and blender keeps the surfaces clutter-free.'
Outdoor oasis
'The garden was old and dirty, with dingy yellow paint. I was born and brought up in the Bahamas, where pink is a popular colour for houses. We tried it out with some tester pots – then the pandemic hit and everything closed. Ordering paint was a nightmare, but we eventually found some online.
'We looked online at pergola ideas, and Jono said, "I think I can build that." We visited a timber merchant, sketched out what we thought would work and built it. We created an outdoor kitchen area using an old sink from a neighbour and leftover tiles from our bathroom. The space worked really well, especially when more restrictions were in place.'
Mix and match
'My style is very mixed. I like to be bold and a bit different, and to create spaces that are quite personal. I source things from Ebay and Facebook Marketplace, but also antique shops I follow on Instagram. I'll pick up bits from B&M and Homesense occasionally, too. Our builders made the dining table for us – we sent them the dimensions and they came up with the design. It was so lovely to work with them, and I think they enjoyed it, too. It was a nice experience – much more personal than going to a showroom. As much as possible, we like to reuse and recycle, which fits in well with our style as we tend to like an older, mid-century modern look anyway.
'My favourite part of the kitchen is the island, with the induction hob and seating for four. We haven't had friends around as much as we'd have liked over the past couple of years, but when we have, it feels much more like a social hub. It's a very easy space to live in.'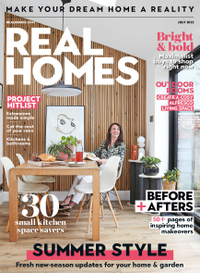 Subscribe to Real Homes magazine
Want even more great ideas for your home from the expert team at Real Homes magazine? Subscribe to Real Homes magazine and get great content delivered straight to your door. From inspiring completed projects to the latest decorating trends and expert advice, you'll find everything you need to create your dream home inside each issue.