They say everything happens for a reason, and that certainly applies to the way Emily and Jake Smith found the home that became their first step on the property ladder. "At the time, we weren't really looking to buy," says Emily. "But in the middle of lockdown, when we saw there were some new houses being built in our area, we thought we'd go and have a look, just to be nosy really."
They'd been saving for a while, but thought they weren't in a position financially to buy, and they weren't fully sold on the idea of buying a new build either. "We thought it might be a bit cramped and overlooked," says Emily.
Profile
The owners: Emily Smith, (@coloursofnumberone), a medical imaging physicist for the NHS, lives in the UK with her partner, Jake, who works in digital advertising
The property: A three-bedroom new build house in Nottingham, England.
Project cost: £5,850, roughly $7,208
As soon as they walked through the door, they were welcomed with a large, light and bright hallway that instantly changed their minds. "It was so much more spacious than we'd thought it would be and we immediately realized that this was definitely somewhere we could see ourselves living one day," says Emily.
That one day came around much quicker than expected. While chatting to the estate agents, Emily discovered that, as an NHS worker (England's National Health Service), she was entitled to a discount she hadn't known about. With the realization that this house was the only one not yet sold, they quickly reconsidered their finances and put in an offer.
Once that was accepted, Emily and Jake quickly started seeking decorating inspiration. They looked to Pinterest and Instagram to get a feel for what they'd like to do, pinning and saving ideas that made them smile. When they moved in, the nation was still in lockdown, but Emily used this to her advantage. "Doing up the house was a distraction from Covid times," she says. "I sat with floor plans, mapping out exactly what I wanted to do. I had a lot of time on my hands as I couldn't go out, so I was able to really think about it and play around with different ideas and layouts."
Sometimes the best way to decorate a room is to choose one stand-out piece that you love, and use that as the basis for the rest of your scheme, which is exactly what Emily did. "The yellow sofa was the first thing we bought. As soon as I saw it, it just made me smile," she says.
"Then it was all about what we could get to go with that. One mistake we made, though, was with choosing the second sofa. As we couldn't go to look at it in the shop, we ordered online and hoped for the best. But when it arrived we saw it was nowhere near the same height as the other one, so we sent it back."
While Emily's passion for interiors grew out of being isolated in lockdown, the fruits of her labor resulted in an unexpected means of connection — via Instagram. "After decorating the house, I was so proud of what we'd achieved," she says. "But as lockdown persisted, I couldn't invite my friends and family round, so I couldn't share it with anyone. That's why I started putting pictures on Instagram."
Emily is a huge fan of Christmas, and her new-found love of interiors has lead to a change in the way she decorates for Christmas, too. "I used to just automatically go for the classic reds and silvers," says Emily. "But after putting so much thought and care into ensuring my interior scheme is a reflection of my personality, I realized that my Christmas decorations should show it as well."
Emily now ditches the traditional scheme for a look that ties in with and accentuates her existing interior style. From rainbow trees to multi-colored baubles and handmade pom-poms designed especially to match the sofas, her Christmas style is just as fun and playful as the rest of her space.
"If I was to offer one piece of advice to someone buying a new build, it would be to be brave," says Emily. "It can feel quite overwhelming at first as you're faced with a white blank canvas and everything is fresh and new, and you're worried about ruining what you've got. But if you get straight in there and add your stamp to it quickly, you'll love it even more."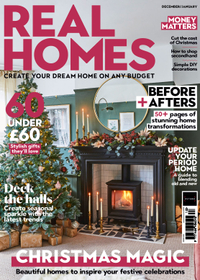 Subscribe to Real Homes magazine
Want even more great ideas for your home from the expert team at Real Homes magazine? Subscribe to Real Homes magazine and get great content delivered straight to your door. From inspiring completed projects to the latest decorating trends and expert advice, you'll find everything you need to create your dream home inside each issue.