When our homes meet our needs, they can bring us ultimate joy — but when they don't work for our busy lives, they can bring unwanted stress. This is the lesson that Shazia and Scott Hemmens learned during lockdown, when they realised their house was letting down their family...
Profile
The owners Shazia Hemmens, (@three_dragons_in_e11 (opens in new tab)), a company director, her husband, Scott, a consultant, and their sons, Easah and Idirs
The property A four-bed 1930s terrace in Wanstead, East London
Project cost £192,000
Their home felt cramped and claustrophobic, so they rejigged the ground floor layout to transform the kitchen and restore a sense of calm. Shazia reveals how they raced to finish, ready to host a family Christmas.
Before
"When we moved into our terrace in 2008, we inherited the traditional 1930s layout, including a small kitchen, a separate dining room and front living room. The décor hadn't been touched since the 1990s and it had mahogany windows and red feature walls, so it felt very gloomy. The floorboards were rotting in places and the house was poorly insulated — we were always freezing. We were focused on starting a family, so lived with it for 13 years."
After
"During lockdown, the house felt suffocating and it became obvious that we couldn't live like this anymore. It took us a while to secure a remortgage to pay for renovations, but eventually we managed to secure the funds to create a better home for us all."
Before
"I'm an active member in local community groups and I saw Kate Clare from Loud Architects had posted in one advertising her services. She offered a complete design package, including an interior design service. Kate made her costings transparent and offered to adjust her designs to fit within our means, as we had to stick to a strict budget."
After
"We chatted about our 'must-haves'. We wanted an innovative design but also a practical space that would be child-friendly for our two boys. We wanted a kitchen that opened onto the garden, a social dining area, and a snug area for movie nights. Once Kate had the measurements of our house, she got to work on the plans."
Before
"My neighbours had warned me that planning approval can be tricky to obtain, but after a few tweaks to the original design, it was granted! Kate sent out our plans to tender to several building firms. We couldn't afford to move out and struggled to find a build team that'd be happy with us living on site. Luckily, Mark Smith from Forma London was cool with this set up."
After
"In July 2021, our site manager set up an office in our garden, and his team made us a temporary kitchen in a corner of the hallway. I was washing dishes in the bath but we saved thousands by staying put. Each week they'd update us on the build progress and submitted monthly financial reports, so we could keep track of the spend."
Before
"Our build went really smoothly; by mid-July, the dining room fireplace was knocked out and flooring ripped up. In late August, they'd dug the external foundations. The only delay we had was when bad weather prevented the poured concrete from drying out."
After
"By the end of September, the bi-fold doors and skylights were fitted, and the electrics installed. In October, the plastering and painting was completed, and the underfloor heating and herringbone flooring fitted. By the end of the month, our bespoke kitchen units were slotted into place over a period of three days."
"I'd ordered our furniture to arrive early November, so for a few weeks we were living among boxes. Buying everything online was stressful because it was difficult to visualise how things would look in an unfinished kitchen. Luckily, we only had to make a small alteration to one of the light fittings."
"Although living on a building site for months on end wasn't ideal, the end result was worth all the disruption. We got our home back for Christmas, and we had the best time hosting our extended family. The central island is where we all gather during family get-togethers. And during quiet moments, I love nothing more than perching on a bar stool with a cuppa, soaking in the view over the garden."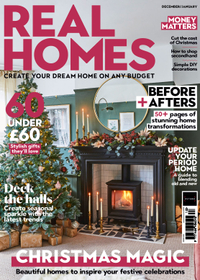 (opens in new tab)
Subscribe to Real Homes magazine (opens in new tab) Want even more great ideas for your home from the expert team at Real Homes magazine? Subscribe to Real Homes magazine and get great content delivered straight to your door. From inspiring completed projects to the latest decorating trends and expert advice, you'll find everything you need to create your dream home inside each issue.