Interior designer Justin Coakley loves a traditional Christmas look, after growing up in South Africa where December is high summer and the day is spent by the pool. 'It's all cold meats and salads and ice cream for pudding. It is 35 degrees and the last thing you want is a hot dinner,' laughs Justin. 'I love English Christmases. Getting cosy and warm, and lighting the fire when it's all snowy. I actually prefer it.'
Profile
The owners Justin Coakley, a content creator, interior designer and stylist (@design_at_nineteen), lives here with his partner, Zunaid, a doctor, and their whippet, Aalto
The property A 1930s four-bedroom terraced house in south-west London
Project Cost £151,000
This year he and his partner, Zunaid, will be welcoming friends and family in to enjoy the 1930s terraced house in south-west that they bought in 2017 and have completed a top-to-bottom house renovation on, making it the perfect place for hosting. We look at how Justin's love for neutral colours is the ideal setting for a festive display that just oozes style.
1. Less is more for a sophisticated look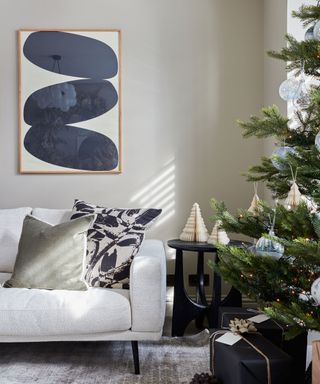 A fixer-upper can be a daunting prospect, but it might also be the key to affording a property in your chosen area – and you can really get to exercise your design skills on it. 'The sad thing was that the previous owner of our house, in an attempt to modernise, ripped out all the period features,' says Justin. 'That's why I decided to go more contemporary in the interior. He'd also taken down all the picture rails, which can actually be a blessing in disguise. If you want to hang big modern pieces of artwork, rails can be a bit of a hindrance if the ceilings are not high enough.'
2. Rework rooms to create space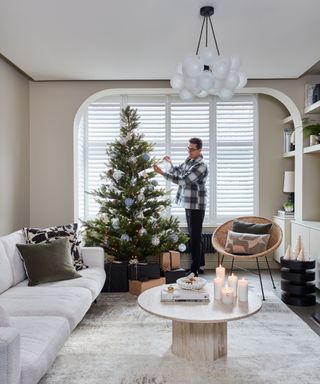 Justin discussed layouts with an architect friend and a chartered surveyor, and they rejected the idea of extending as it would eat into the garden and wouldn't give the best return on Justin and Zunaid's investment. Instead they worked with what they had, removing a wall between the living room and dining room and replacing it with black-framed glass doors for an open-plan feel. Chimney breasts were also removed in the dining room and second bedroom for more space, and to make it easier to play around with the layout of furniture.
3. A signature colour unites rooms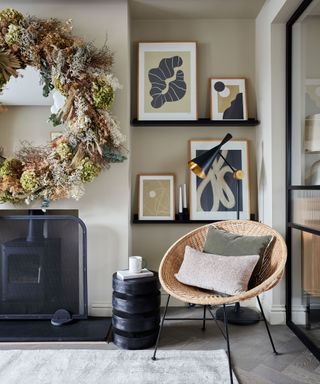 A woodburner in the lounge area creates a cosy feel, but the sharp, clean lines of the fireplace give it contemporary edge. With no mantelpiece, it means there is more room for a large mirror or piece of feature art. This extra large seasonal wreath was the work of Justin in collaboration with luxury florist Larry Walshe London (@larrywalshe). The black shelves are matched by the frames round the glass door. Using black lines is a signature detail of Justin's to bring an edge to the pared-back colour scheme and create a link throughout the house.
4. Go natural for a stunning festive twist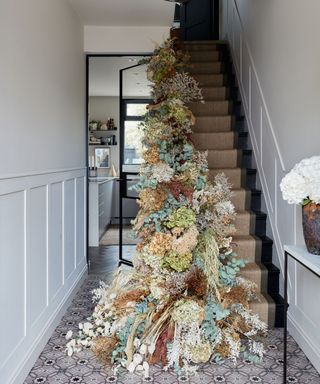 Justin and Larry also worked together on the amazing piece on the stairs, which takes the traditional garland to the next level with a cascade of dried flowers in muted colours – appealing to Justin's love for nature and a neutral palette. 'I am quite minimalist; I don't like a lot of clutter. For me a space has to be calming and serene. I love, love, love colour…but in other people's homes.'
5. Use dark frames for contrast in a sleek white kitchen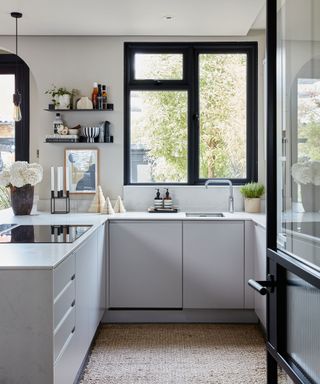 A kitchen that's open to the dining area makes it more social, and doesn't cut the cook off from dinner party guests. 'The previous owner had knocked the wall down to the kitchen and had a very basic kitchen in there,' says Justin. 'I designed it within an inch of its life and maximised as much storage as possible. We put in a big centre island that is extra deep so it has cupboards front and back. When we have guests, I can chat to them while they're sat at the table.'
6. Flower-filled table decorations suit any occasion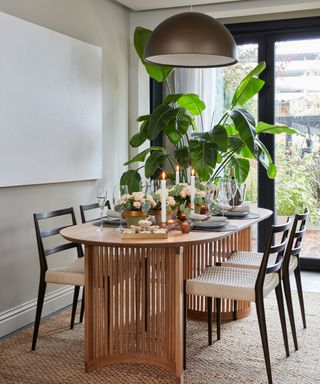 For a simple yet striking Christmas tablescape, Justin placed flower-filled plant pots down the middle. To create them, he painted small terracotta pots with Protek paint in three different colours with gold on the rims. Once dry, he arranged flowers (with the stems cut short to fit) and eucalyptus in chicken mesh wire hidden inside. The pots run down the centre of the table in alternating colours, with candles, tea lights and mats placed around them.
7. Go up to gain space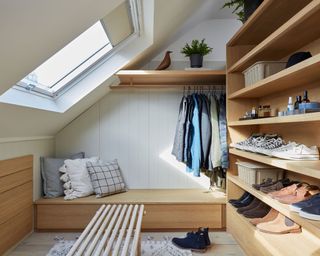 If you are not extending out, moving up may be the solution for gaining extra rooms. A loft conversion with a master suite helped to take Justin and Zunaid's home from two bedrooms and a box room to a four-bedroom, two-bathroom home. 'The conversion turned into a year's project rather than taking three or four months because work just ground to a halt during lockdown,' says Justin.' But the builders did a fantastic job in spite of the circumstances.' It is a restful space with bench seating in the walk-in wardrobe. But Justin also thought ahead for future buyers, designing the loft so it could be divided in half and a fifth bedroom created.
8. Wooden details are a classic choice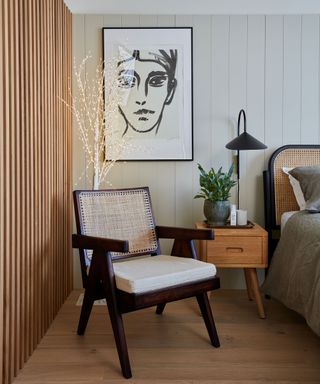 Justin found his years of experience as an interior designer actually left him overwhelmed by choice. 'Being part of the trade and knowing all of the options that are available to me, the hardest part was committing to a defined style. I was chopping and changing.

However, the house is finally complete and ready for Christmas guests. 'There is no more I can do to it,' says Justin. 'We've never had a proper housewarming or party because it's always been in a state of renovation, and when we finished it was still lockdown. But now we can finally sit and enjoy the space and appreciate it for what it is.'
9. Pick a walk-in shower for a spa feel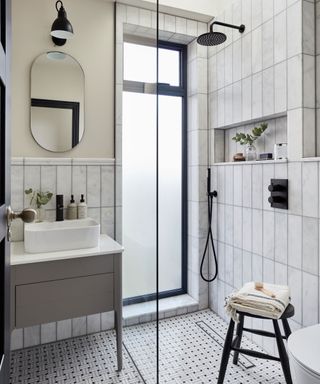 The beautiful bathroom was the scene of only major hiccup in an otherwise smooth (if prolonged) renovation process. 'We ended up having to rip out the bathroom and have it completely redone because the first builder hadn't plumbed it in correctly,' Justin recalls. 'We hired him because he was half the price of anyone else – which turned out too good to be true!'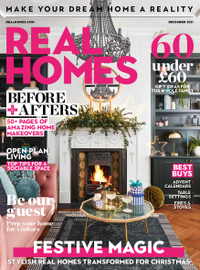 Subscribe to Real Homes magazine Want even more great ideas for your home from the expert team at Real Homes magazine? Subscribe to Real Homes magazine and get great content delivered straight to your door. From inspiring completed projects to the latest decorating trends and expert advice, you'll find everything you need to create your dream home inside each issue.