We're just going to come straight out with it: research from a private investment firm back in 2014 revealed that British office workers spend around five years of their lives sitting at their desk. That's 1,826 days, or 43,829 hours if you want to be really clever.
And if, like so many of us, you work from home and find it hard to switch off, it can often be even higher. But while that might seem depressing on the face of it, we think it's a great opportunity to think about how you can make that time more comfortable — after all, five years is a long time to be stuck to something you don't like — and for us, it all starts with a great desk.
Whether you work from the box room or designated office, or whether you're looking to upgrade from a spot at the kitchen table, there's a desk to suit your needs — so let us lend a hand with our list of the best. There's a choice of designs and materials to suit all sorts of schemes, from shabby chic to Scandi chic, ultra-modern industrial to cosy country-style oak effects. There are clever space solutions, like corner units and tall wall-leaning desks with shelves, all with integrated storage to keep your life, and favourite stationery, in order.
But that's just scratching the surface. If you find yourself in pursuit of that elusive work-life balance with no time to exercise, you might be willing to give the slightly bonkers treadmill desk a chance — yes, it's exactly what it sounds like, and you might feel a bit silly, but for the time-starved or ruthlessly efficient, it might just be your best-ever buy. Whatever you're looking for, keep scrolling for a dose of home workspace inspiration.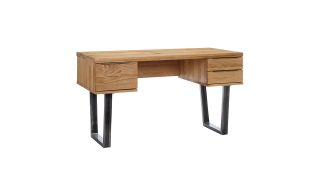 1. John Lewis Calia Desk
This industrial-look desk takes first place for its great build and even better design
Specifications
Best for: All-round quality
Size: 75 x 135 x 65 cm
Colour: Oak/black
Material: Solid oak, veneered MDF
Reasons to buy
+Outstanding build quality +Perfect for industrial schemes
Reasons to avoid
-Grained surface isn't the smoothest to write on
Sturdily built and beautiful, this solid oak desk from John Lewis takes our top spot for best desk with ease. Its rustic distressed wire-brushed wood and welded iron legs are totally on-trend, but the high-quality construction and heft mean it'll be part of the family for years to come, so while it plays perfectly into the current trend for industrial interiors, it's far from a passing fancy. We think it would make the perfect addition to any serious home office.
2. John Lewis Colosseum Ladder Desk
Make use of vertical space with this Nordic chic ladder desk
Specifications
Best for: Design
Size: 202 x 70 x 50 cm
Colour: Oak
Material: Solid oak, oak veneer, chipboard
RRP: £199.00
Reasons to buy
+Space-efficient desk solution +Looks lovely
Reasons to avoid
-Top needs to be fixed to wall; not great for rentals
For minimalists and fans of that stripped-back Scandi aesthetic, this is the one. A clean-looking, good-looking, oak-effect desk that leans against the wall for a tiny footprint, it's great for small spaces, and especially in an older kid's room for doing homework without distraction. It also boasts a couple of shelves to boost storage and keep essentials within easy reach.
3. Connie 2 Tier Compact Desk
A great value little desk with designer looks
Specifications
Best for: Space saving
Size: 94 x 100 x 40 cm
Colour: White, pine
Material: Pine
RRP: £99.00
Reasons to buy
+Compact freestanding desk +Cool minimal design
Reasons to avoid
-Not much storage
Unlike the John Lewis Colosseum, this compact desk is completely free-standing, so it's a good alternative buy if you're after a space-saving workstation but don't want to screw anything to the wall. It's simple, clean, and bang on-trend, so it's perfect for any teen's room or light, bright home office. The storage isn't huge, as you'd expect, but it's just right for storing a laptop and a few supplies when not in use.
4. John Lewis Estelle Corner Desk
A high-end looking corner unit to fit in any classic office
Specifications
Best for: Corner desk
Size: 74.5 x 159 x 155 cm
Colour: Light oak
Material: Oak-effect melamine
Reasons to buy
+Lots of surface space and storage +Lovely, sturdy wooden design
Reasons to avoid
-Quite difficult to assemble
A great buy for strange-shaped spaces, this wooden corner desk unit from John Lewis looks smart and is sturdily built to last for ages. There are more adjustable desks out there, but the classic wood and curved lines of this desk look less corporate and more cosy, especially if your office adheres to a warmer, more traditional scheme. It offers a great amount of storage and a roomy surface that's great for artists and designers who need space for a computer, huge sheets of paper, and all sorts of other bits and bobs.
5. John Lewis Gravity Desk
An Art Deco-esque wooden desk for on-trend offices
Specifications
Best for: Design buffs
Size: 84.3 x 123.6 x 50.8 cm
Colour: Ash
Material: Plywood with ash veneer
Reasons to buy
+ Gorgeous design + Unusual shape
Reasons to avoid
- Needs a bit of elbow grease to set up
We all want our home office desk to be functional, but does that mean it can't also be beautiful? Absolutely not. This stunning ash-effect desk from John Lewis needs no decorative flourishes to set it off — it's a statement piece in its own right, with a distinctive V-shaped back and sleek curves that give it a real Art Deco feel. If you fell in love with the standout design of our first pick, the John Lewis Calia desk, but would prefer something a little more streamlined, this lightweight and affordable desk is an equally eye-catching alternative
6. Life Fitness InMovement Treadmill Desk
Work and work out all at once with this office-meets-gym marvel
Specifications
Best for: Fitness
Size: 180 x 101 x 124 cm
Colour: Silver / black
Material: Metal, wood
Reasons to buy
+ Helps make exercise more accessible for busy workers + Lowers health risks associated with a sedentary lifestyle
Reasons to avoid
- Hugely expensive
The beauty of working from home is often that you can get other things done in your downtime, but what if we told you you could keep up your productivity and squeeze in a workout while you're at it? This adjustable treadmill desk from Life Fitness eliminates the risks of sitting still for 8 hours a day, and will power most devices with its built-in connectivity panel and cable management system.