The Everdure Force 2 is a robust BBQ with celebrity chef credentials. Endorsed by Heston Blumenthal, it's part of the Everdure by Heston Blumenthal brand, distributed by Kettler in the UK. But the celebrity collaboration is far more than mere lip service. The heat is fast and furious – albeit totally controllable – so you can sear, char, and roast your way to professional-caliber barbecue feasts.
With two gas burners and a deep lid capable of covering a 6kg turkey, the Everdure Force 2 isn't exactly compact, but it's not aimed at catering to very large crowds either. We'd recommend it for garden parties with up to 10 guests, maybe a few more if you cook in batches or stick to sausages.
We have always been strictly charcoal on the BBQ front (aka BBQ Snobs), switching between a Morso Grill Forno and an outsized fire pit with grill, depending on the number of diners. Gas has always felt a little like cheating, and we've long believed charcoal yields more flavorsome results. We tested the Everdure Force 2 for a number of weeks in early summer, trying out various food types and recipes to get an overall assessment of its strengths and weaknesses.
Find out if the Everdure Force 2 really is the best BBQ – did it convert us to gas, or are we sticking to our charcoal guns?
Product specifications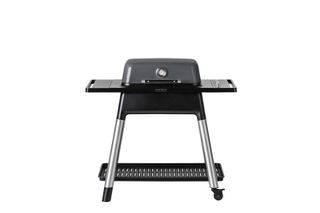 Fuel type: ULPG or Natural Gas
Dimensions: (with stand, lid down): H106.8cm x W117.5cm x D74.2cm
Cooking area dimensions: 60cm x 42cm
Weight: 33kg
Number of burners: 2
Max power output: 23.1MJ
Unboxing the Everdure Force 2
Delivered on a flat-bed loader, the Everdure Force 2 is squeezed into a single but very large box (109cm x 61cm x 58cm) that takes two fairly strong adults to safely lift. If you're on your own, think carefully about where you would like the delivery person to leave it, because your best bet would be to assemble in situ and then wheel it onto your patio.
Inside, the Everdure Force 2 was protected by what seemed like an excessive amount of polystyrene as well as plastic bags that were unsuitable for re-use. Not the most promising start. Poor eco-credentials aside, my first impressions were solid. Literally. Even pre-assembly it was easy to see that the Everdure Force 2 is a beautifully made, heavy-weight BBQ. The only slightly flimsy component was the plastic tray that fits on the stand.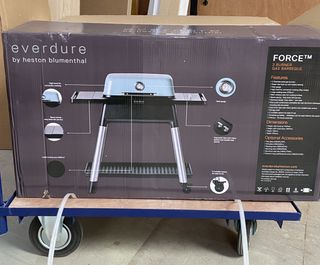 Putting the Everdure Force 2 together wasn't terribly taxing, especially since I had my husband and his power tools on hand to help. I read the instructions, which were fairly easy to follow with a mix of illustrations and lengthy text, and he wielded the tools. Well, just an electric screwdriver really, but it speeded up assembly no end.
It's an 11-step process that essentially involves building the stand, adding a handle on the lid and then screwing BBQ and stand together. The only mildly challenging part was getting the handle onto the lid because it sits on an angle and involved a bit of hit-and-miss work to get the screws to align.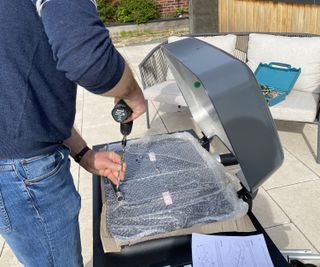 Once assembled, I took a moment to marvel at the Everdure Force 2's chic design. Refreshingly refined, a thing of beauty in fact. It's available in Orange, Mint or Graphite. The one we tested was Graphite; I'd choose Mint if I were buying.
What is the Everdure Force 2 like to use?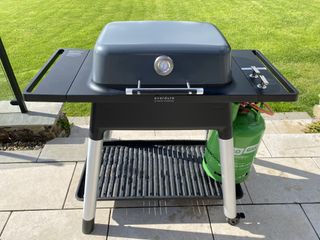 There's no denying the Everdure Force 2 is a fairly low-tech beast. No App to connect, no fancy food probes, and absolutely no "smart" controls. As BBQ purists, we couldn't have been happier.
What the Everdure Force 2 does have is two independently controllable burners, which split the grill in half, and offer the most precise heat control imaginable. And we know this because several of our dinner guests, who regularly or only cook on gas, told us so. The idiot-proof controls feature slick push-and-turn ignition, similar to the controls on a regular gas hob.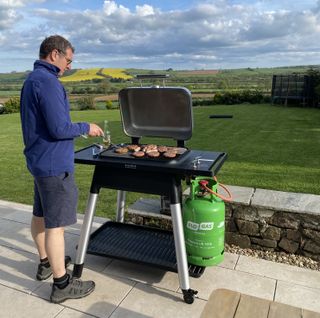 Tracking down a gas bottle wasn't easy, mainly due to supplier issues with the canisters. The only one I could find in the whole of Devon, for a King's ransom I might add, was a whopping 11kg (5kg is the recommended size), which does look a bit mad hanging off the side of the Everdure Force but beggars can't be choosers.
If I were buying this BBQ for long-term use, I'd also invest in a cover for the gas bottle – maybe one of those neat boxes that double as a side table.
Cooking burgers and small cuts of meat
The main feedback from our gas-proficient friends was that their own gas barbecues didn't allow the heat to go anywhere near as low, without blowing out at the faintest gust of wind. This meant cooking meat through to the core without scorching the outside to a crisp was a mad juggle of constant turning and repositioning.
Not so with the Everdure Force 2. Of course, you do need to turn sausages and burgers to achieve even browning, but no more than you would in a frying pan. And without the constant fear of serving charcoal for dinner.
I did miss the built-in warming shelf we use on our firepit style grill when entertaining, which is where we pop burgers and ribs while we wait for the chicken and sausages to catch up. But as we mainly used the Everdure Force 2 for our family of four, it was easy to move cooked food to the second burner, on a lower setting or off, to keep warm when required.
We always knew grilling on gas was quicker than charcoal (by about 30 minutes on a good day) but we never dreamt of going from cold to searing anywhere near as quickly as the Everdure Force 2.
The official claim from Everdure by Heston Blumenthal is 'ready to cook in less than five minutes. We timed this, and it was hot to go in a little over four minutes every time. Steaks, which we like medium-rare, were done in about two minutes on either side with the BBQ thermometer reading about 200 degrees.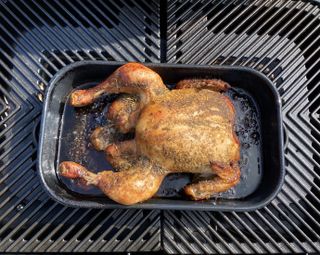 This unusually speedy heat-up is achievable thanks to the Everdure Force 2's built-in flame tamers, which are integrated into the grill (essentially the solid areas you can see in the shape of the gas burners beneath).
These built-in flame tamers allow the burners to be positioned closer to the food, compared to barbecues with separate flame tamers that sit between the burner and grill. The result is the grills get hotter much faster, but you'll still avoid a load of flames shooting up every time fat drips onto the lit burners. Clever.
Cooking larger joints of meat
Like pretty much any barbecue with a lid, the Everdure Force 2 turns into a convection oven with the lid down, which is perfect for roasting large joints of meat. We did a medium chicken in about two hours, and it was juicy and succulent but with that unmistakable BBQ smokiness. The skin was particularly crisp and delicious.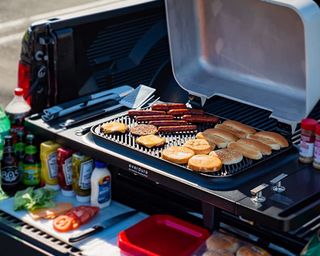 However, slow roasting is where the Everdure Force 2 really excels. Again, that low heat setting comes into play, and you can leave it gently working its magic on belly pork or butterfly shoulder of lamb for three or four hours without really needing to check progress. But who can resist?
On our Morso charcoal oven, slow roasting is a far more stressful affair, involving near-constant temperature checks and coal top-ups.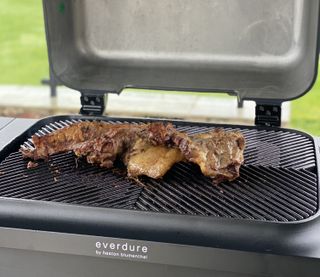 Space-wise, I'd say you can easily roast two medium chickens in the Everdure Force 2, and there's plenty of room for a large shoulder of lamb (not at the same time).
To achieve a really slow roast, longer than four hours, you'll need to use indirect heat, by which I mean put the joint of meat on one side, preferably wrapped in foil to begin with, and only light the other side, on its lowest setting.
Obviously, this does restrict the size of joint you can conceivably slow roast so pulled pork for a large crowd isn't going to fit.
Cooking fruit and veg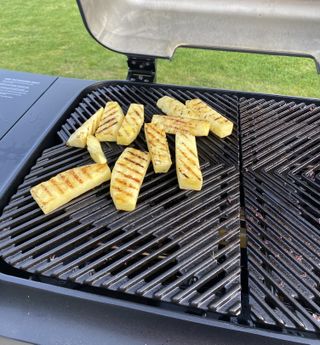 During our test period, we tried various vegetables on the Everdure Force 2, including juicy corn cobs (we roasted them wrapped in buttered foil for about 10 minutes before browning them off), well-marinated veg kebabs, and curried butterbeans in a cast iron pan.
Vegetables are pretty hard to get wrong, or at least less risky in terms of potential salmonella, but they all turned out exceptionally well. The star turn though, was simple barbecued pineapple slices, lightly sugared and served with ice cream. Sweet, smoky goodness.
Even if you don't invest in the Everdure Force 2, I can definitely recommend you check out Heston's BBQ recipes on the brand's website. Many are rather pretentious (lobster and caviar anyone?) but there is plenty of mouth-watering inspiration to be had – the beef tenderloin with garlic and rosemary sounds sublime. Do take care to read the method before you start purchasing ingredients though as some are aimed at the brand's charcoal barbecues or those with rotisseries.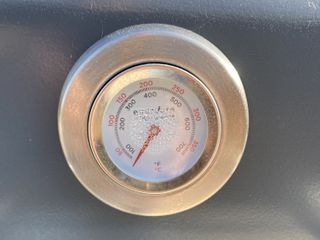 One final note on the thermometer that is attached to the lid. It seemed fairly accurate – I used the portable thermometer from inside our AGA to check a few times and there were no wild inconsistencies.
However, condensation appeared inside the glass of the thermometer soon after it was installed, and I don't know how to get it out. You can still read the temperature, just about, but it's unattractive and doesn't reflect well on quality.
Cleaning the Everdure Force 2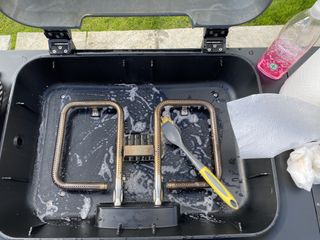 One minor complaint on the cleaning front was how difficult I found it to get the two grill plates back into position.
They each sit on several small lugs but there are only finger holds on one side so it's hard to get them to sit properly, resulting in an annoyingly wobbly cooking surface. I trapped my fingers between the two heavy grill plates several times trying to get them into place. Ouch.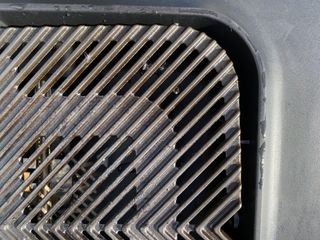 The hot plates have a non-stick enamel coating, which means you should avoid any wire brush cleaning tools. Instead, the brochure recommends mild detergent and a sponge. I took the grill plates off and soaked them in the kitchen sink for a little while and they cleaned up nicely.
The interior also seems to be some kind of non-stick surface. I started by wiping the majority of grease and food debris off with a kitchen towel. Then spritzed with Method's multipurpose spray and used a washing-up brush to scrub a little, before repeating with the paper towel. It was a little awkward to get under the gas burners, but the brush did the trick nicely and it cleaned up easily and well.
Under the barbecue, there's a very handy removable tray, with a tin liner, which I washed out and reused each time we cooked.
Storage and maintenance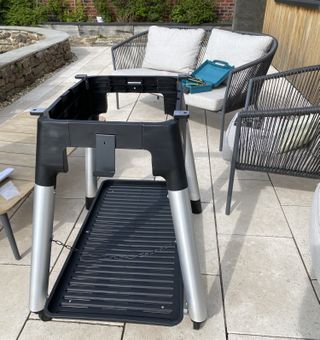 The Everdure Force 2 doesn't come with a cover, but I think one is needed because I noticed after a heavy downpour the rain had seeped under the lid and was standing in pools in the base. Plus, the fat catching tray was full of water.
There is currently a free bundle offer on the UK website (and some other retailer sites), which includes a cover and flat plate. The cover retails at £95.
The two large castors on the stand makes it easy to manoeuvre under cover if you have a carport, garage or level-entry shed nearby. I've seen reviews that say it's unwieldy and hard to manage but I found it really easy to wheel the Everdure Force 2 about our patio when trying to escape a certain wind direction! Similar to pushing a half-full wheelbarrow.
When barbecue season is over, you may well want to put the Everdure Force 2 into more weather-proof storage, and you'll need plenty of space to do so. The left side of the top resting plate folds down to create a smaller footprint, which makes it very slightly less space-guzzling when storing. Alternatively, you could take it off the stand and break down the legs into a more compact package, but I wouldn't recommend it to anyone without reasonable storage space.
How does the Everdure Force 2 rate online?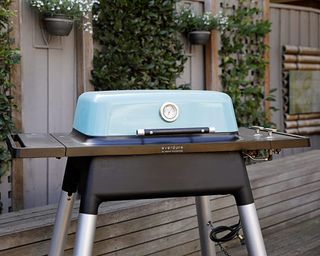 There is a lot of love for the Everdure Force 2 online, with most people posting positive remarks regarding the tastiness of the food it produces, heat up speeds and, above all, looks. There's a huge design-savvy crowd out there who are sick to death of seeing huge, metal boxes ruining their smart patios.
On the side of the naysayers, and there are always a few, the main complaint was about how hard it is to get those grill plates in position, and some felt the cooking area wasn't sufficient for their needs. If you're cooking for large crowds, don't buy this medium size barbecue.
How does the Everdure Force 2 compare?
The Everdure Force 2 is in a class of its own, especially in terms of design – it's just lovely to look at and creates a stylish feature on the patio, even when not in use. Its closest competitor is probably the Furnace, again from Everdure by Heston Blumenthal, which is very similar in looks and build but with an extra burner.
At just £150 more, I think I'd be tempted to splash out on the Furnace, and enjoy that extra cooking capacity (2,990sq cm, compared to the Force's 2,440sq cm) and burner flexibility. You can also get a teppanyaki plate to fit the Furnace, which is great for stir-fries and fish dishes.
Should you buy the Everdure Force 2?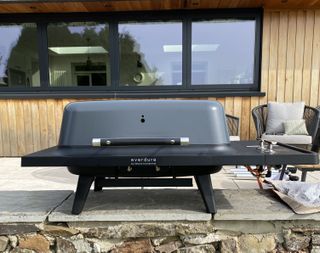 We really enjoyed testing the Everdure Force 2 and for us charcoal nerds, the super-fast heat up was the main selling point. Early summer was more about showers than the sun, so it was great to have a barbecue we knew could deliver between the downpours. We were also amazed to discover that food held a similar smoky-charred flavor to our charcoal grills but perhaps that's just our ignorance.
The fact it heats to 200 degrees in under five minutes, faster than our fan oven indoors, made the Everdure Force 2 so convenient that we often used it for mid-week meals and even a quick breakfast (English fry-up) one bright sunny Saturday. Anyone seeking impromptu outdoor cooking would do well to consider the Everdure Force 2.
One thing we did feel the Everdure Force 2 lacked was a built-in warming shelf. Often, and especially when entertaining, there are food types that cook quicker than others, despite your best-laid plans. A warming shelf is perfect for stacking cooked food while waiting for the rest to catch up. In fairness, you can buy a warming rack, for an additional £34 but as it's not built-in, you'll need to find somewhere to store it when not in use.
The 'portable' aspect of the Everdure Force 2 allows you to use it as a table-top barbecue or on the supplied stand, which is also a bit of nonsense really. Sure, you can take it off the stand, but it requires unscrewing in four places underneath and then two people to lift it off.
Not something I'd want to do on the regs. And as for the idea of taking it camping; you'd need a vast amount of boot space, or a trailer unless you leave your tent behind! With that in mind, I would not recommend the Everdure Force to anyone hoping to switch between the stand and table-top options on a frequent basis.
Undoubtedly, this is one of the best gas BBQs out there, so if you are searching for an upgrade or considering the switch from charcoal to gas, the Force 2 is great.
About this review, and the reviewer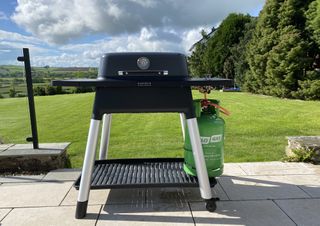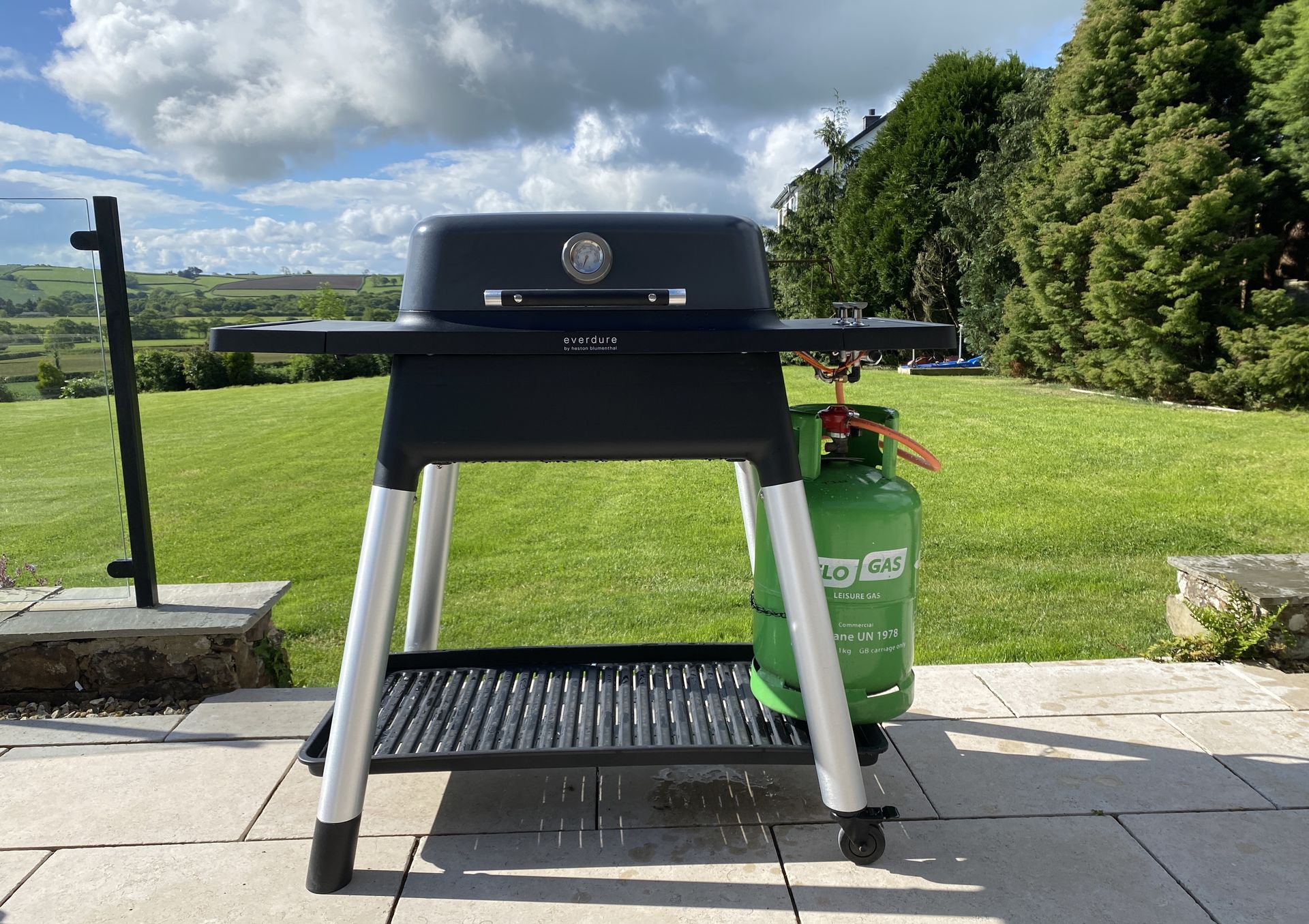 Linda Clayton is a professionally trained journalist and has specialized in home, interiors, and fitness for more than two decades. She's a fastidious product reviewer, design obsessive, serial renovator, and amateur runner.
Now on her fourth reno project (a Victorian redbrick in Devon), she is lucky to have recently completed the garden landscaping and patio area, which are finally perfect for hosting barbecues for family and friends.
She and her husband tested the Everdure Force 2 over several weeks in early summer, trying out a range of old favorites (i.e. anything that can be left unattended) as well as a few new ideas. While no Heston, she's always up for more challenging recipes, especially ones that push her pre-teen children to try new foods.
While Everdure does not pay us to review its products, the company prefers not to have used barbecues returned as they cannot be re-sold once cooked upon. This affords Linda extra opportunity to continue testing, and update these reviews should any other relevant points arise that she feels buyers should be made aware of.