Target ottomans: quick menu
Say what you like, but the Target ottoman is the essential item any interiors lover worth their salt should have — even if they live in tight quarters. Indeed, renters and dorm-dwellers should embrace the small furnishings that can take a sad studio from zero to hero in moments. Ottomans do just that.
Target's ottomans are a great addition to any small space thanks to their size and the lack of DIY required. At present, there are 2,291 Target products listed under 'ottoman', so you have no excuse not to have a look — especially as I'm giving you a shortcut to the best dozen out there.
Yep, I've scoured Target for all the best storage ottoman finery it has to offer, pinpointing a neat but chic selection spanning round ottomans, framed ottomans, cube ottomans, and even designer-style ottomans. Whether you use yours for relaxing after a long day or pure decoration, there's a design out there to tickle your fancy. Boho-chicers, quiet luxurians, or cozy girls, follow my lead.
12 of the best Target ottomans for a small space
Why you can trust Real Homes Our expert reviewers spend hours testing and comparing products and services so you can choose the best for you. Find out more about how we test.
If you're living that rental or college student life, you know that every small space storage buy counts. Indeed, with little real estate, more dainty decor can work wonders. The ottoman is a case in point and a tool I deployed throughout my not-so-distant days as a freshman. Tired of the dingy dorm rooms (and rentals I experienced later), I looked to ottomans as a prettifying solution, adding life where it was once sorely missing. As an interiors geek, I've tapped into the trendiest pieces out there, ticking off bouclé-style designs, woven numbers, and playful upholstery alike. If you still fancy taking a look for yourself, search ottomans on Target.
All prices were correct at time of publishing
Round Target ottomans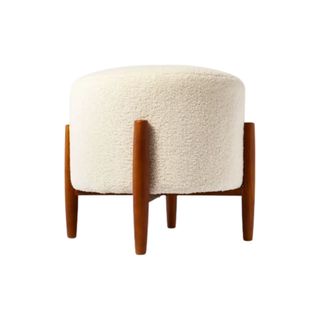 Cheap but chic
1. Elroy Faux Shearling Round Ottoman
Price: Was $ 89.99 $56.99 (save $33)
Color(s): Cream
Material: Faux shearling polyester and plywood
Size (in): W21 x H18.5 x D21
It's giving luxe on a budget, and we're very here for it. Yep, this fuzzy ottoman comes with a hardy wooden framework for plenty of years of use, plus one cushy pouf design. The best part? This was created in collaboration with a professional design studio, making it something of a collector's item. Fastest fingers first.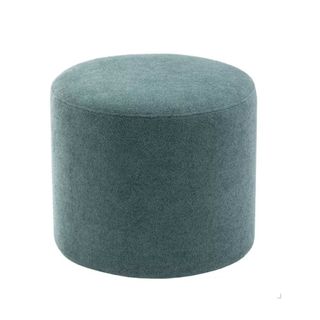 Budget Boujee
2. Wovenbyrd Round Ottoman
Price: $61.99
Color(s): 8
Material: Polyester and plywood
Size (in): W18.8 x H18.7 x D16.14

Serving comfort and style in abundance, this comes in an array of hues and styles, from heather gray bouclé to dark teal velvet. Perhaps, you'll use yours as a footrest or, maybe, a makeup stool. Whatever you do, though, that impeccable, tactile surface is a guaranteed mood calmer.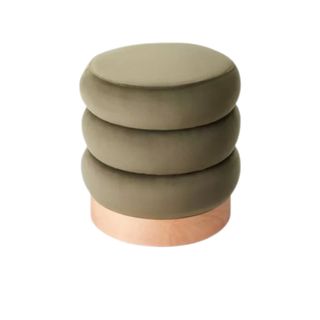 Bubblecore
3. Clarkdale Channel Tufted Ottoman with Wood Base
Price: $70
Color(s): 3
Material: Velvet with plywood or bouclé with plywood
Size (in): W18 x H18 x D18
Keen to impress your pals with major IYKYK interior design? This Studio McGee-made piece is a smart place to start, offering a weird but wonderful ribbed silhouette, available in a selection of less-is-more colors and fabrications. Quirky but quiet luxury? Completed it.
Framed Target ottomans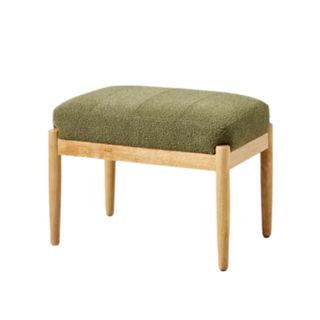 Comfort king
4. Boucle Upholstered Wood Ottoman
Price: $99.99
Color(s): 2
Material: Polyester and rubber wood
Size (in): W24 x H18 x D16
Presented with a sturdy, lacquered wooden framework, this handy design whispers elegance thanks to the bouclé upholstery and the neutral green hue. Yep, olive green works miracles in tired and cold rooms, immediately adding an earthy warmth. Get involved. As for comfort, this is uber-cushy. I'd use it as a small bedroom storage idea (aka to make sure my 'floordrobe' doesn't get any use)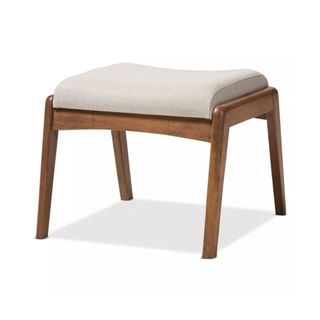 Scandi
5. Roxy Mid-Century Modern Wood Finish
Price: Was $74.99 $65.99 (save $9)
Color(s): Beige
Material: MDF, hardwood, and polyester
Size (in): W20.67 x H20.67 x D17.13
Form and function combine in this mid-century modern piece, inspired by the Danish school of design. Both inexpensive and blessed with a luxe aesthetic, it comes in a light ecru hue, concave in the middle for utmost comfort. Add this to a dull and dark room, and watch it transform.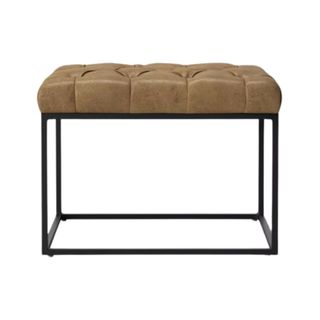 Vegan leather
6. Trubeck Tufted Metal Base Ottoman
Price: $85
Color(s): 2
Material: Metal, MDF, and faux leather
Size (in): W22 x H17 x D16
If you're after a tried-and-tested winner, this is it. Boasting tufted upholstery in leather imitation, it comes in either a chestnut brown or asphalt gray, offering less-is-more luxury at a price you can afford. Footrest or seat, whatever you use it for, the design chimes with any decor. I'd personally use it as a small entryway idea for popping on heeled sandals or sneakers.
Cube Target ottomans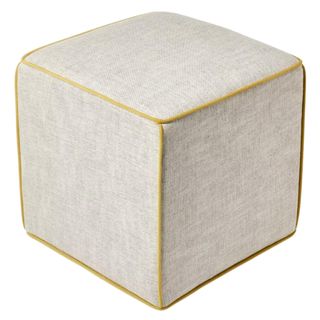 Statement
7. Lynwood Square Upholstered Cube Ottoman
Price: Was $100 Now $75 (save $25)
Color(s): 11
Material: Polyester and plywood
Size (in): W19 x H19.2 x D19
There's a whole host of colorways and textiles available for this classic square design. Our personal favorite, this grey model with mustard piping, is a guaranteed conversation starter, while the windowpane-plaid and faux shearling cream boucle numbers are equally eye-catching. Our advice? Team with neutral decor or embrace the clash with your whole heart.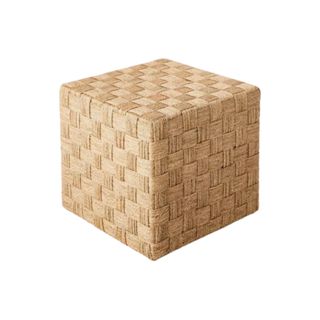 Woven wonder
8. Lynwood Checkerboard Woven Cube
Price: $120
Color(s): Beige
Material: Acacia
Size (in): W19.29 x H18 x D19.29
Boho girlies, this has your name all over it. Wrought in a checkerboard pattern and natural shade, this nails the rustic aesthetic, teaming perfectly with rattans and other coastal delights. Sure, you're either in or fresh from college, but there's no reason you can't live like a SoCal beach bum.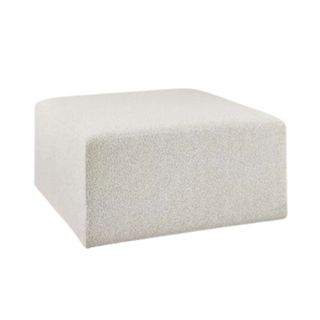 Investment piece
9. Boucle Upholstered Square Cocktail Ottoman
Price: $329.99
Color(s): 2
Material: MDF, plywood, and polyester
Size (in): W36 x H18 x D36

If you're looking to pep up a sad old rental (or even become a new homeowner), a little bit of quiet luxury can go a long way. This piece — albeit our priciest — is very reasonable compared to the big-name offerings and yet looks just as hot. In sumptuous bouclé and soft oatmeal or olive hues, it's everything you need for stealth wealth done cheap.
Designer style Target ottomans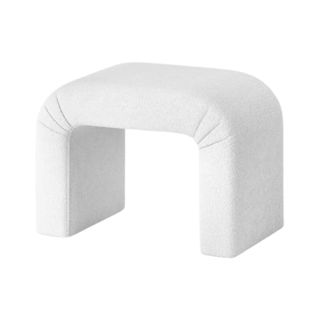 Hidden gem
10. Cicely Waterfall Ottoman
Price: $100
Color(s): Cream
Material: Polyester and plywood
Size (in): W24.1 x H17.2 x D15.94
Meet the aptly named waterfall ottoman. This particular one, complete with rounded edges and opulent bouclé fabrication, is made to order, so you can trust you're getting the real deal. And, as well as being a rarity none of your friends will have, it's also easy to team with most decors — it's achingly minimalist. Use it as a stool or a chic coffee table.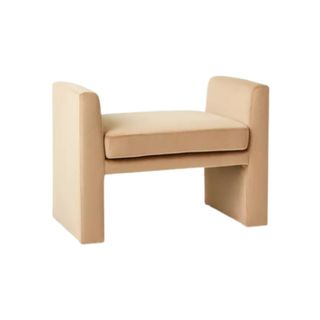 Feels expensive
Price: Was $140 $98 (save $42)
Color(s): 2
Material: Velvet and plywood
Size (in): W29.5 x H22 x D17.9
You can always rely on velvet to add an air of opulence. This design, despite its kooky looks, would marry with most decors and really brings a unique edge to an otherwise characterless dorm room or janky rental. And yes, it's cushioned on the seat and sides. Divine.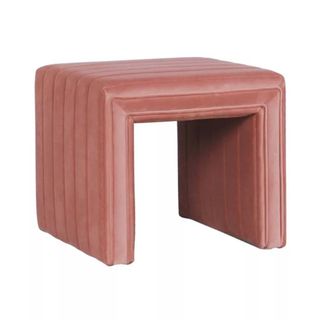 Accent piece
12. Homepop Channel Ottoman
Price: Was $129.99 $97.49 (save $32.50)
Color(s): 2
Material: Polyester velvet and plywood
Size (in): W18 x H18 x D16.5
What better way to add a pop of style to your space than this piped and ribbed design? Coming in a rose pink (our fave) and olive green, it's a guaranteed attention-grabber, instantly adding charm to your space while showing off a very on-the-pulse interior taste. Win-win.
How we chose these Target ottomans
There's a lot — like *A LOT* — of ottomans out there to try. While we'd love to give every single one a try, there just aren't enough hours in the day to give you the lowdown you need. However, fortunately, Target is filled with incisive and honest product reviews, which I've spent hours examining in the hunt for furnishings shoppers actually find valuable. If it didn't earn at least four stars and/or some kind words from shoppers, then it won't be above. Teamed with my on-the-button knowledge of interior and broader cultural trends, it's led me to this delightful dozen. You can thank me later.
---
If you want to continue your furniture-shopping experience, we've put together some of the best stores to shop for home furnishings.