Are you investing in a new slow cooker this autumn? Hearty and healthy batch-cooked meals here you come! A slow cooker is perfect for staving off the temptation of fast food and takeaways when you don't have the energy to cook, and best of all it will allow you to make flavoursome, veg-packed leftovers to enjoy throughout the week, so all you need to do is heat them up. Whether you are an early bird or a night owl, setting aside a bit of time to brown meat and veg and pour some stock and seasonings into the pot will definitely pay dividends after a commute from work. Wouldn't you agree?
An increasing number of slow cookers now also feature multi-cooking tech to pressure cook and sear in one smart machine. We've learned this from our testing. Yes: we've reviewed a few of the slow cookers in this guide for your peace of mind. Some models from Ninja and Instant Pot also come with lids to rival your air fryer. For simple slow cooking though, you can choose between manual and digital models. Manual models come with a selection of temperature settings but you won't be able to set a timer to shut off or switch to a keep warm setting automatically. A digital model will be better for those who want a model to switch on and off while they're away from the kitchen.
Investing in one of a good slow cooker is a smart idea for busy families, students, and anyone who doesn't really like to spend much time in the kitchen. It'll be sure to save you cash on the daily plus it's a great way to sneak veggies into delicious meals for fussy eaters too... Whatever your budget, we've catered for everyone. Some slow cookers cost as little as £25, but you can also opt for premium models up to £100, all depending on your budget. From stews and curries to low-effort soups, see which of our favourite slow cookers might enhance your kitchen space.
The best slow cookers as chosen by the experts
Why you can trust Real Homes Our expert reviewers spend hours testing and comparing products and services so you can choose the best for you. Find out more about how we test.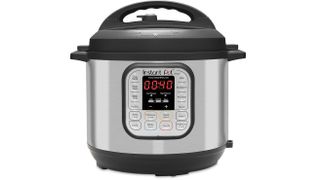 This slow cooker from Instant Pot is perfect if you're ready to do some serious cooking. It can do so much, from pulled pork to curry to yoghurt. The choice is yours here: want a quick meal after work that tastes like it's taken much longer to prepare? The fastest cooking time on this Instant Pot is 30 minutes. Want the full benefits of slow cooking during the weekend? Its longest programme is 20 hours. Want to come back straight to a hot meal? There's a delay option of up to 24 hours.

Energy efficiency
Given everything the Instant Pot Duo V2 Slow Cooker can do, it costs just 34 pence per hour to run. So, on the fastest cooking time, you'll spend just 17 pence to cook.

Good to know
This cooker doubles up as a rice cooker and even a yoghurt maker and has a dedicated 'bean/chilli' programme. But if you want to learn more behind the machine, we've written a comprehensive review too.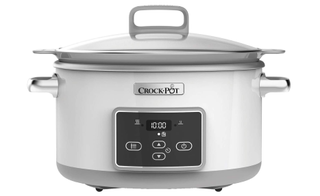 If you like to use digital settings and are after a flexible cooking option, then this is one of the best crock pot slow cookers to consider.
Energy efficiency
Despite its techy touches, it'll cost under 50 pence per hour to use the Crock-Pot CSC026 DuraCeramic Slow Cooker.

Good to know
The removable inner bowl can be removed so you can sauté on the stove, even on an induction hob. It can also go in the oven, in the fridge or be used as a serving dish which will avoid any more washing up. Having said that, though, the bowl and lid are dishwasher-proof, so cleaning up is super fast.

Not only has the slow cooker got a large 5L capacity but it's still got a big on-the-worktop presence. Yep, it's quite big (H32cm x W25cm x D35cm), so either ensure you have plenty of worktop space and/or cupboard space to stow it away. See how we got on with it in our review.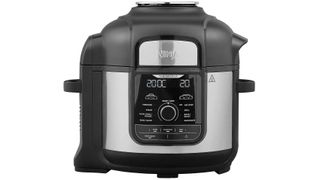 It would be easier to ask what the Ninja Foodi MAX 9-in-1 Multi-Cooker can't do in the kitchen than explain everything it does. With nine cooking modes, it's a great slow cooker with much more under the hood. Though we did rate it five stars when we reviewed it, the only reason it's not our top pick is that some people might want just a slow cooker, and it's rather pricey. Don't let this put you off if you do want a do-it-all appliance, though, and if you've got the money to spend...

Pressure, steam, slow cook, sear, air crisp, grill, dehydrate, and roast with this slow cooker. It's got two lids that can be switched out depending on which mode you're using, and it's easy to change the timer and temperature using the front dial. The 7.5-litre capacity will fit an entire chicken or leg of lamb. It fits enough to cook an entire feast, and we've used it to make everything from curry to an apple crumble.
Energy efficiency
As expected, the wattage on this machine is slightly higher than other models. But, we've calculated that it costs under 60 pence per hour to run this air fryer.
Good to know
The Ninja Foodi MAX 9-in-1 Multi-Cooker has a sear mode that allows you to essentially use it as a non-stick frying pan to cook off onions and carrots before adding meat and stock. Do you know what that means? Less washing up to do!
Everyone from influencers to chefs have raved about Ninja Foodi MAX 9-in-1 but what did we think of it? You'll have to read our review to find out!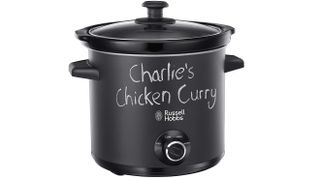 Kids will love this chalkboard slow cooker from Russell Hobbs, as it has a matt black finish that you can write on with chalk – so you can let the family know what's for dinner before you get home! Or why not use it to leave notes such as, 'stir and add seasoning at 5pm.'
Alternatively, why not ramp up the date night vibes by rustling up a beef bourguignon, decorating the vessel in chalked love hearts, and serving it alongside your best bottle of red wine?
In review
The 3.5L black ceramic bowl makes this model a perfect choice for families, those who like to have friends around for meals, or those who freeze food for later on in the week. It easily cooks up to four portions so is also a great buy for singles or couples. While the slow cooker liner (the bit that you plug in) is super light, the removable, dishwasher-safe ceramic pot weighs 2.3kg when empty.
Saying that it doesn't take up much room on the counter which is great if you've got a small galley kitchen or your countertop is already filled with the evergreen appliances like your microwave, toaster, and tea kettle, as Christina found.

Energy efficiency
The Russell Hobbs Chalkboard Slow Cooker matches the Instant Pot Duo V2 Slow Cooker, costing 34 pence an hour to use.
Good to know
Before you use this slow cooker, you'll need to prime the chalkboard surface first. To do this, use the side of the chalk stick provided to cover the surface. Then lightly rub with a dry rag or paper towel. The surface is now ready to illustrate!
See what we had to say about this slow cooker in our Russell Hobbs Chalkboard Slow Cooker review.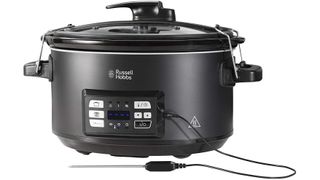 A slow cooker with a sous vide? Yep. This one has one so you can cook your dishes to perfection, just like chefs in high-end restaurants. The sous vide element is a metal stand (akin to a toast rack) that sits in the pot, and into which you can sit bags of food (not included – you need to buy these separately). You'll need to do a bit of research to find which bags were recyclable and whether it's OK to use them under heated conditions, though.
Energy efficiency
We couldn't believe our eyes when we worked out the stats for this one. Operating at 350W, this machine uses under 12 pence of energy per hour.
Good to know
The lockable lid with carry handles means you can easily take this slow cooker off to a family party with no hassle. And the temperature probe is a great additional feature that takes out all the worry about whether a large joint of meat is cooking as expected and it is simple to use.
Upgrade your boil-in-the-bag experience by reading our Russell Hobbs Sous Vide Slow Cooker review.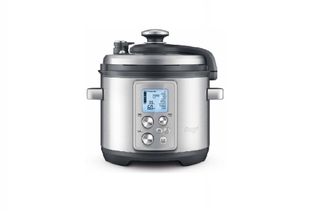 Get more for your money by splashing out on this professional-looking design, which is a pressure and slow cooker in one. Simply press one button and the cooker will
decide how to cook your food.
In review
When testing this machine, we noticed that there are sensors both at the top and bottom that will keep a check on its progress, setting the temperature and pressure needed.
Some people are scared of using a pressure cooker, as they imagine the designs of old where the steam shot up without warning. Today's models are completely safe, and this model has a hands-free automatic steam release, which can be Quick, Pulse, or Natural.
Energy efficiency
No, we're not blowing hot air. This chic slow cooker uses around 37 pence per hour!
Good to know
As well as a three-way safety system, the lid is also removable and can be cleaned in the dishwasher while the ceramic cooking bowl can also double as a serving dish. This made it easy for reviewer, Millie Fender to plate up at the dining table.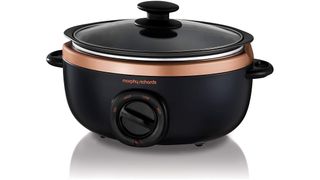 Morphy Richard's latest release is a redesign of the original Sear & Stew. It's got an attractive matt black and metallic rose gold design, and you can also opt for a grey if that's more to your liking.
In review
Put the dishwasher-safe pot straight into the machine for quick cleaning once your meal is finished. We also enjoyed how well the non-stick prevented any messes from becoming stuck to the side of the bowl, which can often happen when making stews.

Simply remove the non-stick pot before you start and use it on a gas or ceramic hob to sear or seal meat before returning to the slow cooker to carry on with stock and vegetables. This means less mess and less washing up.
Energy efficiency
Out of all of the slow cookers in this guide, the Morphy Richard's Sear & Stew is the
second cheapest to run. It costs just 6 pence per hour to cook tasty meals.
Good to know
Lightweight and hardwearing, the non-stick bowl inside can not only be used on the hob but it can also be taken directly to the table for serving. It won't crack or shatter if you drop it either. It's nice and lightweight, which is a refreshing difference from some of the ceramic options in this guide.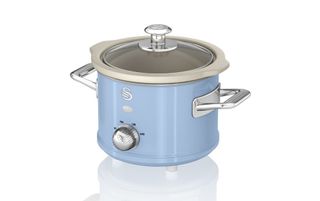 When you don't want to spend much, this slow cooker from Swan is for you as it's keenly priced and still comes with all the basics you'd expect from a slow cooker plus, a 32-pager recipe book so you can hit the ground running.
For ease of use and easy cleaning, look for a slow cooker with a removable bowl inside. This means you can carry your food straight to the table for serving and wash it afterward too. Check if it's dishwasher-proof. Most models are. With a see-through lid, you can keep an eye on the cooking progress without letting the heat escape.

Energy efficiency
Get more for your money with a slow cooker that offers a variety of heat settings. This one comes with low, high, and auto, which keeps food warmer for longer. Ideal if the family eats at different times or you go back for seconds. This is the cheapest slow cooker to run in our edit, costing just 4 pence per hour!
Good to know
We were immediately attracted to this slow cooker because of the retro hues it came in. From classic red, to powder blue, cream, olive green, and mustard yellow, having this on your worktop will certainly add a wow-factor.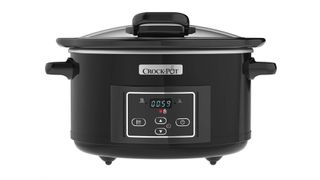 Ideal for cooking everything from casseroles and soups to tagines and chocolate puds, this Crock- Pot has a large capacity bowl, which makes it perfect for families.
Set your cooking time from 30 minutes to 20 hours, ideal for having dinner ready when you get home from work or Saturday's footie match with the kids. It also has a keep warm setting so there's no rush to eat as soon as it's ready.
In review
The hinged lid makes serving and stirring while cooking so much easier and less messy. No more splashes and spills on the worktop when you remove the lid. It's dishwasher-safe, too.
Energy efficiency
Cheap and cheerful dishes taste even better when you know the Crock-Pot Lift & Serve Digital Slow Cooker costs just 7 pence per hour.
Good to know
The 4.7L bowl is great for cooking larger quantities and it's also removable, dishwasher safe and oven-proof.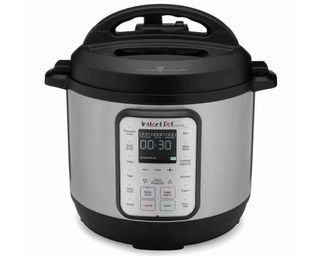 Take the chore (and bore) out of cooking with this 9-in-1 nutritional hero. As well as replacing your oven, it can cook rice, create slow-cooked stews, and make melt-in-the-mouth, restaurant-worthy sous vide meals. You can even break your fast in the morning with warming porridge, homemade yoghurt, or even eggs!
In review
We're pleased to announce that the lovely people at Instant Brands have sent us a sample of this multi-cooker to try out in our test kitchens, so our honest review will be with you very soon!
Energy efficiency
Spare as little as 27 pence per hour to use this machine to make a six-person serving of supper.
---
Real Homes review process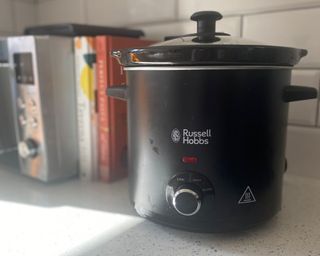 As with all of our buying guides, we ideally like to have reviewed everything that we feature. In the case of these slow cookers, we've managed to test four of them in total. This testing was performed inside our real homes, and each slow cooker was slotted into our everyday life, so we used them to cook a huge range of dishes. They've been tested everywhere from busy family homes to house shares, for us to determine the scenario they are best fitting for.
For more information on how we test products at Real Homes, refer to our tell-all guide.
Meet our slow cooker testers below:
Living 20 miles away from the office, it's no surprise that Christina used to fire up the delivery apps on her phone on her inbound journey back to her Essex abode. That's before she discovered how versatile a slow cooker is for making a substantial meal that she could have for supper (and brag about the leftovers in the work canteen the next day). Both she and her husband-to-be enjoy socialising after work, which means that they can eat at separate times when they need to... without the other becoming 'hangry'.

Christina has had her Russell Hobbs Chalkboard slow cooker for years and remembers friends leaving cheeky drawings and messages on the front of the pot... Much to her embarrassment when her parents popped in! Although one of the more basic appliances, it does the job of cooking her favourite Mauritian curries and Greek Beef Stifado – a traditional recipe full of red wine, cinnamon, and sweet baby onions. It's even better the next day with rice or a crusty baguette. Like many of the other slow cookers aforementioned, it does a great job of breaking down cheaper cuts of meat like oxtail, short rib, and brisket which Christina sources from her favourite butcher, The Ginger Pig.
Where can I buy a slow cooker?
What are the benefits of using a slow cooker?
There are many benefits to using a slow cooker: mega easy to use and they'll cook your meals or puddings for you, are the top reasons which come to mind. Here's some more reasons (if you need) why owning the best slow cooker is a good move, no matter the weather or season:
For many dishes, you simply pop the raw ingredients into the pot, set it to go, and leave it until it's time to serve.
A slow cooker can transform cheap ingredients, whether meat or pulses, into hearty meals that don't rely on lots of fat to be tasty.
You'll be surprised at what you can cook in a slow cooker: yoghurt, porridge, and the Sunday roast are just three unexpected slow cooker meals. Find more slow cooker recipes in our feature.
You can save money recreating your takeaway and restaurant favourites: think Indian dhal and Mexican street food for a fraction of the price.
They're cheaper to run, despite being left on all day.
What can I cook in a slow cooker?
There is an abundance of recipes and foods that you can cook in an air fryer, perhaps too many for us to even list. They make effortless dinners, with a minimum amount of prep, and puddings too. All slow cookers work in the same way, some with the added benefit of smart tech, which is to cook at a consistent temperature, locking in flavours to produce mouth-watering results. Take roast beef and pulled pork, for example. These are quick, easy meals that will impress dinner guests. And why not finish off with a rice pudding for a healthy dessert (breakfast, or snack!). Come November / December, you can even cook Christmas cake in a slow cooker. It's a great gift (not to mention cheap to make too!)
Slow cooker friendly ingredients to have in your cupboard
For those evenings when you just don't want to go to the supermarket/don't feel like making anything elaborate, the following ingredients can very easily be thrown in together for a delicious stew (no cooking knowledge required):
Tinned tomato: there's nothing it won't make better.
Carrot: use sparingly, as it's a strong flavour.
Potato: best peeled first.
Tinned chickpeas/pulses: to add protein.
Stock. Choose veggie or chicken for even more flavour.
Mixed herbs and salt, for flavouring.
Wine: a mid-tier red or white to add to food (and serve alongside).
Flour: to thicken sauces; choose cornflour if coeliac.
Pasta: add uncooked in the last 15-20 minutes.
Chopped frozen onions: all the flavour, without any tears.
Tomato paste: a small squeeze adds so much depth.
What should I not cook in a slow cooker?
Perhaps the best question to ask here is what can't you cook in a slow cooker? A slow cooker is one of those essential mealtime gadgets which you didn't realise you needed, until you take the plunge and start using one.
While there isn't an ingredient or list of foods that shouldn't be cooked in a slow cooker, you generally don't want to add anything that will become tough, or curdle with long cooking times. Two things that spring to mind are fish and dairy.
For example, the beauty of fish lies in its quick cooking and delicate texture, so you don't want to cook it for hours. A fillet of fish will disintegrate in a slow cooker, and prawns can become tough and rubbery with prolonged cooking.
Dairy can be cooked in a slow cooker, but you need to add it at the last minute, otherwise it will curdle and look gross. The only exception is if you're making porridge in the slow cooker. Go for full-fat (whole) milk as it's less likely to split. Plus it'll taste far better if you do eat dairy. If you're looking for a dairy-free alternative, coconut milk can act as a good substitute.
What is a good size for a slow cooker?
Slow cookers are available in all shapes and sizes but, as a general guide, most families will not need anything over a 7Lcapacity.
For 2: 1.5L - 3L
For families of 3 or 4: 4L - 5L
For families of 5+: 5.5L - 7L
As luck would have it, this guide includes slow cookers up to a 6 litre capacity so all is catered for.
How much should I spend on a slow cooker?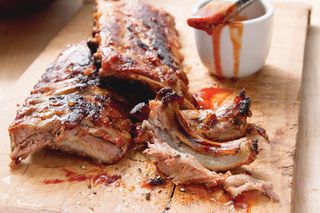 Because there are so many slow cookers out there, it can be a little confusing when it comes to making a choice, especially if your budget is limited. So, how much do slow cookers cost – and what do you get for your money?
As with any kitchen appliance, to a degree, you get what you pay for – but the good news is that slow cookers don't have to be expensive.
Save
At the cheaper end of the market (think £20 upwards, such as the Swan 1.5L Slow Cooker Retro; the Morphy Richards Sear & Stew Hinged Lid Slow Cooker; the Russell Hobbs Chalkboard Slow Cooker or the Crock Pot 3.5L Slow Cooker, which all feature on our list above), you'll get basic features and you may find the slow cooker gets hot on the outside or that it's not as easy to clean or to use on a hob as a more expensive model. However, they'll still do the job of slow cooking many dishes – and if you're new to this type of cooking, they're a good place to start.
What won't they do? You can't sauté in them because they don't reach the required heat, so you'll need to dirty a frying pan for this (and ensure you scrape all the juices into the pot from it to capture the flavours).
Splurge
Bump the budget up towards and beyond £100 and you'll get a multi-functional appliance that might have pre-programmed recipes, smart features, can be used on the hob, go in the dishwasher and may even perform the functions of a pressure cooker, too (such as the Sage Fast Slow Pro).
There are more slow cooker features to look out for. Our advice? If you're new to slow cooking, start with the best model you can afford and be prepared to upgrade if you become hooked on it.
What is the best slow cooker?
So, let's recap...if you want the best slow cooker (in our opinion) we wouldn't hesitate to buy the Crock-Pot CSC026, which is budget-friendly but still a brilliant slow cooker for smart features.
We also love the Ninja Foodi MAX 9-in-1 Multi-Cooker because it can do so many things such as searing, sautéing, slow and pressure cooking as well as keeping meals warm. It also automatically knows the time, temperature and pressure to use for best results every time.
We would also highly recommend buying the Swan 1.5L Retro Slow Cooker which comes very reasonably priced and with all the basic settings you need to create a tasty meal, too.
Can you leave slow cooker on while at work?
The simple answer is yes! But for a more in-depth explanation, we spoke to Nick Small, category manager at AO.com who explained when to use different slow cooker settings. 'Most slow cookers have three simple heat settings to choose from – low, medium, and high' he said.
'If you're leaving the appliance to stew up something tasty ready for when you're back from work, the low or medium setting is perfect. Fed up of your food going cold? Well, keep an eye out for a slow cooker with a keep-warm function, it does exactly what it says on the tin, without over-cooking or drying your meal out.' And what if you've been held up at work? Or your train home is delayed? There's no need to worry as Nick advises that you shop for a slow cooker with a timer feature.
'Not all slow cookers have a timer, but they are a really handy feature if you're not always able to be at home overlooking and checking on your food. Once you've set the timer and your selected time has been reached, the appliance cleverly switches to the keep warm setting. This leaves your food ready to eat whenever you come to it. Perfect for managing that hectic lifestyle!'
Our advice? Don't fill it to the brim. Whether or not you're worried that you'll come home to a mess, slow cookers should only be around two-thirds full to ensure that the food inside cooks properly. You'll also be surprised just how heavy the vessel is if you need to unplug and move it!